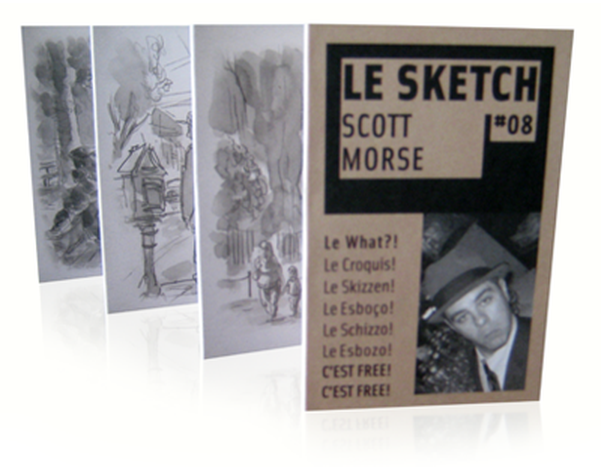 Le Sketch #08: Scott Morse Out Now! (10 copie autografate da settembre ai più veloci)
Published on
In questo nuovo numero il disegnatore Scott Morse presenta 14 schizzi presi dal suo sketch book personale. Si tratta di turisti a San Francisco e Disneyland, stranieri che gironzolano alla ricerca di qualcosa da fare, anziani che sonnecchiano sulle sedie o intenti a contemplare la natura!

Su Scott: pluripremiato autore di fumetti tra cui ricordiamo Soulwind, Magic Pickle, Plastic Man, The Barefoot Serpent, Tiger! Tiger! Tiger!, e Notes Over Yonder. Attualmente lavora per la Pixar, con partecipazione in Ratatouille and Wall*E.
Occhio! Dai primi di settembre i più veloci che lo richiederanno, si vedranno recapitare gratis a casa una copia autografata fino ad esaurimento delle 10 disponibili.
Le Sketch è gratis in queste librerie. Potete (re)Tweet(are), (re)post(are) e condividere la buona notizia: http://www.lesketch.com/2009/08/le-sketch-08-scott-morse/
Translated from Le Sketch #08: Scott Morse Out Now! (10 Free signed copies, from September)