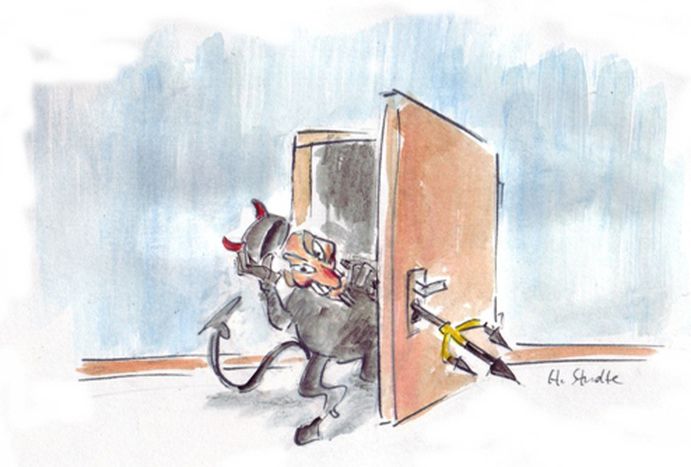 ¡Y hablando del rey de Roma…
Published on
Translation by:
esther montes
…que por la puerta asoma! (parli del diavolo e spuntano la corna). Así se dice en Italia, cuando al estar hablando sobre de una persona, ésta aparece en medio de la conversación. También en Alemania se habla del diablo, pero los cuernos no aparecen: Wenn man vom Teufel spricht…. Lo mismo sucede en la Pérfida Albión: when you talk of the devil…. La presencia de Satán es grande en las lenguas románicas y germánicas, en numerosos proverbios que tienen su origen probablemente en la difusa moral cristiana que identifica el mal con Lucifer.
Una variante usada por franceses y polacos, por el contrario, sustituye al diablo por el lobo. Nuestros vecinos al otro lado de los Pirineos dicen: quand on parle du loup…, parecido al polaco o wilku mowa…. Expresiones que nos traen de nuevo al recuerdo al lobo de caperucita roja, siempre apareciendo cuando uno no lo quiere.
Sin embargo, no nos falta originalidad los españoles cuando decimos: "hablando del rey de Roma, que por la puerta asoma". ¿Y por qué complicar de tal modo al soberano romano? En principio, cuentan los lingüistas, se decía "hablando del ruin de Roma…", o sea, del miserable de Roma, para indicar la vergüenza ante la aparición de la persona indeseada cuando menos nos lo esperamos. Luego, el miserable, se convirtió en rey, en el habla popular. Siempre es mejor que el diablo, ¿no?
Translated from Parli del diavolo…