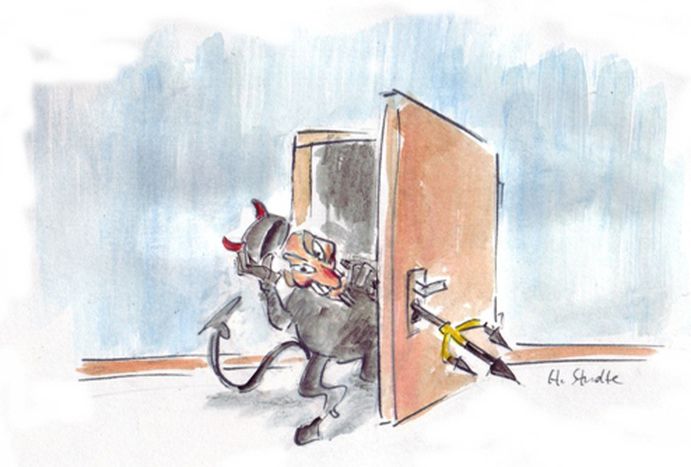 Parli del diavolo…
Published on
…e spuntano le corna! Così si dice in Italia quando appare d'improvviso proprio quella persona di cui si stava parlando. Pure in Germania si parla di diavoli, ma le corna non compaiono: Wenn man vom Teufel spricht... ("quando si parla del diavolo…"), così come in terra d'Albione: when you talk of the devil.... La presenza del Satanasso è massiccia nelle lingue neolatine e germaniche, in moltissimi proverbi didascalici che traggono origine probabilmente dalla diffusa morale cristiana, che identifica Lucifero con il male.
Una variante usata da francesi e polacchi, invece, sostituisce al diavolo il lupo. I nostri cugini d'Oltralpe dicono: quand on parle du loup… vicino al polacco o wilku mowa.... Espressioni da far risalire certamente al famoso lupus in fabula latino.
Ma i più originali sono gli spagnoli che, curiosamente, dicono: hablando del rey de Roma... por la puerta asoma, "parlando del Re di Roma... dalla porta spunta". Ma perché tirare in ballo il sovrano romano? In principio – raccontano i linguisti – si diceva hablando del ruin de Roma..., cioè parlando del "miserabile" di Roma, ad indicare la scostumatezza di chi appare quando meno te lo aspetti durante una conversazione che lo riguarda. Una scostumatezza tale da essere conosciuta in tutto l'Impero Romano. Poi, nel tempo, il miserabile è diventato, ironicamente, "re" nella parlata popolare. Sempre meglio del diavolo, no?