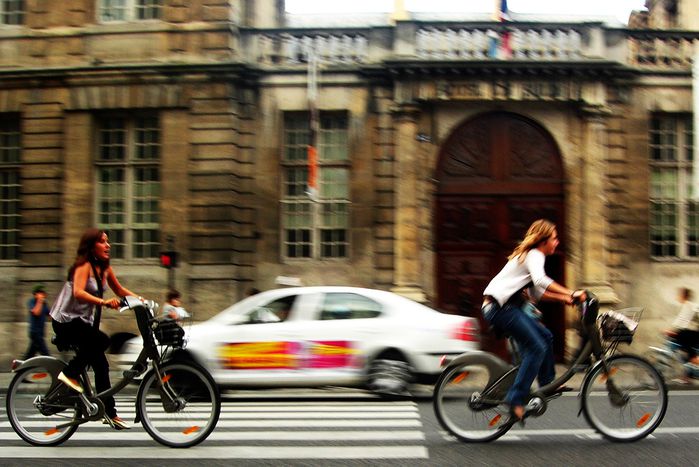 Velib: bicycle + freedom on city streets
Published on
The French capital has been enjoying the success of the Vélib' adventure since summer 2007, and the urban rent-a-bicycle-for-next-to-nothing fever has caught the rest of Europe
An invasion. A flood. On 15 July 2007, more than ten thousand bicycles were installed in 750 bike stations all over Paris, arousing the curiosity and finally the enthusiasm of the capital's citizens. A month after the scheme was launched, the millionth cyclist customer was celebrated. The socialist mayor and his cronies are delighted at their unexpected success. The small public transport revolution owes much to the concept of Vélib' - an abbreviation of 'vélo' (bike) und 'liberté' (freedom). Renting a bike costs next to nothing, with a symbolic fee of one euro for a day's subscription, five euros for seven days or 29 euros for a year. Overwhelmed by the enthusiasm of the citizens and with an eye on upcoming local elections, the city of Paris is aiming to have 20, 000 cyclists on the road and 1, 450 stations across the capital. Overall success however hasn't meant that there haven't been certain impediments, including a slow electronic borrowing system and overflowing or empty stations - the latter especially in the centre of the city.
And Vélib was born
Vélib was born from a French company called JC Decaux, which already run a 'Cyclocity' scheme in Seville and Lyon. The new Parisian bikes adapt themselves perfectly for modern necessities; integrating the bicycle more into public transport, staying environmentally-friendly and making citizens healthier and more active. 'The initiative shows a positive image,' notes Judith Perker in her blog velib.fr, 'of an ideal city kitted out with greener transport methods.' The French media hype surrounding this 'invention of the century' has been significantly late - the idea itself is at least thirty years old already. The Dutch and Scandinavians are pioneers in all things cyclo-manic. There's been a bicycle parking place at Amsterdam's main train station for years, stretching over countless floors and allowing users to fully appreciate the Dutch capital on two wheels and via plenty of fresh air.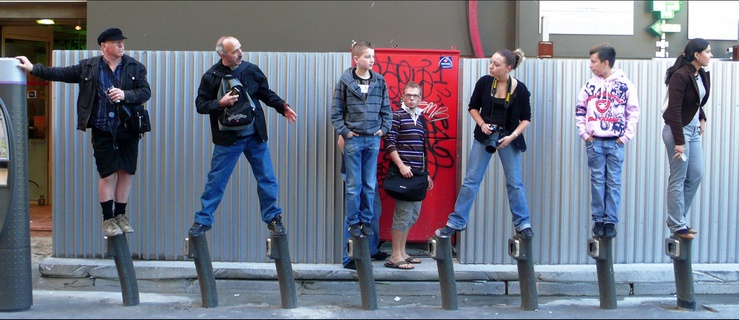 In 1998, French company Clear Channel started up Vélo à la carte ('Bicycle By Card') in Rennes, Britanny. It was the first free bike service in the world, whose influence extended across Europe's metropoles (with Citybike in Vienna, Ciclocity in Brussels and Deutsche Bahn's Call A Bike in various German cities). Low costs have also meant that smaller regions have had access to the scheme too, such as Gijón in Asturias or Mulhouse in the French Alsace who respectively have 64 and 200 bicycles - small efforts for such a huge urban round.
Bike marketing
Clear Channel and JC Decaux are the two main actors making the market competitive as the two principal publicity and urban mobility magnates. In Paris, the 'free' factor of the scheme evidently has a financial bearing: JC Decaux finances, installs and maintains all the bikes in exchange for a monopoly guaranteeing the rent of publicity boards across the capital. In fact, this win-win combination has taken place in every city which has launched bike rentals. 'It's a shame that good ideas often come from marketing strategies,' say many users who are nevertheless seduced by the newest transport mode. Paradoxically, whilst the bicycles permit people to see the city from an ecological viewpoint, the advertising which pays for it is a form of visual contamination.
'It's a shame that good ideas often come from marketing strategies'
If this bike trend continues to kick off, why not capitalise on its success as a European trend? Various French municipalities are already researching standardising the transport system, so that one unique subscription could allow cyclo-tourists to use all the bike services available in the French hexagon. So why not on the continent in general? Perhaps one day users could enjoy the model provided by the Swiss city of Chaux-de-Fonds, where there are no stations, no payment options or padlocks. The idea is that anyone who comes across one of the pink bikes which dot the city can just use it for free and then leave it in a good, visible spot once they finish their journey for others to do the same.
Images: main two girls Velib'ing past Hotel de Sully in Paris ©malias/ paris-talk.blogspot.com; hanging out by the Velib' posts on Bastille Day in Paris ©julien/ julian-brackheimmer.freehostia.com/site/ both courtesy of Flickr; video: daskeyjonas/ Youtube
Translated from Vélib' & Co : la petite reine européenne