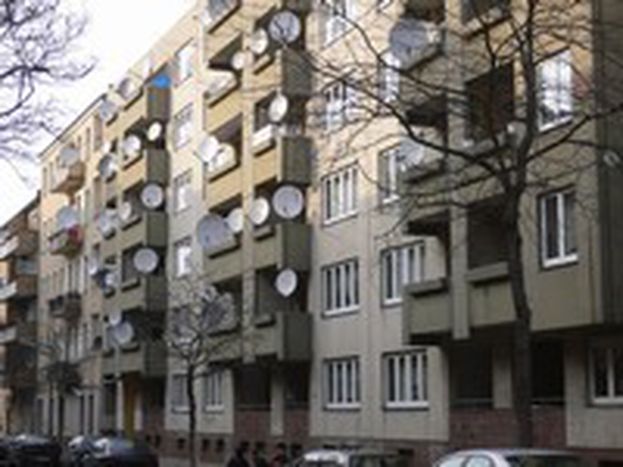 The Kreuzberg mix
Published on
Translation by:
olwen atanackovic
Many immigrants live in the Berlin districts of Kreuzberg and Neukölln and, like their equivalent areas in France, unemployment there is high. Have the riots in Paris influenced the young people in these quarters?
"Revolution!" The shout breaks through the November calm on the Kreuzberg nursery school farm in Görlitzer Park. The child has brown milk teeth. His grin is cheeky, but not dislikeable. Fitting to a true thug, he swings a stick above his head, reminiscent of a baseball bat in size and shape. An older friend quickly intervenes, preventing the first-grader kicking off any violent excesses.
This, nevertheless, poses the question whether it could come to riots here, as in France. Kreuzberg and bordering Neukölln are viewed as socially troubled quarters. In 2004, the proportion of those dependent on social welfare in both districts was above 13 percent, according to the Berlin Regional Statistics Authority (Statistischen Landesamt Berlin). The share of immigrants is so high in some areas that integration proves difficult. Gangs of Turkish or Arab youths take command of some streets at night.
"It is always burning somewhere," says social worker Marina, who describes herself as a "girl Friday" in her work with a Kreuzberg church organisation. Amongst other things, she oversees the youth cafe. As she waters the flowers in front of the organisation's windows, she speaks of the kids in Kreuzberg's ghettos. "Of course anger simmers among the youth. They feel cut off from society and do not know how to deal with this." Marina has to set down the watering can when she speaks of misery and violence in Kreuzberg. She needs space to gesticulate. For a long time she has been of the opinion that Kreuzberg is a powder keg requiring the tiniest spark to explode.
"All people have the same rights"
This also appears to apply to Neukölln. Three youths loll, smoking upon a bench in front of a kiosk in a quiet residential area with drab, but well-kept old buildings. They call themselves Aslan, Hamadi and Don Montana, preferring not to reveal their real names. Everything is still quiet here, although Hamadi keeps an eye on events on the street with nervous glances. Only later will more young men gather at this meeting point. Then they will break into mobile phone and jewellery shops, or mug residents – at least this is what they claim. The trio in front of the kiosk view the riots of the French youths as justified. "All people have the same rights," says Hamadi, "and in France the young people in the suburbs are treated unfairly." Because he can relate to this feeling, Aslan prophesises Paris-like situations for Neukölln - and worse.
In contrast to many French youths, however, Aslan, Hamadi and Don Montana do not believe that they necessarily have to leave their district in order to be able to lead a better life. They are proud Neuköllners, who feel attached to their 'hood'. They were born, have grown up and gone to school here. Their roots lie here and for this reason they do not want to leave. "But", explains Aslan, "we are lacking a space in which we can meet up and hang out."
Hip cafes and Turkish men's clubs
In the heart of Kreuzberg there is such a space, namely the youth and cultural centre Naunynritze on Naunynstraße. It is housed in an old brick building. The first noticeable thing is the professional way in which the young people deal with inquisitive reporters. "We have already said everything", and, "No, there will not be riots in Kreuzberg like those in Paris." They are annoyed because journalists come by daily and ask the same questions. The final announcement of one youth before he eventually turned away spoke for itself, "too much talking rubbish only creates difficulties."
The area surrounding the centre is typical for the district – renovated old buildings alternate with shabby new buildings equipped with numerous satellite dishes. Hip cafes and Turkish men's clubs lie close together, and the party strip begins behind the concrete blocks at Kottbusser Tor – a meeting place for junkies and alcoholics. This is the distinctive Kreuzberg mix of lifestyles and social classes. Michael Homberg, an instructor at the nursery school farm, believes that the effect of this is that, "the differences are not as extreme as in France."
Kreuzberg and Neukölln are not the ghettos that are found at the gates of many French cities. Scenes such as this are still to be found in Kreuzberg: a Turkish wedding party dances out of a doorway. Some passers-by of varied origin stand and watch. In the end they applaud.
Translated from Die Kreuzberger Mischung