The Game: snapshots of the migration crisis at the Bosnia-Croatia border
Published on
There are about 20 thousand migrants here, arriving from Afghanistan and Pakistan as well as Syrian and Iraqi Kurdistan. They've all shared the same long journey of border crossings and refoulements. They call themselves 'gamers', but what's the 'fun' part of it? Their aim is to cross the border between Bosnia and Croatia and, from there, continue onwards to Slovenia, Italy and beyond. This is a story of migrant life at Europe's borders.
"Jungle, Jungle, Jungle" – this is the only word the shocked man manages to say, lying on the wayside between the mountains that divide Bosnia from Croatia. We're in Vučjak, a small border town located in the area around Bihać, where memories of the recent past are still vivid. This was a site of resistance, where soldiers once blocked the advance of Serbian militias. Today, numerous cemeteries and a vast area of minefields mark the legacy of that war. The man carries his identification documents. They say his name is Yassin. He is 65 years old and comes from Iraq. He keeps shivering and repeats this single word: "Jungle, Jungle, Jungle." He's probably referring to the refugee camp he left behind the previous evening, or perhaps a few days before, which he wants to return to, and ask for help.
Yassin is a 'gamer', one of over 20 thousand migrants that have crossed though Bosnia this year. These people mainly come from Afghanistan, Pakistan and Syrian and Iraqi Kurdistan. Their path is a long one: made up of journeys that last years, with many border crossings. On this occasion, the 'game' consists of crossing the border with Croatia and, from there, heading onwards to Slovenia and beyond.
Migrants from Pakistan generally wish to reach Milan or Rome, or else settle a little further on, in Spain. Those from Syria or Iraq, meanwhile, usually have Germany in mind. We escorted Yassin back to the 'jungle'. The Red Cross took care of him by taking him to a hospital where he will receive any necessary treatment. At a glance it seems he's suffering from Parkinson's disease. In addition, he's just had a heart attack. "A few more hours in the woods and he probably would have died," the doctors say.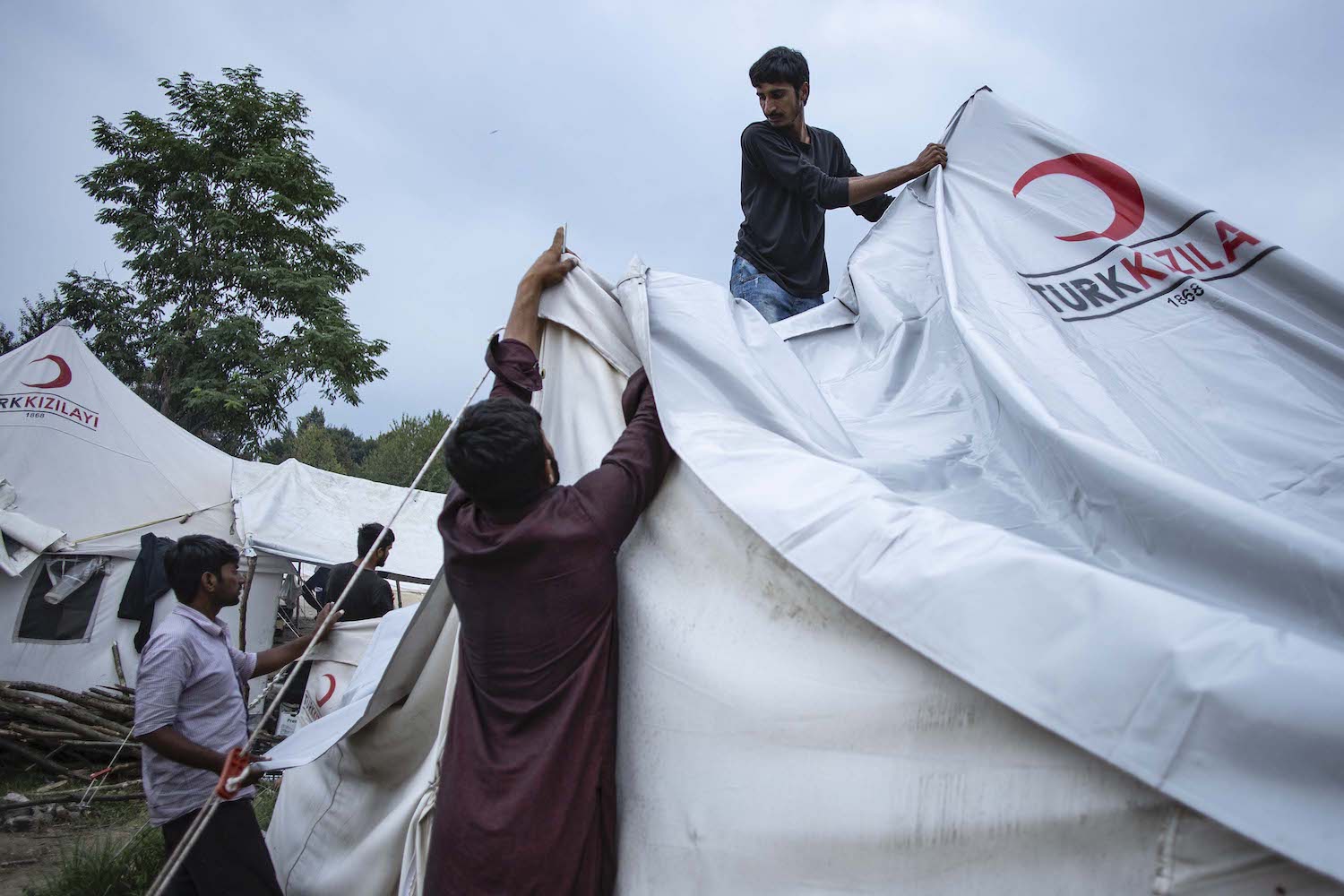 "They are all 'gamers' here. They try to cross the border, but they get hit and sent back by the Croatian police – it's like a lottery. That's why it is called 'the game'", says Aaron, our contact in the Red Cross camp. There are about 600 people living in the 'jungle', but the number varies on a daily basis as there are continuous arrivals; as many as the departures.
Croatia is preparing to enter the Schengen Area, and the state is employing its "zeal" beyond any form of understanding in order to demonstrate that it is a reliable country in the fight against clandestine immigration. It is currently ordering full-scale refoulement.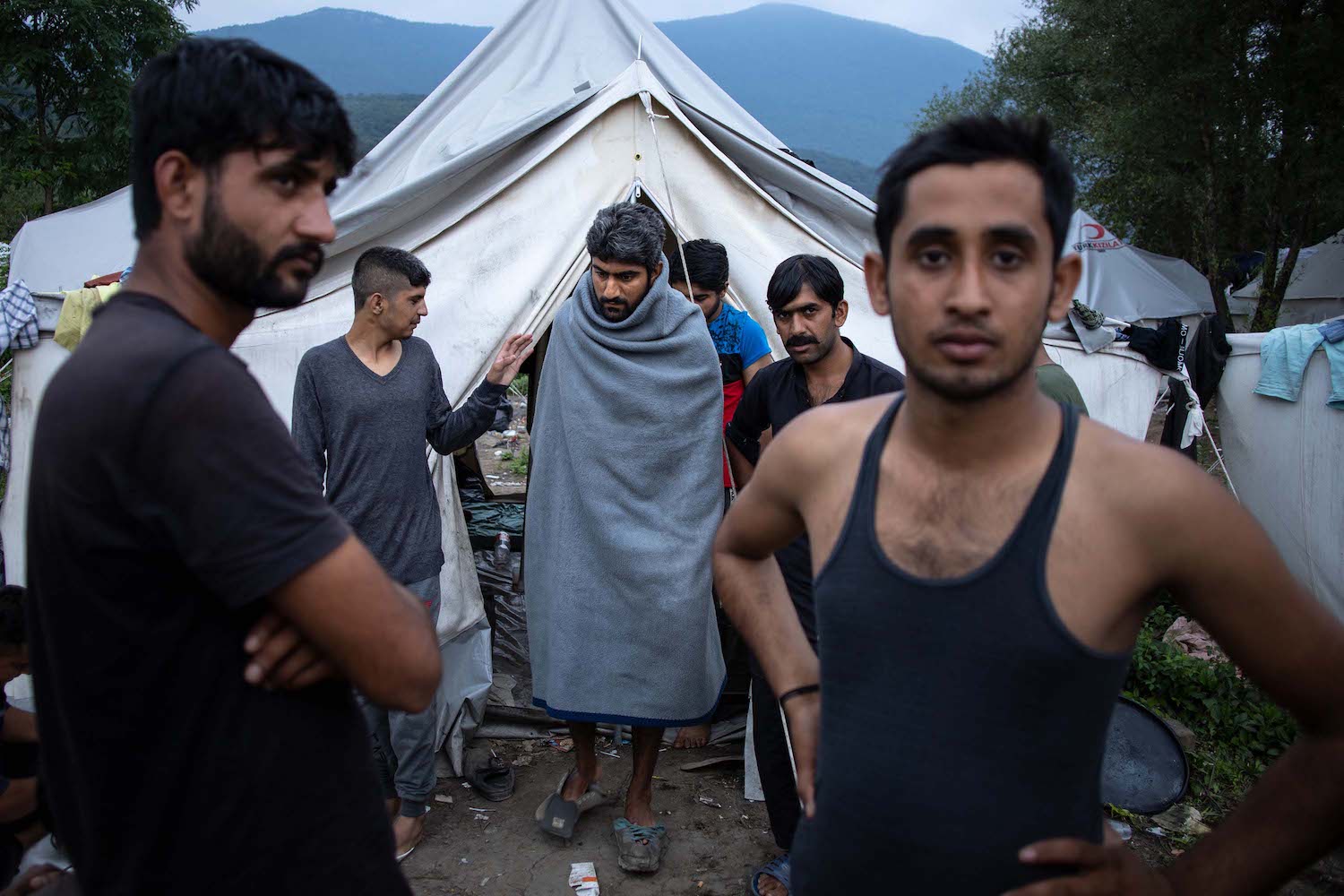 "I've tried to cross the border seven times. Often I've managed to move forward for a few days. I even reached Slovenia once. But the police eventually captured me, beat me and I was returned to Bosnia." Alì is 36 years old, he was an elementary school teacher in his country but his wage wasn't enough to support his wife and children, so he left. "I saw my son's birth and I left a few weeks later. I miss him, I'd like to see and touch him, not just through the screen on my smartphone. I accepted any job along the way, to send some money to my family, but when you carry no ID you're easily blackmailed and they'll pay you peanuts." Alì will try to cross the border for an eighth time as soon as the wounds on his legs heal. Other migrants, like him, will also try their luck and leave the refugee camp, which, a few months ago, was quite literally a dump. "They prepared it all in a hurry, as the tensions about the town of Bihać had become extreme. That's why they set up a camp in Vučjak, in the middle of the forest, in a completely isolated area among the mines," another Red Cross worker says.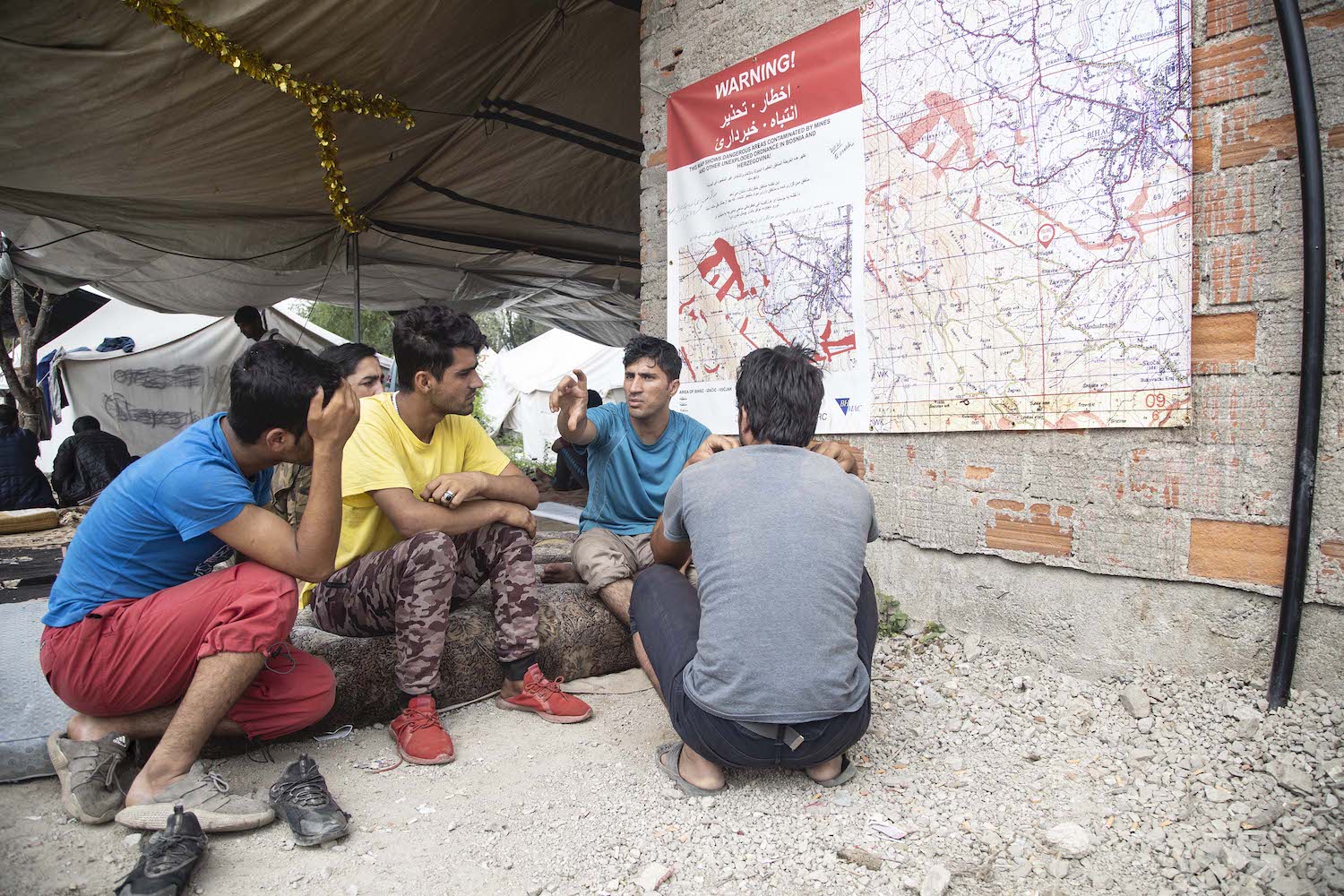 Indeed, the danger of mines is illustrated on a large sign in the middle of the camp. This is a map with Arabic font highlighting in red the areas where crossing is forbidden. Here, in front of this sign, is where the camp comes to life: a small improvised market, a hut for charging smartphones, the water tanks which are almost always empty, and next to them, a fire for burning waste. Even though this is an ever-changing and nomadic community, people have tried to organise their lives in the middle of the chaos.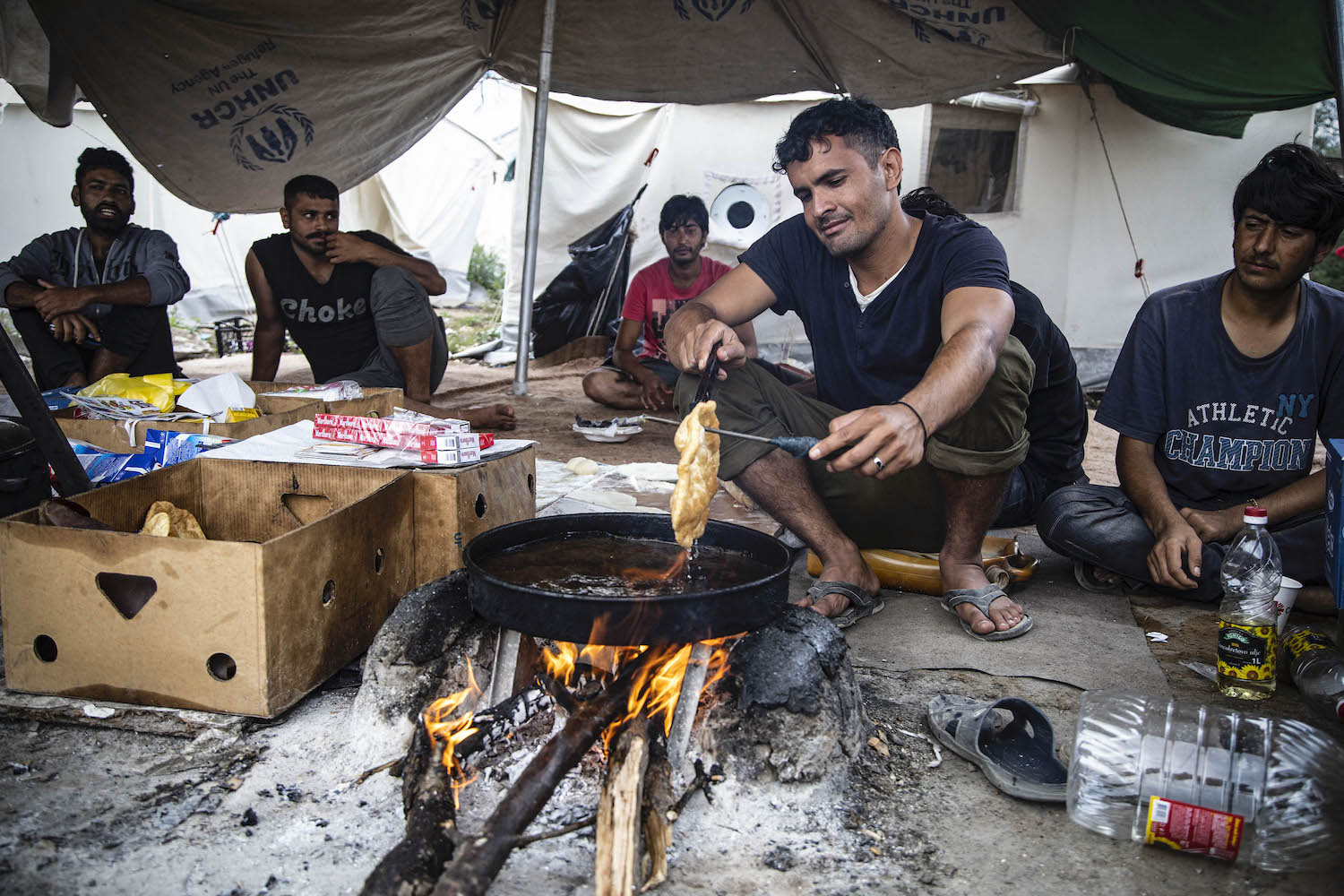 A group of boys is frying bread, some are cooking chicken in a pot and others have set up an improvised barber shop, using a chair and a mirror. "These are the jobs we used to do before we left. Now we are taking this chance to make some money along the way." Mohammed Jim is Pakistani but he's lived in Germany for 13 years, where he's worked as a barber and a chef. "I also have a Youtube channel where you can find the dishes I used to make when I was in Germany. I went back to Pakistan when my mother got ill, I wanted to stay with her until the end. After her death, I requested the documents to go back to Germany but I was declined. This is why I am trying 'the game', one more time."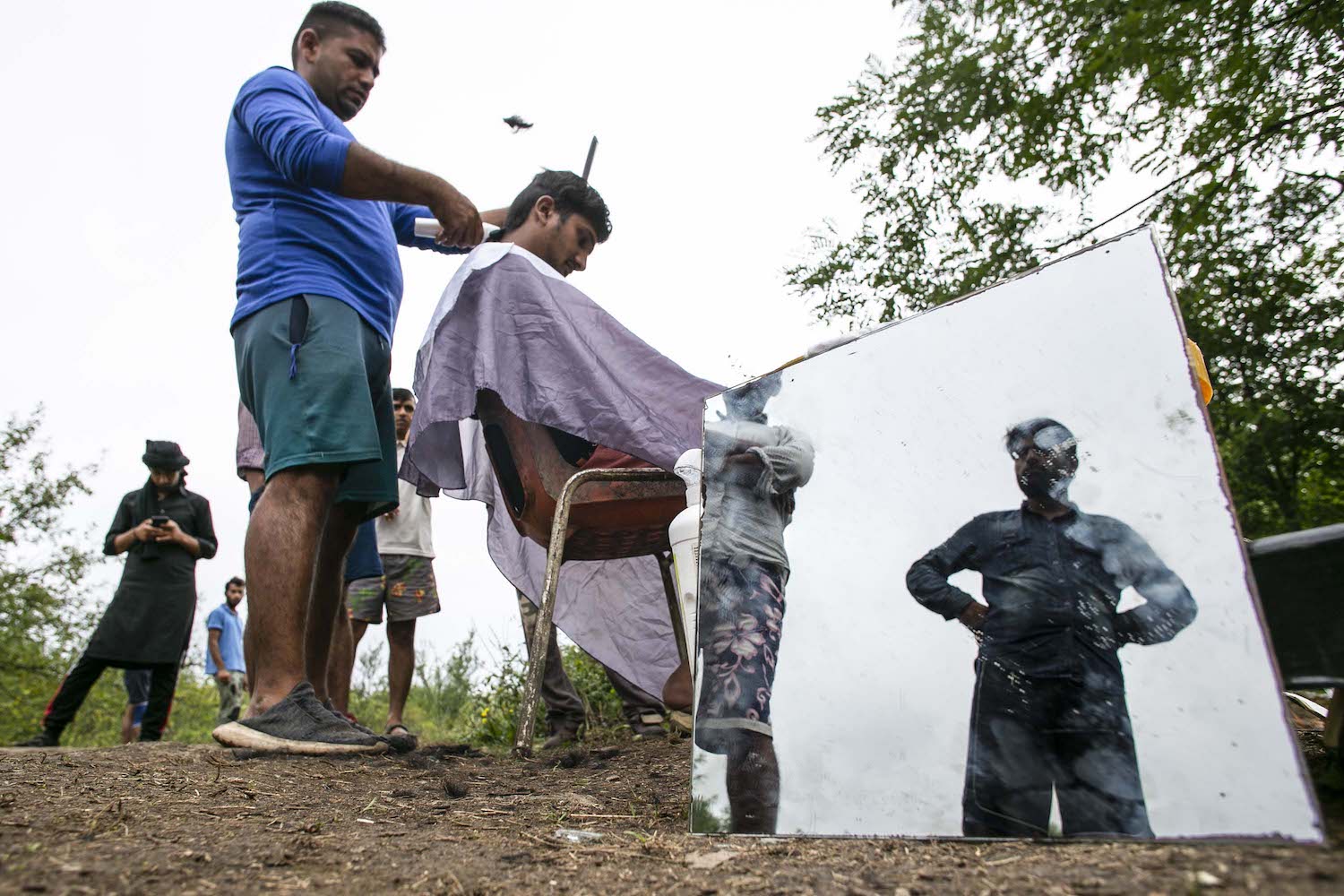 Jim is a minor celebrity in the camp and everyone is queuing-up to get their hair cut. We've been waiting the whole morning to talk with him in peace. "I speak German fluently, far better than English. I have a job as a chef waiting for me there and many friends. I will gather some more money here in the camp and then I will try to reach Italy by taxi and, from there, on to Germany." Taxis are an alternative for those who can afford to pay about three thousand euros. "They will wait for you right on the border, still in Croatian territory, and then they take you to the border with Trieste by car. From there it's just a few kilometres more on foot."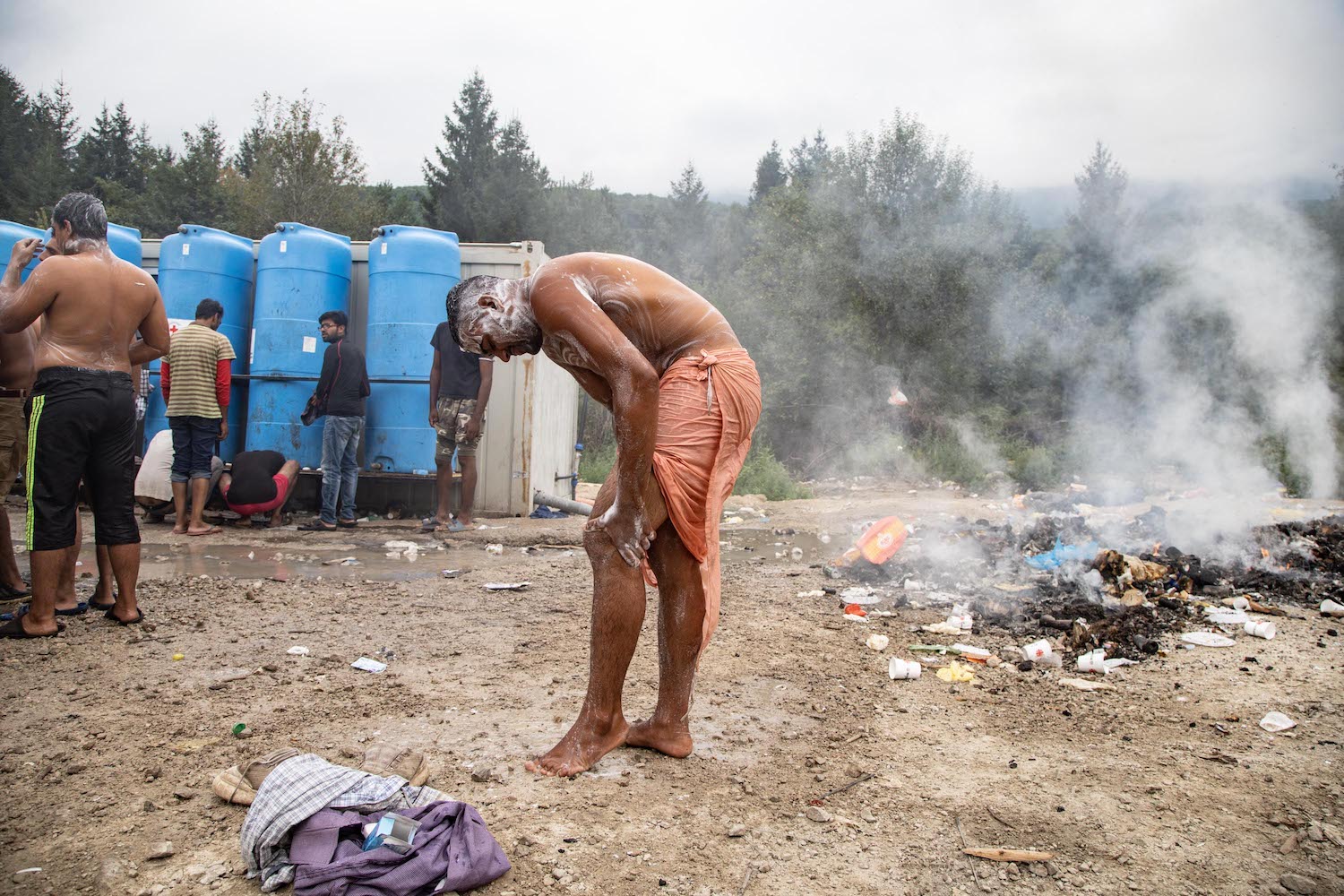 Suddenly the queue for haircuts dissolves and everyone runs towards the camp's 'square.' The water tanker has just arrived. The square quickly turns into a kind of collective shower. Everyone takes their share of the supply, some are standing directly under the rear taps of the truck. "It will be over in a few minutes because it is not enough, so everyone comes here for a wash as soon as possible. Now you see why this place is a jungle, uh?"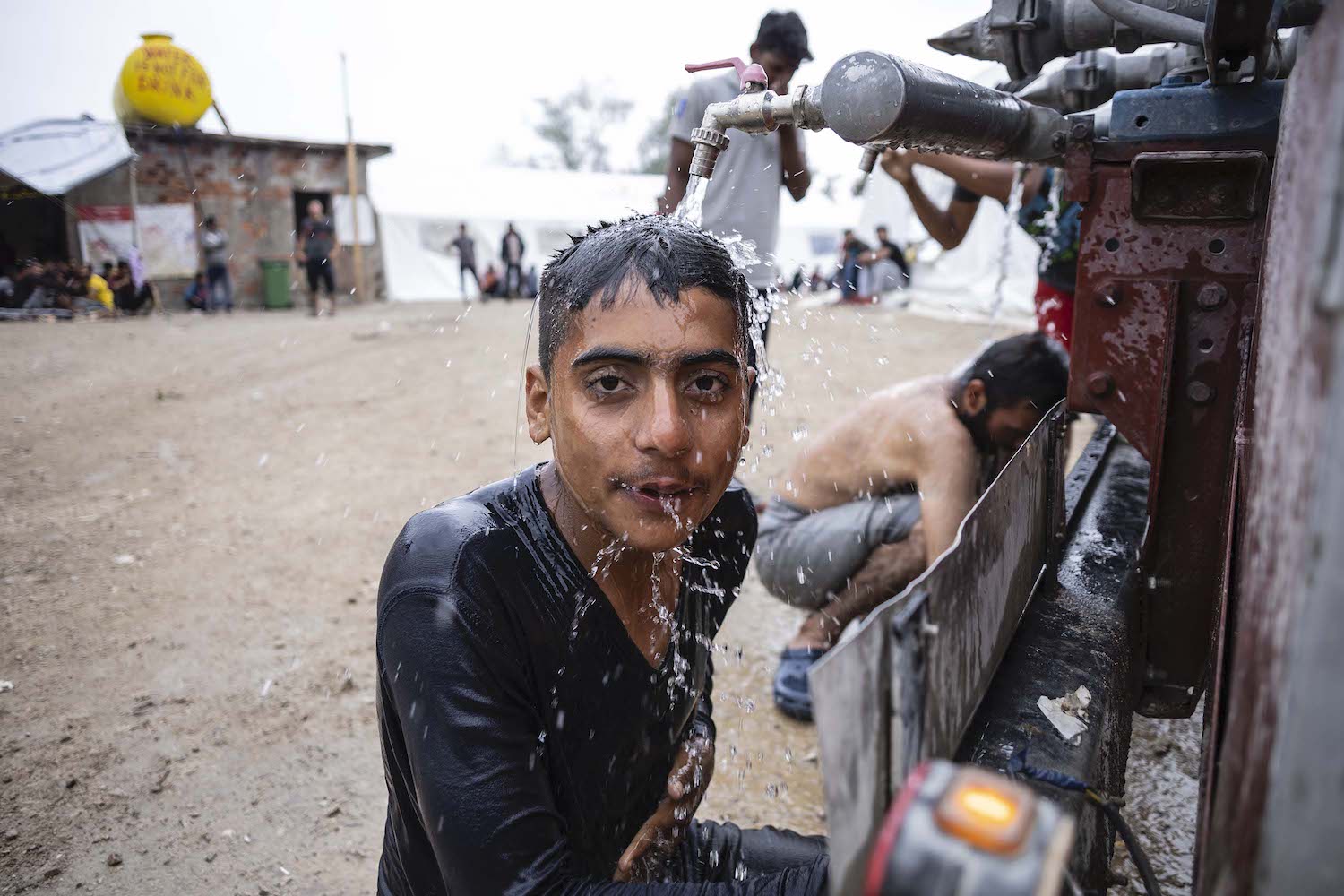 The alternative to the 'jungle' is the 'Bira'. This is a former factory in the suburbs of Bihać, where a new reception centre has been set up, financed by the EU. The centre is only authorised to host families, unaccompanied minors and women travelling on their own. "I have a permit to stay in the reception centre but it's full. I was told to sleep outside instead, but it is not clear where." Khalid is 17 years old and comes from Afghanistan. He crossed Iran, Turkey, Greece and North Macedonia in order to arrive in Serbia and, finally, Bosnia. "I've never been treated like I have here in this country, between Bosnia and Croatia. You aren't given any kind of support. In Croatia I was beaten and undressed. My smartphone broke and I was abandoned in the woods so I had to come back here on foot." Winter is coming in the Balkans and the forest may cause more victims than the Croatian police.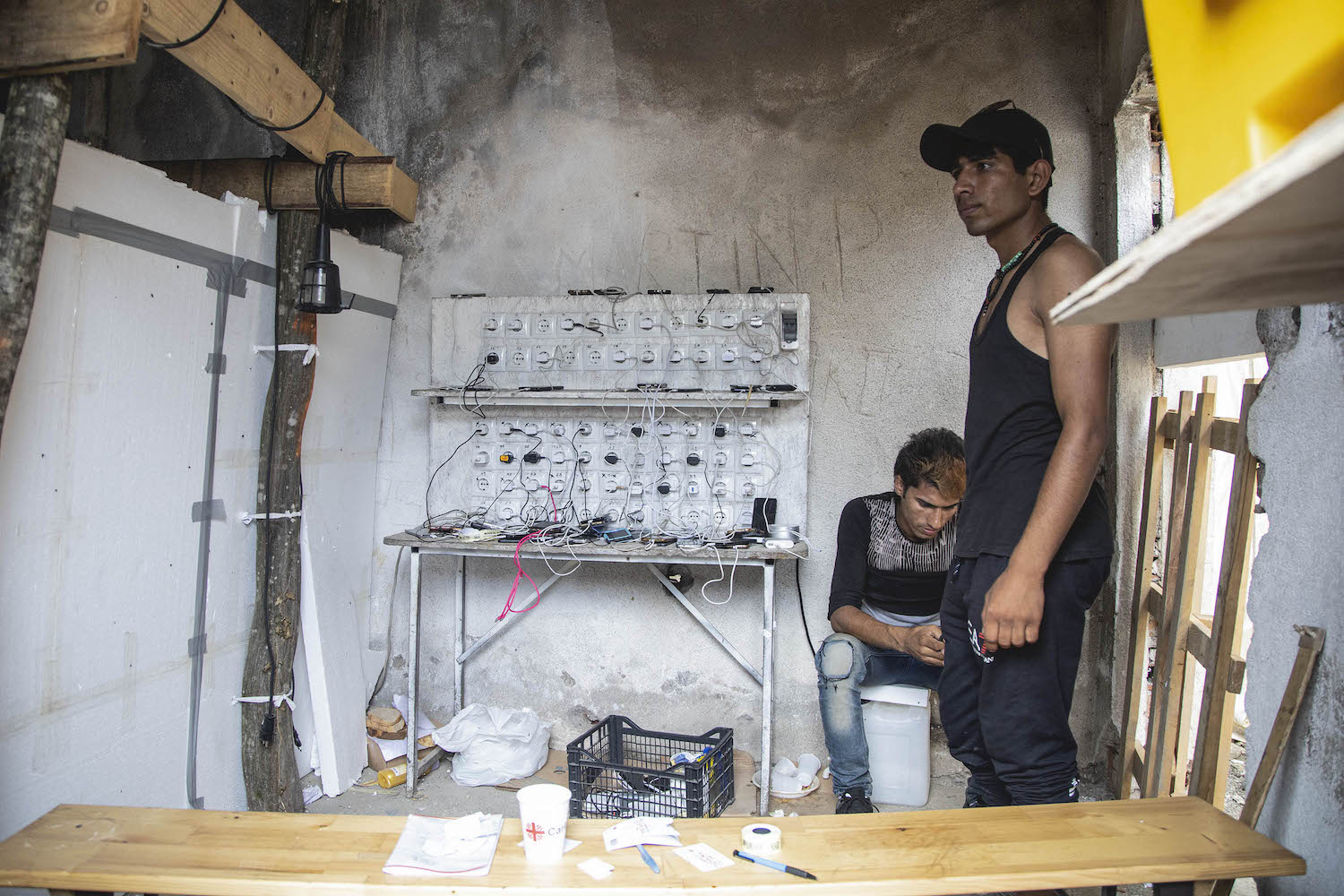 Due to overcrowding some people can't be hosted. This is what happened to Mustafà, an Iraqi Kurd who is travelling with eighteen members of his family, including seven children. "We were fine in Iraq. I was a taxi driver and I often worked with foreign people. My family was wealthy but we were forced to leave after someone attempted to murder my father. At a certain point it became 'all against all.' There were no more rules. So we decided to leave our country together." Travelling with a group of nineteen people is difficult when you have to find water and food, when you have to move with a large amount of luggage and plan to cross the borders illegally. But at least you feel a bit less lonely. The reason you're doing it all is right there next to you.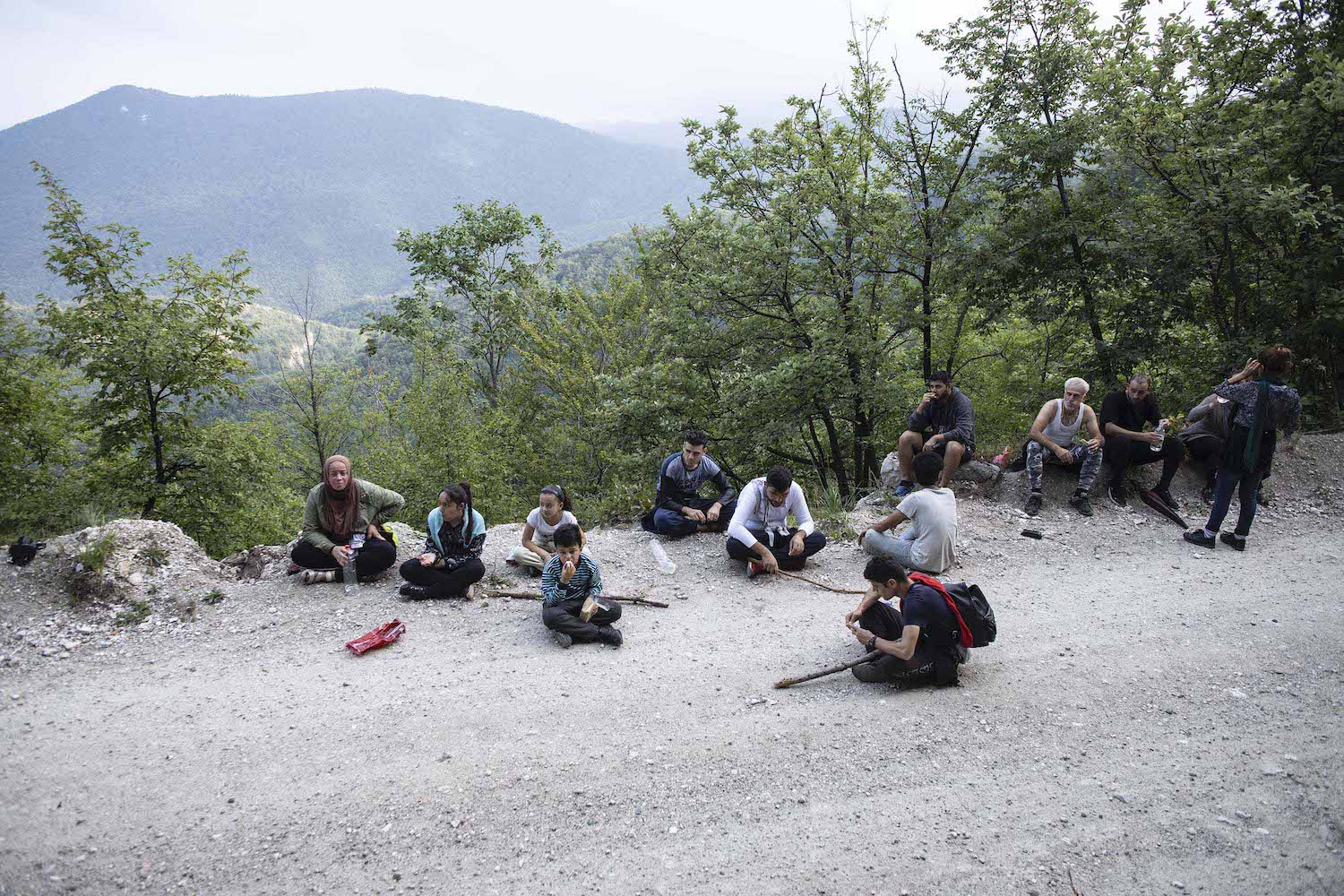 "We had to wait four and a half hours on a boat to reach the island of Lesbos. We were taking water onboard from all sides, I never thought we'd arrive there alive." Mustafà and his family's journey began four years ago and has involved many forced stops. It took them almost two years to leave Lesbos. At a certain point they managed to get to Athens, locked inside a truck. Once they arrived at their destination, the police wanted to arrest them and send the whole group back. Nevertheless, they eventually managed to reach Albania and crossed the border from there. "We travelled on foot. The children are young and we often carried them on our shoulders. Each kilometre we travelled corresponded to five kilometres of someone travelling on their own." According to the migrants, Albania, Kosovo and Serbia do not cause particular problems for them, so they can cross quickly without anyone trying to stop them. It's easy to enter Bosnia too. The real problem is leaving. "The Croatian police stopped us and beat us up. We'd almost reached Zagreb when they broke our mobile phones, used their truncheons on the adults and kicked the children. I've never seen anything like it."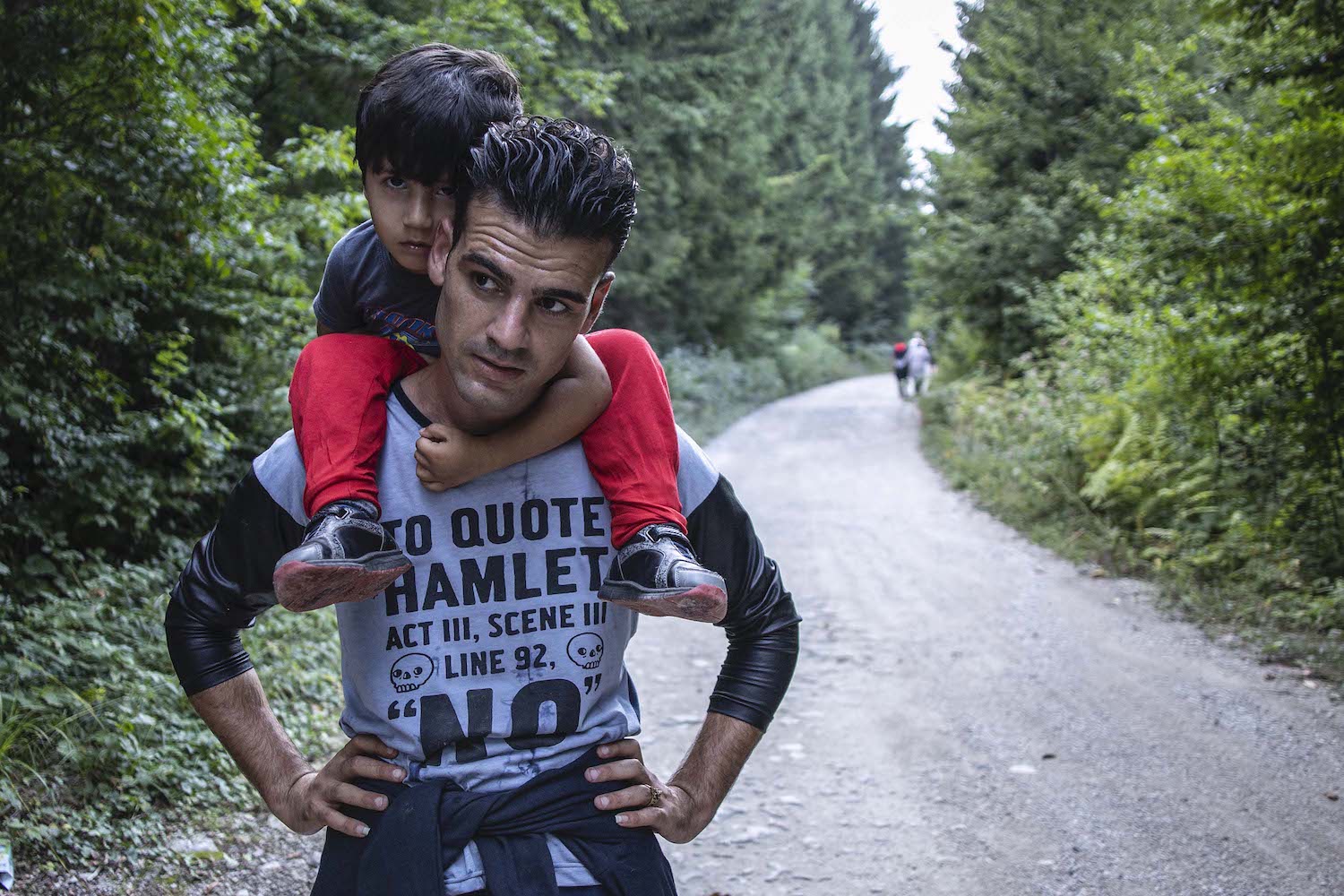 Mustafà and his family held on to their clothes but not their mobiles. Though they did manage to hide one and keep it safe. Once in 'Bira', they were told they had the right to stay in the reception centre. Since there was no room, however, they decided to leave immediately with their luggage. "Tonight we should reach the top of the mountains and we will cross the border tomorrow morning. Then, 'the game' will start again." Mustafà is following Google maps to a position where some landmarks are indicated. One of them is a mountain hut which was built before the war. Today it's abandoned, surrounded by mines. Alongside them are other families. One is Syrian and has a baby that's just a few months old.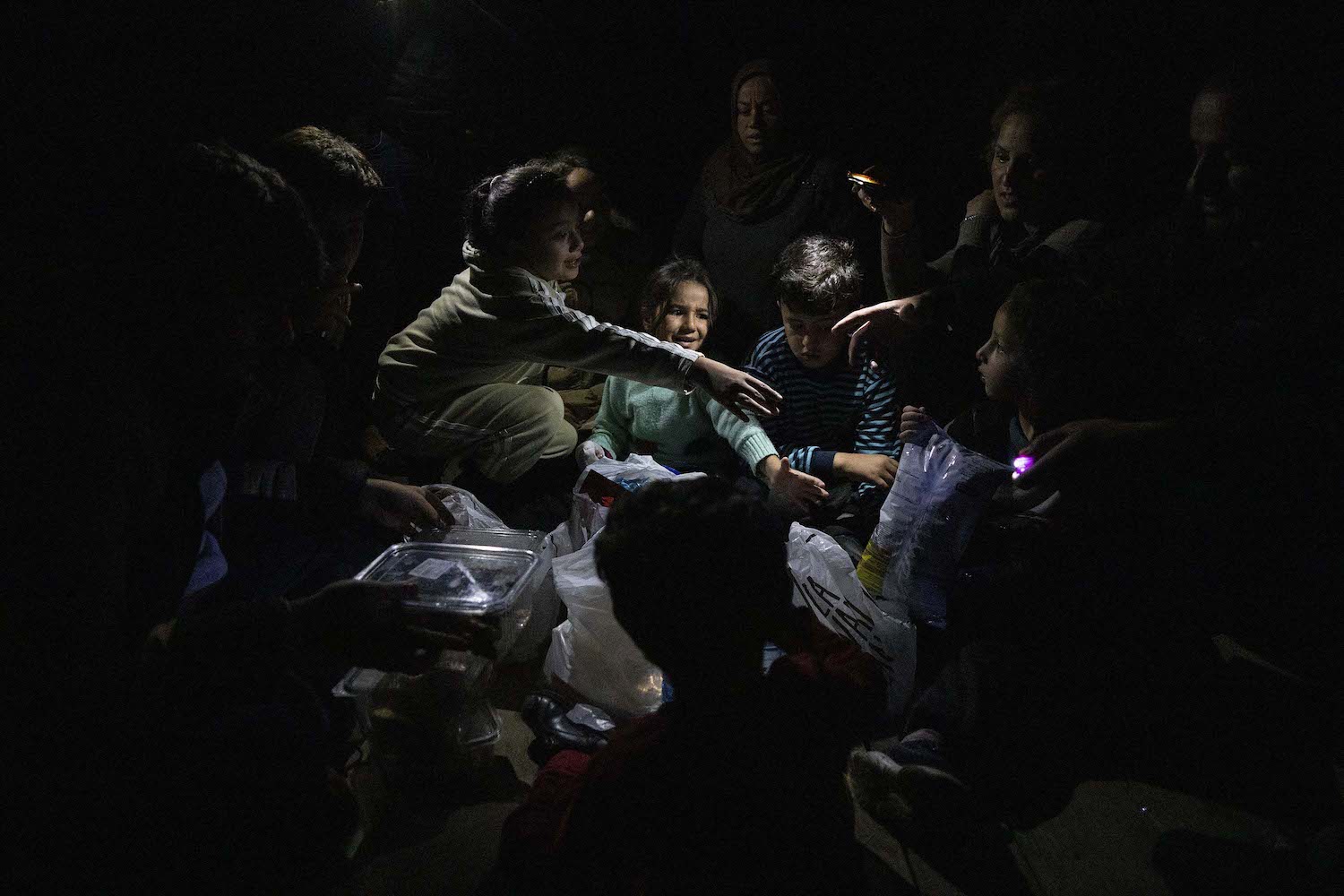 As soon as the sun goes down the children eat. Then they fall asleep while the adults relax for a moment by the fire. "I'd rather stay here for 15 years, sleeping on the street or wherever it might be, than take the risk that someone might kill my father or mother. I'm tired, it is true, though not physically. I just want peace for myself and for all my family. I'm positive we'll find it, as soon as we reach Germany," Mustafà explains.
---
This article, by Valerio Nicolos, is part of an editorial partnership with QCodeMag. It was originally published in Italian on 4 November 2019.

Translated from The Game: la crisi migratoria al confine tra Bosnia e Croazia in 11 scatti