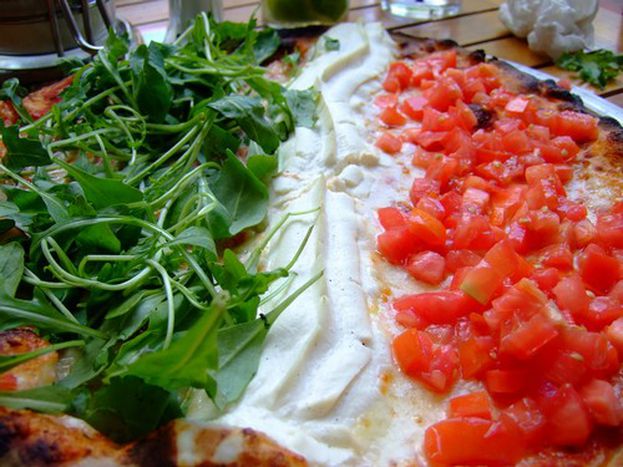 The French massacre Italian food
Published on
Translation by:
mary maistrello
Prized, imitated and the stuff of dreams, Italian cooking is something to be proud of, in Italy and in other countries. But watch out for the poor wretched people who want a taste of mamma's cooking on the other side of the Alps – here's how the French have revised the Boot's gastronomic wonders. Plus a spaghetti alla carbonara recipe
Paris, 2009 B.C. Settled in front of a nice flat screen with the well-deserved anticipation of a championship game from 'my' Juventus, the waiter in the Italian pizzeria in the Bastille district brings me a nice flat 'Parma' pizza. I taste it, resignedly, before calling back the garçon and saying in my unmistakable Neapolitan accent 'If this ham is from Parma, then I'm from Turin!' He doesn't understand. Oh well, because there must be at least four million French of Italian origin, but you can't say that they have defended the purity of their original cuisine…
Lightness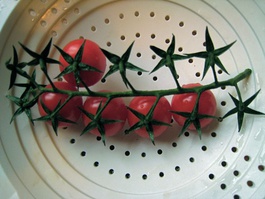 Starting with lightness. The manager (an Italian) is telling me about a little restaurant in the Opéra district: 'I had to change the recipes of all my starters by routinely adding cream and parmesan. If it's not heavy, the French don't appreciate it'. This is confirmed by the local version of carbonara, with heaps of cream, s'il vous plaît, whereas in Italy, it's banished. And don't even mention the very Parisian fashion of pickled or oily antipasti, which are undoubtably an Italic inspiration – but who in Italy, would ever organise pre-dinner snacks based on these very greasy specialities? 
Pasta
Another painful note on Italian cooking 'made in France' is pasta. To be enjoyed with grated gruyere cheese, rigorously overcooked, or, even, as a side served with meat, for example. Usually served when you have some wretched Italian guests for dinner…The funny things are pseudo-Italian brands which have nothing to do with Italy, like French brand Panzani: they appealed to a disgusted Ornella Muti for an advertisement, in which she had nothing better to say than mmh... pas mal ('not bad').
Double consonants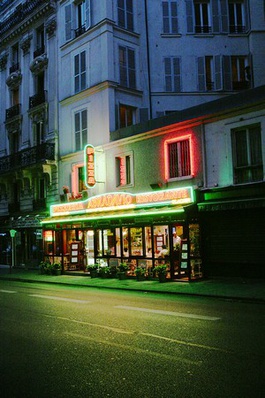 The chapter on grammar is quite amusing. For the French, double consonants, which in the language of Molière do exist but are not pronounced, they are part of Italianess. The Italian staple veal shank dish osso buco becomes, for example, almost always osso bucco. And what can you say about that brand of yogurt called Cremosso (with two 's' instead of 'cremoso')? Tellement italien...
Le 'Panini'
A special mention must go to the products considered to be Italian, but which are definitely not. I'm thinking about 'panini' (plural used as singular): a sort of squashed burnt biscuit palmed off as a sandwich, usually filled with gruyere, tomato, ham and other things. Or the glaces à l'italienne, ice-cream produced by Italian machinery, precisely, but which have nothing to do with the sector's traditional artisan production.
Spaghetti alla carbonara for 4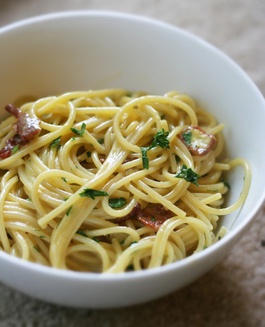 Three eggs, 150 grams of cubed pancetta, 200 grams of parmesan, salt and pepper, 450 grams of spaghetti
Beat the eggs, adding the salt, pepper and parmesan
In a frying pan, fry the pancetta in a little oil until golden
Boil the spaghetti until cooked al dente, then add to the pan and heat with the pancetta
Turn off the heat and add the beaten eggs, which need to be amalgamated with the pasta very quickly so that they don't set
Serve with freshly ground black pepper. Buon appetito!
Translated from La (storpiatissima) cucina italiana in Francia