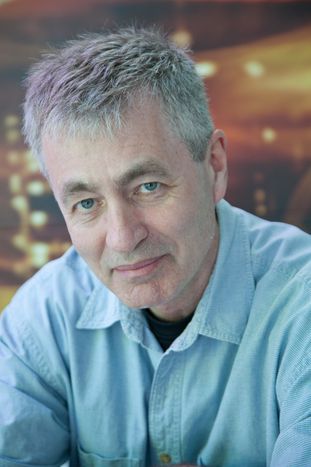 Steve James: 'In the 80s, I can't imagine anyone wanted a documentary-making career'
Published on
The American director perhaps best known for his 1994 film Hoop Dreams is in Amsterdam for the city's international documentary film festival. We talk 'new media', starting out in the eighties and why an oscars snub doesn't matter when you've got good old Europe to fall back on
Some people dream of meeting hollywood actors. I don't. I have a crush on documentary-makers instead and I must confess that I have a soft spot for Steve James, whose warm look puts me immediately at ease. He is seated at the back of the Schiller Brasserie in central Amsterdam, laptop on table. Two months ago in Detroit I had seen his latest movie The Interrupters (2011), a beautiful portrayal of three young members of CeaseFire, a local organisation fighting violence in a crime-ridden 'hood' of Chicago.
Golden age of documentary making
Steve is back at the international documentary fillm festival in the Dutch capital (IDFA) for a retrospective of his work and a presentation of the top ten documentaries which have influenced him the most. James could be described as a documentary veteran, although notably the academyawards chose not to shortlist his latest movie. Never mind, Steve James is faithful to Amsterdam. He is also flattered that he was chosen for the festival's retrospective this year. 'IDFA is such a great festival,' he explains. 'It is the first one entirely devoted to documentaries, and continues to be a leading, if not the leading documentary film festival in the world'. He's also very much in awe of the Amsterdam audience, although he admits some cultural differences with a smile. 'The audiences tend to be quieter, they don't laugh so much or loudly at the funny parts. However, it is clear afterwards that they are into it. For Stevie (2002), I wasn't able to attend the question and answer session following the screening. A big argument erupted: some said I shouldn't have made this film, and others were like 'you're kidding!' That doesn't happen everywhere. The passions are there at IDFA and it's fabulous to see that.'
Despite absolutely agreeing with him here, I do have some difficulties understanding Steve's point when he talks about the 'golden age' of documentary filmmaking, at a time when it seems more difficult than ever to come up with your own doc. In fact, it is a matter of perspective. Having started his career in the late 1980s Steve James knows something about that. 'When I studied filmmaking, I can't imagine anyone would have said, 'Oh, I plan to have a career making documentary films,' he says.
'There is always this fear of where the funding's going to come from - that's been with us for decades'
'Now I meet young people all the time at film festivals who tell me they went to school because they want to be documentary filmmakers. That's not to say it's an easy way to make a living. It's not, but there's been an explosion in documentary filmmaking, and an explosion of places for your film to play, or festivals, television and otherwise. That's why I say it's a golden age. Of course, there is always this fear of where the funding's going to come from. That's been with us for decades. Yet so far it's been working. I'm able to make a living out of it. Also, the obstacles from a technical point of view are not there anymore. Back then, you needed a cameraman and you couldn't edit on your laptop. It's still hard when you're starting, but there are way more opportunities than when I was starting. The genre has exploded, that's really exciting. There are genres within the documentary: the cinéma vérité ('truthful cinema' - combining naturalistic techniques with stylized editing and camerawork – ed); the more informational type of documentary; documentaries that are more like comedies. It's completely free and open now.'
Interactive movies
Steve James may be a big fan of new documentary silver screens, but he is not obsessed by the idea of high speed production. 'In all of the films I've made there has been something that bothered me or that I felt I needed to understand but I couldn't understand. For instance the genesis of The Interrupters goes all the way back to Hoop Dreams (1994), having seen the cause of violence and what it means to live in neighbourhoods like that. Since then two people who were prominent in the film have been murdered. I came to know them quite well and felt the loss, as well as the frustration of why does it have to be that way?' Hoop Dreams follows the lives of two African-American boys who want to play basketball professionally. Sports is a theme which often comes up in James' movies, which is not surprising for a filmmaker who grew up in a in a 'very sport-conscious' family. He would mingle with African-American kids playing basketball, coming back at night to his very white neighbourhood of Hampton, Virginia. 'With Hoop Dreams I was clearly trying to make sense of what the game of basketball meant to African-Americans. I never really got close enough to them to understand it, even though I knew quite well what it was.'
Steve calls himself 'a very traditional, old-fashioned, you might say, filmmaker'. He confesses with a laugh that the first time someone told him that they had watched one of his films on their phone, 'I was both horrified and excited'. However, he acknowledges that 'we live in a world that has changed' and doesn't want to get left behind. Indeed, The Interrupters recently received the 'new media' fund from the Tribeca film institute (TFI). The grant is awarded to six interactive, non-fiction projects promoting social change and is to be used for a cross-media interactive effort around the film.' On the website, which will be derived from a scene of the movie, you'll be able to create your own shrine,' James adds. 'You'll also be able to find about how the victims of the movie died, how it was reported in the media, what their friends and family thought about it, and so on. Other interactions will connect to other scenes of the movie. I hope this will lead to incredible experiences.' However, Steve will certainly keep making good old movies. 'When technology is added the old ones won't go away. When television came along people said it would be the end of movie,' he concludes with a laugh. 'I still want people to see the film!'
The author is writing and co-directing a transmedia documentary about Detroit, the challenges the 'D' is facing and how Detroiters are fighting for their city to 'come back'. Read the blog detroitjetaime.com (in French and English) or catch her on twitter
Image: © Hélène Bienvenu. videos The Interrupters (cc) DocumentaryTrailers; Hoop Dreams (cc) DocuChick/ youtube
Translated from Steve James : rencontre avec le maître du documentaire