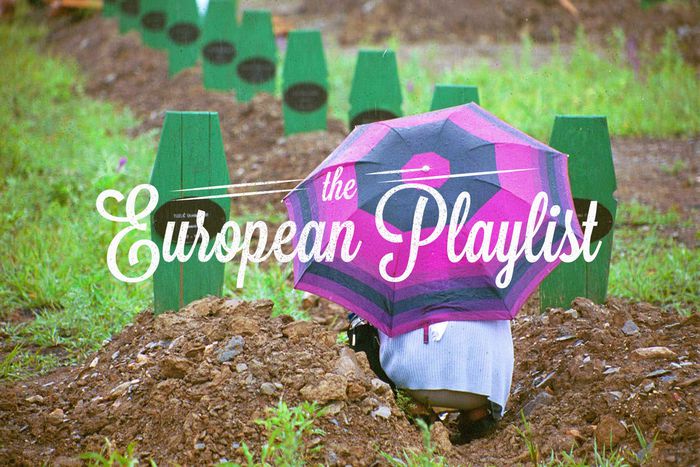 Srebrenica Playlist: Songs against forgetting
Published on
In 2015, it's not just the Armenian Genocide that's being commemorated. 11th July marks the 20th anniversary of the 1995 massacre in Srebrenica, Bosnia - a war crime that has since been recognised as a genocide - during the Bosnian War - costing 8,000 people their lives. Here are some songs, lest we forget.
Tarik Samarah: "Srebrenica"
"This short clip from photographer Tarik Samarah reminds me of Srebrenica and is often shown on Bosnian TV," says Aldin from Sarajevo. "Otherwise, there's also this song specifically about Srebrenica, 'Srebrenica Inferno'. To be honest, I find it a little pathetic, but it gets played here every July. The religious song 'Ilahija' is also well-known among Bosnians. It's about war martyrs and it feels like I'm constantly hearing it on the radio." In 2013, Serbian president Tomislav Nikolić publicly apologised for the first time on behalf of his country. Russia is currently blocking motions from the UN Security Council to acknowledge the Srebrenica massacre as a genocide.
The Cranberries: "Bosnia"
Who didn't spend their teen years headbanging to "Zombies" by The Cranberries? On their third studio album, To The Faithful Departed, the Irish band offer up "Bosnia" alongside other songs about the world's problems. Singer Dolores O'Riordan also sang Schubert's "Ave Maria" with Pavarotti at a benefit concert for Bosnian children.
LIGAJOVAPELÙ: "Il Mio Nome è Mai Più"
In 1999, Italian trio Jovanotti, Ligabue und Piero Pelù delivered the bold statement "I won't be called war anymore". The famous rockers joined forces with Jovanotti (who made Italian hip-hop big) as LigaJovaPelù, creating this hit remembering the tragic losses of the Yugoslavian wars, particularly the military intervention in Kosovo in 1998 and 1999.
Gaël Faye: "Petit pays"
According to his Facebook page, he hails from Rwanda-Burundi-France. In his song "Petit pays" ("small country"), Burundi-born Gaël Faye sings about the tragedy in his mother's homeland - the 1994 Rwandan genocide, during which between 800,000 and one million people in the Tutsi minority were killed. Faye, who graduated with a Master's in Finance in London before working for an investment foundation, ditched his job to start the band Milk, Coffee and Sugar with Edgar Sekloka in 2009.
Stromaë: "Papaoutai"
"It's horrible, it has affected me and it still bothers me to see that we still can't really live together," said an agitated Stromaë on Ivorian TV on his current African tour. The Belgian-Rwandan singer lost his father and other family members in 1994 during the Rwandan genocide. "Papaoutai" (Dadwhereareyou) is dedicated to his father.
System of a Down: "Live in Eriwan 2015"
2015 is not just Srebrenica's year - the 100th anniversary of the Armenian genocide during the First World War was also commemorated in April 2015. The American band System of a Down, whose four members all have Armenian roots, kicked off their "Wake Up The Souls" tour in the Armenian capital of Yerevan for the occasion. In the documentary Screamers (2006), on the topic of genocides in the 20th century, lead singer Serj Tankian explains why the band advocates for official political recognition of the genocide - including in Turkey, where the atrocities are still being denied today.
Translated from Srebrenica-Playlist: Songs gegen das Vergessen