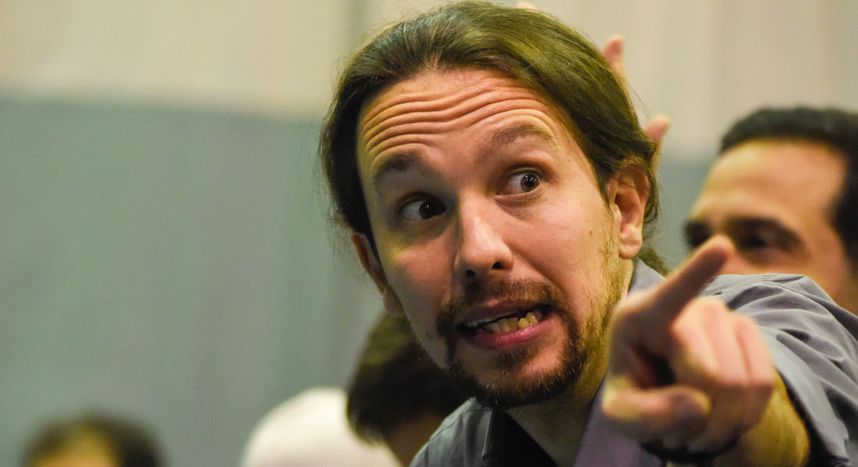 Podemos: So far, so good... but are cracks emerging?
Published on
Along with Syriza, they are the party currently making the most noise in Europe. Since its formation in 2014, Podemos hasn't stopped inflating its number of supporters, its popularity and the ego of its leader—Pablo Iglesias. Is it all too good to be true? Two days from elections and the party may have sprung a leak. But has the air really been let out of their campaign? 
October 2014. One after another, hundreds of thousands of people gather outside the Palace of Vistalegre, a former bullfighting arena in southern Madrid. For the most part they are dressed in yellow and purple, matching the 9000 participants come to assist in a historic event: the first "Citizens' Assembly" of the Podemos movement.
Over the course of two days, this congress has the objective of turning the movement into a political party. It includes the nomination of a secretary general and, above all, the establishing of which policies are best suited to guide them to victory at the general elections on the 20th of December 2015.
Where it all began...
Standing looking around at the smartphones, the sign language translator and the sea of people chanting "Si se puede" (yes we can), is Javi. This 40-year-old Spanish expat travelled from Paris out of curiosity. Six years after having left his country because of the economic crisis, I meet him in a café in Ménilmontant. He explains to me what led him back to Madrid.
"I wanted to witness the process through which a new party was created," he says, "At the time I admired Podemos a little, even if I had never played an active role within them. From Paris, I saw new people addressing old problems: corruption, the monarchy, bipartisanism…"
But the jubilance with which the crowd watched Pablo Iglesias take up the reins of Podemos on the evening of the 19th of October, caused Javi—a person who had always been engaged with the political left—to decide to keep his distance.
"During the Citizen's Assembly in Madrid, Iglesias chose to adopt a vertical structure," Javi explains, "Podemos had always functioned under a horizontal structure, kept in place by other figures of the party such as Pablo Echenique or Teresa Rodruguez (from the anti-capitalist organisation Izquierda Anticapitalista ed.). From that day on, many people on the left argued that we were creating a new socialist party."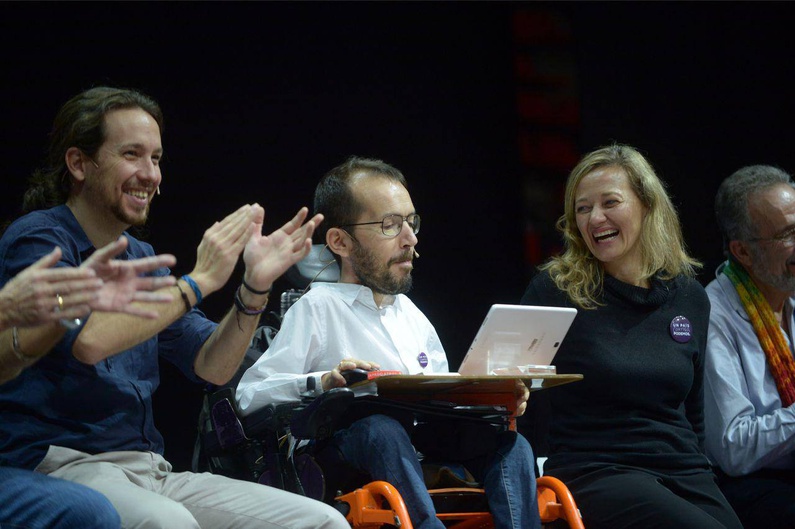 In his eyes, this vertical structure poses two problems. Firstly, it invokes the very "caste system" of the traditional parties that Podemos condemns. Secondly, it implies that decision-making will be concentrated in Madrid, in a country where the centralisation of power is thought of as a right-wing strategy. Now closer to Izquierda Unida (the party of the extreme left, ed.), Javi continues to observe the progress of a political movement whose success continues to frighten the media—even beyond the Pyrenees.
The problem is that Javi no longer recognises the ideas on which the movement was based. "They have begun to change their discourse," he argues, "They used to say they wanted Spain to leave NATO and disband the Monarchy; but either they have changed their mind, or think it is never a good moment to do so."
For Javi, the party has cut itself off from citizens. "On TV, Iglesias says that decisions must not be taken in some tiny room, between those in power. But after the Assembly in Madrid, he did just that. That's a lack of consistency, to my mind."
Hugo Chavez and the Podemos of the right
This lack of consistency could explain Podemos's stagnation in the polls. Even if the party did expand its support in the first part of 2015, it fell below 15% of the electorate last October, before rising beyond 17% after the first televised debates—biting at the heels of the PSOE, polling at 19%. The movement has much ground to gain against the Partido Popular (30%) and Ciudadanos (20%), however.
Are they worried? Not at all—according to a source close to the party who preferred to remain anonymous: "At each election, Podemos has increased its support. At the European elections in May 2014, the polls predicted that we were only going to win 1 seat at European Parliament but we ended up winning 5 of them. At the elections in Andalucía in March 2015, we doubled our representation. After the municipals, nobody would have imagined that the major cities in Spain (Madrid, Barcelona, Valencia and Saragossa would be administered by our supporters. At any rate, within the party, we are wary of polls as much as we are of political austerity. In Spain, We call them 'la cocina de los datos' (the data kitchen, ed.).
"In January 2015, a study credited us with 28% of voting intentions," the source continues, "We knew that was unrealistic and that this number had been calculated so that afterwards, they could report that Podemos had experienced a drop in support."
It's difficult to identify the origin of such a manoeuvre, given that the entire political landscape wishes for Podemos's political death. The success of Iglesias and his supporters gives Spain's political forces a headache. Because the leaders of the traditional parties still don't want to cross swords with their worst nightmare, they have found a way to start a campaign of demonisation. Their principal supporter? The press.
"Frankly it's very difficult," says Javi, blowing on his café noisette, "The main media outlets—ABC, La Razon, La Vanguardia and even El Pais—depict Podemos as an extremist party. They have even accused them of following the tactics of the ETA (a Basque nationalist movement, ed.) who commit terrorism!"
According to legend, their adversaries fabricate records on their behalf, linking them to obscure Bolivian movements and even Hugo Chavez. "Spanish newspapers are massively in debt and thus subject to the interests of their creditors," explains our anonymous source, "The financial powers are close to the traditional elite. The link is not difficult to make…"
The same elites would have paved the way for the rise of Ciudadanos, the party who has seen the sharpest increase in support in 2015. "They receive help from publically traded companies and the benevolence of the media," adds Javi, "Who incorrectly present them as a Podemos of the right."
Pablo's song on El Hormiguero.
In this battle of duplicity, Podemos parries every blow. During their campaign, these excesses are presented as agreed electoral tactics. The worry, according to Javi, is that such escapades will place the party on shaky ground, far from its core electoral base. "They are all about social networks," he says, "So they no longer work out on the streets. We don't really see them any more."
Whilst his campaign team summarise Podemos's promises in just 140 characters, Pablo Iglesias walks out on stage after stage, complete with ponytail and Brazilian bracelets. In one show, El Hormiguero, he even plays guitar.
"In the end, that's not what bothers me," says Javi with a smile, "What makes me complain is that he is trying to avoid embarrassing questions more and more. He prefers to go on TV shows that everyone watches, to take part in more consensual interviews."
During an interview on the independent radio station Carne Cruda, the candidate refused to respond to interviewer Javier Gallego's questions, on the subject of a party member who may have been evading taxes. "At the end of the interview, he was furious," says a journalist at the station, "He told us that he didn't understand why friends would pose such difficult questions. After that, he no longer agreed to interviews…"
The Comeback
As quickly as their popularity grew, so did the questioning of the 36-year-old Madrid-born leader: Would the success go to his head? "No", Manuel Pacheco Fuentes categorically responds. He's the man responsible for Podemos's technical support. For this 25-year-old Valencian, the party has always had this relationship with the media, and thus no one can accuse them of opportunism. 
"He was well known on the small screen long before the birth of Podemos," he complains, in reference to the numerous verbal jousts that Iglesias took part in when he was still a professor of political science. In Manuel's opinion there's no place for saying that Pablo has cut himself off from his activist roots: "No political organisation has a tool as powerful as our circles of participation. They're Podemos's motor—everyone can participate freely. On the 31st of January 2015, we won Puerta del Sol that way."
Our informant within the party added to this sentiment: "Nobody innovates like us. We offer the possibility for the public to pose questions directly to Pablo. We dedicate 300,000 euros every 6 months to financing social innovations, and anyone can vote on the points in our manifesto—which runs to 314 pages."
People can also donate money directly to Podemos—through a process called "the overflow"—to feed a campaign budget that barely reached 2 million euros (as opposed to 22 million euros for PP and 16 million for PSOE, ed.).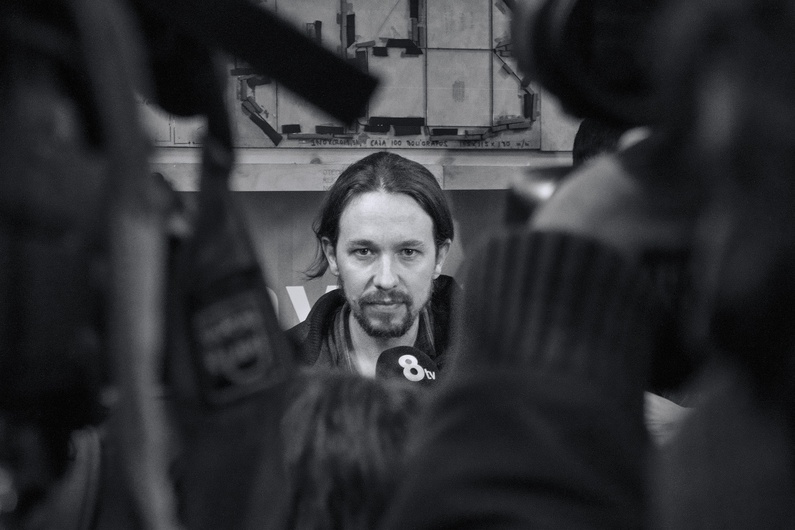 Propelled like a missile towards Sunday's historic vote, Podemos has decided to do as the other parties do. For one, though their leader has said: "You live better if you remain faithful to your adamant principles, even knowing that you will be in the minority," yet he has not found another way of winning the race.
For another, because the past year has forced him to fight anytime and any place. "We have had to organise 5 electoral campaigns. In the words of our campaign manager and second-in-command Íñigo Errejón, 'We have had to run a 100m sprint whilst doing up our shoelaces.'"
So what will happen at the end of the race? "We'll continue our effort. 2016 will be a great year of change in Spain, and the party will not be spared from this. We're going to change tack from presenting ourselves as a force for winning elections to a party orientated towards the transformation of the country. Without ever losing sight of our core audience."
Translated from Podemos : jusqu'ici, tout va bien ?