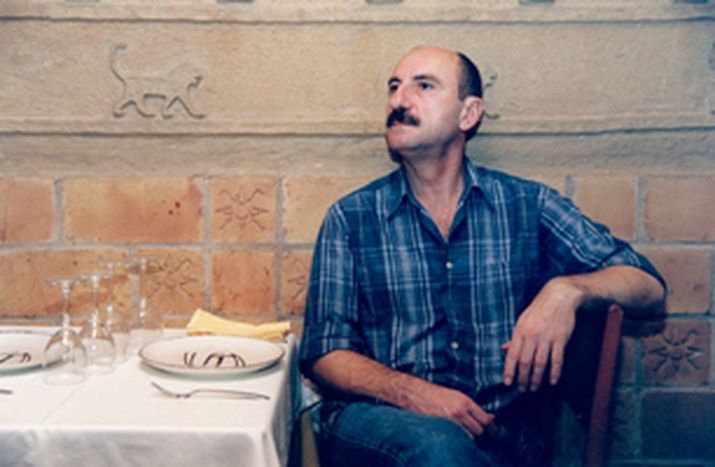 Pius Alibek: 'Saddam Hussein will not be executed'
Published on
Translation by:
luke croll
The verdict of Saddam Hussein's first trial, for the slaughter of 148 chiites in Dujail in 1982, is expected to be announced on November 5
It will be guilty, of course - guilty of torturing and killing 148 Shiites in the town of Dujail. However, this is only one of the charges brought against the dictator. In fact, Saddam, the former Iraqi dictator, is accused of the genocide of 100,000 Kurds between 1987 and 1988 and with many other horrifying crimes.
Pius Alibek, an Iraqi of Kurdish origin, is not only a philologist and a chef in Barcelona, he recently received the Medal of Honour of the City of Barcelona for his fight for peace, human rights and against the injustices committed in Iraq. As a convinced pacifist, he still lives in Spain and ignored the call of the Iraqi army during the war against Iran. He is particularly known for his dissenting opinions on the war in Iraq. No one in Europe seems to have the slightest shadow of doubt regarding the verdict in the first of Saddam's trials. However, it is not quite clear what the sentence will be – except for Pius Alibek. While waiting for reservations in his prestigious Iraqi restaurant, Alibek answers our questions with great confidence. "Saddam's trial is nothing more than a farce, a pantomime. It will drag on and on. There will never be a sentence," he predicts. "Saddam will not be executed. He will die in prison, because this is what the USA wants."
A show trial
Alibek, 51, jokes about his life in Spain. "I've been here for 25 years and since I moved here, my situation has been more legal than Saddam's trial!" He states, "It's not for the Iraqis or for the Americans to decide. If he has committed crimes against humanity, then he should be tried by the International Criminal Court, outside Iraq". The Council of Bars and Law Societies of Europe (CCBE) agrees and asked in July last year that the trial be held outside Iraq. They argued the unstable situation in the country made it impossible to give safety guarantees and create an atmosphere free of intimidation and coercion. Its recommendation fell on deaf ears. Various defence lawyers have been murdered and one judge resigned under public pressure and another was criticized of favouring the defence.
Jurists agree that Saddam Hussein's trial violates the basic principles of international criminal law. The court is made up of known enemies of Saddam, which makes them ineligible to try him. Their identities are often undisclosed. The accused has not been able to choose his lawyers freely and the trial, supposedly held in public, is only partially broadcasted. "They cut off the sound feed from the courtroom when it suits them. They only allow us to hear what they want us to hear," says Alibek in Catalan-accented Spanish.
What about Europe in all this?
Unfortunately, European governments have done little to try to obtain a fair trial. The European Union, in its Iraq Assistance Programme 2006, does not mention the trial in the slightest. The only government to have played a role is the United Kingdom, there the judges were trained for a year and the defence for a mere 6 weeks. Some NGOs such as Human Rights Watch have denounced the situation like Pius Alibek, a man who declares himself Catalan, Spanish and European in his heart.
Despite what their citizens think, some European governments maintain their troops in Iraq. Spain, Hungary, the Netherlands, Ukraine and Portugal have already pulled out, or are currently doing so. However, Denmark, Estonia, Lithuania, the Czech Republic, Slovakia, Romania, Poland and the UK will not withdraw. Italy and Poland are preparing their withdrawal for the end of this year. According to Alibek, they have all contributed in some way to leaving the country in a worse state than that in which they found it. "Saddam was a dictator, but it would be impossible for Iraq to have ever been in a worse state than it is now".
Islamize the region
Nevertheless, despite appearances, the plans of the Bush administration are moving at full speed ahead, according to our interviewee. "It's all about the old idea of Islamizing the region".
"The idea is not to attack Islam in the countries where it has a stronghold, it's to attack secular states or those with Christian communities, with a cultural idiosyncrasy similar to that of Iraq, in order to destabilize society, create guerrillas and increase violence and terrorism under the flag of radical Islam". According to Alibek, this has two advantages: the West may justify its fight against an Islamist enemy and Israel may consolidate itself as the only non-Muslim state in the region, and therefore be the only source and point of support for stability. "Thanks to this plan, they will be able to link violence with Islam".
Despite all this, Alibek, a Christian, predicts that after Iraq and Lebanon, Western states will not attack Muslim states such as Iran. Contrary to what a majority of people think, Syria or Jordan are more likely to be struck, to encourage radical Islam and increase civil wars and terrorism.
The sentence
In conclusion, Alibek is convinced that Saddam's various trials will continue until he dies in prison. This is an efficient politico-military marketing tool to keep the dictator's image alive. "People soon forget," the chef says, "so they need to keep Saddam alive for as long as possible". The same thing will happen to Bin Laden. While people such as these remain in the public eye, they serve as a focal point for collective hate and are a tool to justify invasions and wars.
Translated from Pius Alibek: A Bush no le interesa matar a Sadam Hussein