Patrice: "I'm building my own culture"
Published on
Patrice released this Friday (on the 30.9.2016) his new album Life's Blood. We took the opportunity to talk with him about the fear of flying, heavy backpacks, home and an old cassette recorder. In particular, about how important it is to mix - and that right-wing extremists have misunderstood something good.
A studio in Paris, in the 9th district. A stylish townhouse: high ceilings, gold stucco and mirrors on the walls, large Windows overlooking a beautiful green courtyard. Patrice sits opposite on a broken armchair: Jeans, Hawaiian shirt, white cap. He picks again and again at the foam of the armrest. The German singer-songwriter who's had success with his own music in France and Germany since 1999, and later Europe-wide, is currently on tour in Paris. 
From the armrest of the chair the hands move to the cap, with which he keeps playing with - then he gestures with sweeping movements. His hands don't sit still, just like Patrice. The 37-year-old also said about himself: "Everything's in motion - the places or that which I call home, everything changes." For years he's moved between Cologne, Paris, London and New York, he doesn't stay in anywhere for long: "If I've been in one place for a long time, I look forward to the next."
Beautiful beginnings
So it is with making music also: "When I've done too much of any one thing, I then look forward to the next." Patrice, who's full name is Garston Patrice Babatunde Bart-Williams mixes reggae, with influences from jazz, soul, funk, dub and hip-hop. But he doesn't just write his own songs and play concerts, he's also a producer with his own recording studio. "I'm always making music - but constantly working on a different aspect", he says listing what he likes about the individual jobs: "Writing songs is actually a very intimate thing, playing concerts and standing on stage is exhibitionistic, you divided yourself entirely in two! "As a producer, you must have distance from an artist, so that you can better see, what is the best thing to focus on." But Patrice doesn't really have a preference. In all aspects the initial stages are the best for him:
At the age of 12 Patrice began playing guitar. Because of peer pressure, he says. "And because I always had the urge to play to the crowd and to be able to express myself." At the time everyone played guitar. Clearly he also wanted to try. Big role models were bands such as Guns N' Roses and Metallica. After the first few songs of other bands he "created", he began to write his own songs. "And I had a lot of success because somehow it worked. Straight away." Nevertheless he kept his distance from the formulas of well-known bands and mixed: On his acoustic guitar he tried to play elements of Hip-Hop and Reggae. That made him unique - and so in 1999; at the age of 18 and before his final exams, he released his first EP LIONS . With LIONS he became well known in Germany and France and toured as the support act for Lauryn Hill throughout Europe. His mother didn't know anything about it. Initially she didn't take him seriously. A few years earlier she laughed when he played for her his first, cassette tape-recorded pieces:
Because he was comfortable on stage, he became a musician and Patrice took off straight away. Not only on stage, but also off, even now, as he rushes from one interview to another. Initially, he released a new record almost every year. Now, albums appear about every three years. The tenth album Rising of the Son was released in 2013. With the title he alluded to the idea of rebirth: Patrice was born on the exact day his grandfather died - for his family, it was a clear sign. With the album, Patrice turned back towards his family. He filmed the music video in Sierra Leone, the birthplace of his father.
The new album Life's blood
The songwriter now releases his new album Life's Blood. It comes out in Germany on Friday, September 30 and in France in October. Also the title choice has a special meaning, Patrice explains: "Life's Blood means so much like water or a vital element of being, the particular thing that you live for that brings you to life. That's always my life blood, what flows. And water, because values have completely shifted in our world: We give paper with numbers on it such an extreme value - but it actually has no value. However water, whether we're in the desert or in the jungle, always has the same value: It's always what we need most."
Motto: Mix!
From the video for his new single "Burning Bridges" it's clear: He also plays with influences from African culture. Mixing is still important to him. He also finds it "super interesting to bring together the past with, what's fresh right now". And this is the case in the video where he brings together African dances or traditional instruments with Hip-Hop dancers and electronic music. "If you watch a modern dancer, you see Africa, regardless of where the dancer comes from. Through their dance and the way they move, they tell a story based on something. Modern styles like Hip-Hop have their origins in Africa. "And in any case for me it is also an important part because my family comes from there."
Mixing was not only way to success, but also a basic mode of being for Patrice: "Mixing is the natural way of things. We all only exist because men and women mix. Among each group of people there is an initial mixture, there are no 'pure Africans' or 'pure Europeans'." It's better therefore not to inquire into your nationality: "I know what the intention behind the question is, but it is very unpleasant to me. I simply say what it stated in the passport - but only for their sake[the person inquiring, editor's note]. I'm building my own culture out of the things I like. And I think that everyone does that to a certain extent. I think we are not tied-down to where we are born. That is the natural way of things." And what does someone say who thinks that way about racists? "It's unnatural."
Limits & Fear of Flying
"But you must find constants in this continuous movement and mixing?", I ask. "My limits" he answers seriously and then laughs loudly. His voice only has a certain range, he only has limited knowledge of chords - "and the things I don't know, which aren't in my world." It's also good, limitation is important, because you compensate a lot with style which has a positive effect on the music: "At the beginning of my career I was much more limited and couldn't do very much. Many people say my first records were the best, because I focused on one thing and that completely ran through them. Today I can do more, and I like more too. But sometimes, people don't follow so quickly. Or they ask themselves: Why he doesn't he stay in this box that I made for him?"
Another constant is his big, heavy backpack. In it, Patrice or his assistant carry various pieces of recording equipment. "There are two laptops in there, five hard drives, a sound card and mics", he explains. He needs the equipment, so that he can spontaneously record anywhere. The thing weighs 20 kilograms--his assistant is therefore contractually guaranteed a massage every month.
The backpack is also the reason why Patrice is regularly stopped at airport security checks: "Every time I'm checked for explosives." For short journeys, like Cologne to Paris, he tries to travel by train. Environmental protection isn't the main reason: "I have a real fear of flying – no joke."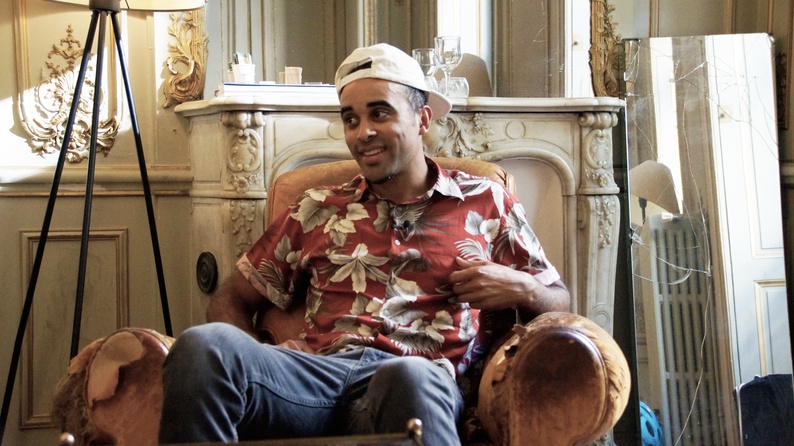 And with that comes one of his small anecdotes: "I never give anything away and try to stay cool, but somehow it still comes out," he explains and grins at the camera. "They stroke my hand like this. Wth Easy-Jet for example, where everything costs extra, drinks are just given to me. You then come to me and ask: 'What do you want to drink?' He leans forward and looks worried, like he would do to the stewardess. He then leans back again and answers calmly: "No, no, everything's fine thanks, I'm not thirsty." "What are you drinking?", he says imitating the stewardess and explains that he then orders a mojito - and in the end received two.
Then, once again Patrice appeared serious and pensive: "I heard once from a pilot, that football players or other public figures have such a real fear of flying, because they don't want anything to change. I think I fear flying, because I take themselves too seriously. But I'm working on it! If you overcome the fear of death, then you overcome all basic fears."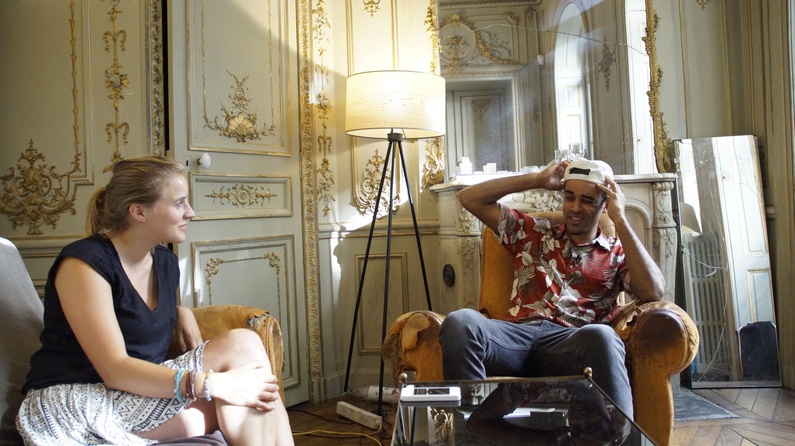 Does that not make life relentless? The question arises not only because a very funny, relaxed Patrice sits before us, but a tired Patrice and suffering from a cold. The night before was short, he said. He played in a Paris Club, La Cigale - with the singer Calypso. (The live broadcast by arte can be viewed here .) And after that there was the Open-Rum-Night…
For Patrice it's more of the same: In a half hour he has a Live-Session. An interview date follows hot on the heels of the others. But we're not yet away, and having considered that he doesn't want to play the live session alone, would like to have a little company instead. "Can I add someone to the Life Session?", he asks the Manager. And yes, he could. For Patrice energy and ideas - at least for the time being - never seem to run dry.
Translated from Patrice: "Ich baue mir meine eigene Kultur"