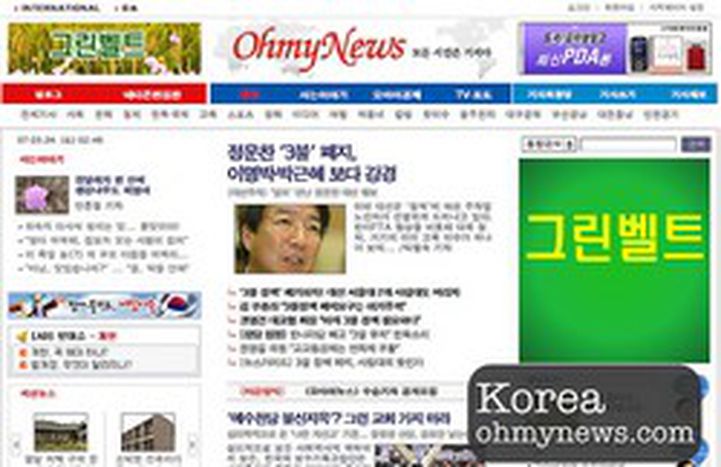 Participatory journalism: 'reinventing our profession'
Published on
Translation by:
geraldine ring
As long as we know how to adapt to this new 'revolution', the growth of 'citizen' or participatory journalism won't pose an immediate threat to traditional journalism
Thirty-six year-old Benoît Raphaël works as a journalist for the French regional daily, Le Dauphiné Libéré. In February, his newspaper launched moncandidat.info, a participatory website that allows Internet users to play a greater role in the French presidential campaign. Six weeks after it was created, the site attracts an estimated 40,000 to 50,000 visitors each day. Raphaël is also the author of a blog on citizen journalism and wants to reassure people about the trend. He says that it is up to the media to take advantage of this new tool that Internet users provide.
Which factors do you think have encouraged the growth of participatory journalism?
Today the press is going through the same crisis as politicians or magistrates have gone through in the past. The journalists are given too much power, there is too much proximity and collusion with circles of power. Moreover, some members of the profession have locked themselves up in an ivory tower, refusing to recognise their errors and taking people's intelligence for granted.
Today, everyone is trying to jump on the participatory bandwagon, whether it's politicians with tactical participatory democracy, such as left-wing presidential candidiate Ségolène Royal in France, or the media with citizen journalism. Yet, Internet users have no desire to take over journalists' role. What they want is to participate in debate, express their opinions, and inform. In the end, the emergence of participatory journalism means that we have to reinvent our profession.
What are the main difficulties encountered by participatory sites?
Participation. It has to be natural and spontaneous. It is also necessary to liven up the comments and posts. It's important to guide Internet users, to encourage them to express themselves. That's something that the local press has been doing for a long time with its regional correspondents.
On moncandidat.info, we rewrite the texts, redo the titles and the opening paragraphs. AgoraVox, a French citizen journalism website, gives the impression of being the people's media. In fact, most of its contributors are journalists, experts or famous people. The media has to play a participatory role on all levels.
You say that journalism and citizen journalism do not have to compete with each other. At present, the articles on blogs and participatory sites provide opinions rather than information.
The first photo of the 2004 tsunami in Thailand was taken by a citizen. It was posted on a blog fifteen minutes before the international press got hold of the story. The existence of sites, such as Dailymotion, YouTube and Flickr mean that once an event happens, news can be found of it on the Internet immediately.
Having said that, current participatory journalism sites do not reflect this fountain of information: they lack a certain spontaneity. Internet users will not get hold of scoops or exclusive information, that remains the journalist's privilege – but they do bring a different perspective and a reporting element. The media's work consists of using these tools of general content from users then checking them, sorting and ordering the information. Journalists should not be afraid that their career will disappear. Instead they should take advantage of what the Internet users are doing.
The Tessier report, which was submitted to the French government in February of this year, suggests that 'citizen journalists' should be treated similarly to local press correspondents. Do you think Internet users should be paid for their contributions?
That's a tough question and one we still haven't found an answer to. I don't think we should have to pay Internet users. Any individual who works with a newspaper by providing information, even a regular columnist, obviously has to be remunerated. But citizen journalists do not want to replace journalists. They simply want to contribute to debate, participate in providing information, checking the accuracy of what journalists write. I think this dialogue that it is making newspapers engage in is a very healthy one.
Giving money would result in the creation of castes of citizen journalists and, at worst, giving them (citizen journalists) too much power. If that happened, we'd be missing out on a wonderful revolution.
Europe's freelance journalists - doing too much for too little money?
Freelancers are living an increasingly precarious existence, exacerbated by changes in the media landscape. This was one conclusion that was come to during the 'Freelance, not free game' (Pigeons pas pigistes) international seminar in Liège, Belgium, on March 29-30. The event marked the mid-point of a Belgian Association of Professional Journalists (AJP) campaign to help improve the lot of freelancers throughout Europe.
Income
A European Federation of Journalist's (EFJ) survey shows that journalists are paid by character, word or page counts in some countries (such as Belgium and Croatia), rather than by the hour or by the day (as is common practice in Denmark and Finland).
In Germany, just some freelancers are paid by the hours. There are 'fixed freelancers' and 'free freelancers'. The former do not work in editorial offices, but are contracted to write by the hour. If you are a more sporadic writer, you are paid by the signs.
The implication of companies paying journalists by volume rather than time is that they value quantity over quality. This can lead to journalists resorting more often to copy-pasting press releases and slipping in the odd quote or two to save themselves time from looking for the information themselves.
Multi-tasking
High workloads mean that both full-time and freelance journalists have limited time for investigative journalism, which is essential for a strong democracy. Although it is important that unions try to ensure that journalists are properly remunerated for having a range of skills, they should not forget that learning new skills (video, sound, graphics and working with the intranet), also enhances a journalist's employability.
Lack of solidarity
Saafi Allag-Morris from the National Union of Journalists in France describes a lack of solidarity between freelancers and full-time journalists. Her view is that the more freelancers are badly paid, the more attractive a proposition they are for companies. It is in the interest of full-timer journalists to help out on this issue - they may one day be freelancers themselves.
Traineeship exploitation
France is full of unpaid or poorly paid trainees who tend to graduate without having been made aware of the precariousness of the profession. Young people go straight from university into unpaid editorial traineeships. EFJ Director Renate Schroeder says it is a 'huge problem' for trade unions, and one that the EFJ is currently trying to tackle.
Julian Hale, Brussels
Translated from « Le journalisme participatif nous oblige à réinventer notre métier »