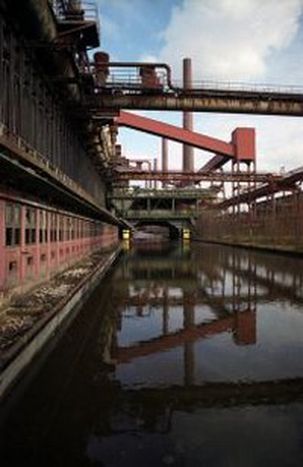 Mittal rattles the European steel industry
Published on
Translation by:
vicki bryan
Indian steel group Mittal hopes to strengthen its position in the European market through the hostile takeover of rival Arcelor. But the bid has met with strong resistance in Europe
Lakshmi Mittal's rise to become the world's fifth richest man has been breathtaking. Born in the North Indian state of Rajasthan, in a place without electricity and running water, it took him just three decades to turn his father's small steel company into the world's largest steel group. In the mid 1970s, a time when the steel industry was in the midst of a major crisis and no one dared hope for an improvement, he began to buy up steel works across the world –the first being in Indonesia in 1976 – and then modernise them. The most recent steel boom, driven by China, has filled his coffers.
A fragmented steel industry
Mittal's most recent coup could turn out to be his masterstroke. On 27 January, he surprised the industry by announcing an 18.6bn euro takeover bid for nearest rival Arcelor. As Arcelor has rejected his advances, the bid is classed as a hostile takeover.
The steel industry has long been suffering from the fact that it is fragmented. In this climate, Mittal's offer is a logical step. Even the largest steel producers have only a small share of the world market. The problems inherent in this become obvious when the companies try to purchase raw materials, coke and iron ore, and then sell their products on, to the automotive industry for example. While Mittal and Arcelor each have a market share of around 5 per cent, the three major suppliers of ore, CVRD, BHP Billiton and Rio Tinto, control around 80 per cent of the market. Their dominance enabled them to increase ore prices by around 70 per cent last year.
The two company heads, Lakshmi Mittal and Arcelor's Guy Dollé, are well aware of this fact. Like Mittal, Dollé has also spoken recently of consolidation within the steel industry. Both men dream of being at the head of a company that exceeds the magical production figure of 100 million tonnes of raw steel a year. It now looks as though Mittal will be the first to make this dream come true.
Industry experts, which assess prospects from the viewpoint of the financial market, applaud Mittal's strategy. They feel that the two companies would complement each other, both geographically and in terms of their products. Mittal is the market leader in North America and in eastern Europe after having acquired many former socialist steel producers from Poland to Kazakhstan. Arcelor, on the other hand, is focussed on western Europe and South America. However, it would take some years for Mittal to catch up to Arcelor in terms of quality. The west European steel companies Arbed, Aceralia and Usinor, from which Arcelor was formed in 2001, were clearly ahead in terms of technology. Should it take over Arcelor, Mittal will be able to offer a wider range of products in the future and also improve the quality of the steel produced at its current sites. It is estimated that the synergies from the deal could reach up to $1 billion.
"The steel Airbus"
But the mere mention of the world 'synergies' sets alarm bells ringing for employees. Mittal is already cutting jobs at its factories; of Mittal's 155,000 employees, around 45,000 will probably lose their jobs by 2010. The fears of Arcelor's steel workers, around 98,000 people at present, are understandable: it's no wonder there is such strong opposition to Mittal's plan. The main opposition to the takeover comes from France, Spain and Luxembourg, which is where the company's largest works and head offices are. New laws are being drafted up in France and Luxembourg that will render hostile takeovers more difficult.
Guy Dollé is confident that he will be able to fend off the hostile takeover. "Arcelor and Mittal do not go together", he says. And when he refers to Arcelor as the "steel Airbus", it becomes clear that the takeover battle also has a symbolic nature. Should Arcelor be swallowed up by its Indian rival Mittal, then the European industrial stage will lose something that began with the European Coal and Steel Community and whose greatest success was Airbus, the aircraft manufacturer. Lakshmi Mittal does not understand this opposition and has described the plans to fend off the takeover as racist.
Moreover, it looks as though Mittal will come out on top in the end. The prospect of higher profits has been enough to convince investors of the validity of the bid so far. He will then become head of a global group, in which national or European interests will barely have a role to play. Concentration in the steel sector will then continue apace.
The verdict of the European Commission will be delivered on 19 May. The world waits...
Translated from Mittal stürmt Europas Stahl-Festung