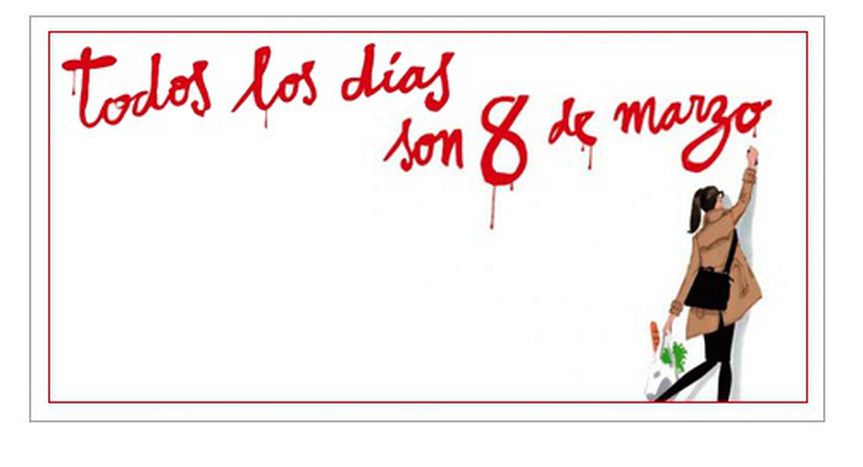 March 8th: plenty still to do
Published on
Translation by:
Sara Godwin
Every 8 hours, a woman is raped in Spain. The salary gap in Spain is 17.8%. Every day we face all kinds of violence. The situation is no better in the surrounding countries. This is why March 8th is a day to remember everything that is yet to be done.
 Every 8 hours a woman is raped in Spain. Three women are raped every day. This is taking into account the fact that only 50% of assaults are reported and the issue that the police statistics do not include figures from Catalonia, which are recorded by local police stations, and only acknowledge rape when there has been penetration. Almost 3% of Spanish women have been raped at some point during their lifetime.
It could happen to any of us. It is enough to remember Carmen Maura telling Risto Mejide on television that she was a victim of rape in her own home when she was 30. She told how "the worst thing about it was what came afterwards, because he was in the military and we had a trial full of soldiers (...) since they knew I was a actress, they asked me questions like "Are you sure that you didn't just want people to know your name?".
Our fellow Europeans don't have it any better. Sweden holds the dishonourable title being the country in the world with the second highest number of rapes, only beaten by Lesotho or Congo depending on the year, with 63 rapes per 100 000 residents recorded by police in 2010.
The figures are incomplete, imprecise and, above all, horrifying. This violence, which is so concrete and so physical, is sustained by another. Another that is much more invisible and without which this would not be possible. Eurostat as an example. Eurostat is the European Commission's statistics body, responsible for compiling, aligning and displaying statistics for all member countries. Among other figures, Eurostat compiles "crimes recorded by the police". If someone wanted to know the number of rapes that have happened in our area, they should be able to find them there. However, according to this institution, rape, which humiliates us, robs us of our self-esteem and dignity and leaves us with lifelong physical and psychological consequences, merits no special attention. According to those who make the decisions about which statistics to publish and how, rape and sexual assault are the same as robbery and other violent crimes.
Today, the whole world is talking about women. There will be all kinds messages. Many will return to condemn us to a secondary role in society. Like in Bigastro, Alicante, where they celebrate women's day with a mass and, paraphrasing Pablo de Tarso, remember that we came from a man's rib, "not from the feet to be trodden on, nor from the head to be superior, but from the side to be equal, under the arm to be protected and next to the heart to be love". Others, like PSOE en the Cadiz Town Hall, want an "aseptic message", forgetting that it is impossible to be aseptic in the face of the injustice and horror that kills us by the hundred in our own country. And others of us continue the fight because these days there are things that are never talked about: the glass ceiling that stops us from succeeding; the difficulties of being a mother and the social expectation to be one even when we don't want to; the patriarchal attitude in television debates that tries to correct us or explain things we already know for ourselves; institutional machismo; the little daily violences that force us to be mindful of our bodies and undermine our self-esteem and make us submissive, blaming us when we are abused for not leaving our abuser.
This anniversary commemorates the death of 146 women who worked in overcrowded conditions in a clothing factory in New York and died in a fire because the exit was blocked. Shortly before, they had demanded salary equality, a working day shortened to 10 hours and time to breastfeed their children. In 2012, fire claimed the lives of 120 people, mainly women and children, who were sewing the cheap clothing we demand endlessly, in a building in Dhaka, the Bangladeshi capital. In 2016, other women all over the world continue sewing for minimal wages and we all continue suffering a strenuous double working day, in insurmountable pay gap and and serious problems with choosing how we want to live our maternity.
According to European Commission figures, on average, women in the EU earn approximately 16.4% less than men. If we focus on specific countries: it is 17.8% in Spain. Still, we can feel lucky compared to Finnish women, who earn 19.4% less than men; Estonian women who earn 30% less or Austrian women at 23.4%. However, we are far behind the Italians, where the pay gap is 6.4% or the Slovenians where it is 2.5%. According to the Commission, bringing an end to the salary gap will have the following benefits: the creation of a fairer and more equal society; the creation of quality jobs; benefits for businesses and workers; a reduction in legal proceedings and complaints and a foundation for economic growth and recovery.
Maternity continues to be a luxury and not a right. In Spain, maternity leave is 126 days and it is possible to share the final 10 weeks with the father, who is only entitled to 15 days. Far behind the year allowed for German fathers and mothers, the year shared between Danish parents or the 480 days shared between Swedish parents. Ahead of the 98 days in Malta or 56 allowed in Liechtenstein, however.
Above all this, sustaining the entire pyramid of inequality: sexist humour (it's enough to walk through the streets of Cadiz during Carnival, however, luckily there are clusters who are breaking away from this), advertising that makes us into objects, journalism that barely mentions us and almost never uses us as expert sources when they develop their information or the millions of daily "micromachismos" that assume we know nothing about mechanics or that restaurant bills are for men. All a well-armed system that legitimises the privileged status of half the population at the expense of the other half and forget that without women democracy and a fair society would not be possible.
This is why, today, March 8th, there is still plenty to be done.
Translated from 8 de marzo: mucho por hacer