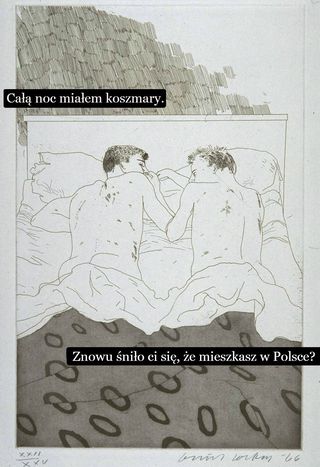 Malta's new EU commissioner for health 'and homophobia'
Published on
Translation by:
ncampbell
With Tonio Borg, a pro-life catholic deputy prime minister, having been given even more power on a European level in November 2012, another analysis of this discriminatory and unequal EU is needed
Each of the 27 states of the EU give us reason to remember that there are still many against sexual difference, and that we should fight against them. I remember once hearing 'Mocskos buzik!' ('F**king poofs!') being shouted at me by a rapacious crowd at the Oktogon metro station in Budapest. With their shaved heads, some of the hostile group were of a more senior age and there was even the odd female comrade. It was shouts such as these which welcomed the demonstrators of the gay pride march of 2009, and shamed the Hungarian capital that September.
It is probably such hostility that changed how homophobia was thought of from then on. However, an extreme aversion to homosexuality such as that shown at the march had also been previously indicated by Tonio Borg. Despite that, three years later, the Maltese politician was voted as the new European commissioner for health and consumer affairs by the 27 member states of the EU in November 2012.
Europe's latest homophobic aggressions are real
'I've never made negative comments (about homosexuals)', was how Borg defended himself in European parliament in November 2012. Though just three years earlier, he didn't hesitate to mock the Maltese opposition party's proposal, to include same-sex couples under the rent reforms which were being discussed at the time. 'I'm surprised that they criticise us for 'forgetting about same-sex couples, who won't be protected by the rent reforms. That's the last thing we need right now.' He even went on to question: 'who else should be protected, exactly, apart from those marriages made up of a man and woman'.
Malta is just one example of where the hate towards sexual difference extends across Europe
The archipelago, which only legalised divorce in May 2011, is just one example of where the hate towards sexual difference extends across Europe. Otherwise, how do you explain the death in 2008 of Bulgarian citizen Mihail Stoyanov, whose bruise-covered body was found in the city of Sofia, throat smashed in? Or the harassment carried out in Greece by the neo-nazis of the golden dawn party? Or the suicide of Andrea, a 15-year-old Italian boy who had previously been bullied for wearing pink trousers? And what about Slovakia, where extreme right-wing parties managed to ruin the country's first gay pride event in 2010? Or Poland, where protests in favour of tolerance were met with indifference by the authorities of the fourth largest city, Wroclaw, who advised participants to change route so they wouldn't be attacked, which they eventually were?
Union of Europe
Authorities play a great role in stigmatising sexual difference; in 2011, Cyprus rejected a request for asylum filed by an Iranian lesbian, after having doubts about her sexual orientation? Is it fair that Lithuaniaprohibits anything which may be seen to support same-sex marriage? How can it be that only 2% of Romanians claim to have a non-heterosexual friend, yet 20% are unaware if homophobia is an issue in their country or not?Fom the results of a 2011 survey carried out in Latvia, more than half of those asked were found to be against homosexual relationships and 28% disapproved of the gay population in general. In Estonia, same-sex couples are still not allowed to marry and homosexuality is considered almost an invention. Even back in Malta, there is still hostility. What could have possibly driven Tonio Borg to refuse to support a directive against discrimination on the grounds of sexual orientation in 2008? Perhaps it was the same reason which drove him to try to take freedom of movement away from homosexuals, one of the fundamental principles on which the EU is based.
Read '2010 perspective: what has the EU done for LGBT rights?' on cafebabel.com
Some states have chosen to legalise civil marriage of their own accord, yet in most cases, by taking part in such a union, one is not afforded the same rights as those of a heterosexual marriage - there is still a difference upheld by institutions, two different types of marriage depending on the sexual orientation of those taking part. Shouldn't the institution of marriage belong to society as a whole? The answer – which mostly comes back as no - is obvious in places such as Austria; where homosexual couples are refused the right to legally adopt or have children. In Finland, where same-sex adoption is also prohibited, the country's third largest party true Finns asked for the term 'adoptive parents' to legally mean a 'man and woman'. Hungary, which is presided over by Viktor Orban, a supporter of the christian Europe advocated by Robert Schuman, reformed the country's 'golden bull' (as the constitution is called - ed) in 2011, so it would state that a family was the union of a man and woman. In Luxembourg, though there are civil unions, a reform set to legalise same-sex marriage in 2010 is at a standstill two years down the line. The fact that unions between individuals of the same sex and marriage are considered two different things is just evidence of the prejudice which lives on. Across the border, the 2011 advice of German football captain Philipp Lahm, who recommended that gay footballers not publically announce their sexual orientation, is just further proof.
As can be expected, the stigmatisation of homosexuality reaches all corners:
- It stretches from an Irish company who sacked a female employee after she revealed she was a transsexual in 2011
- To gay male blood donation in the UK; a man who has had sex with another man in the last twelve months is still not allowed to take part (in Northern Ireland, however, it is somewhat vague)
- In the Czech Republic, an adviser to the president affirmed that the LGBT population was merely 'a group of deviants'. Vaclav Klaus later tried to defend him, noting that, in Czech, 'deviant' is a 'value-neutral' adjective
- Insults are turning into assaults in Slovenia, where neo-nazi factions in Ljubljana have launched attacks on places associated with the LGTB community, including some in Metelkova, which houses gay and lesbian clubs
- The same violence was demonstrated recently in France, after socialist president Francois Hollande declared his support for the legalisation of same-sex marriage.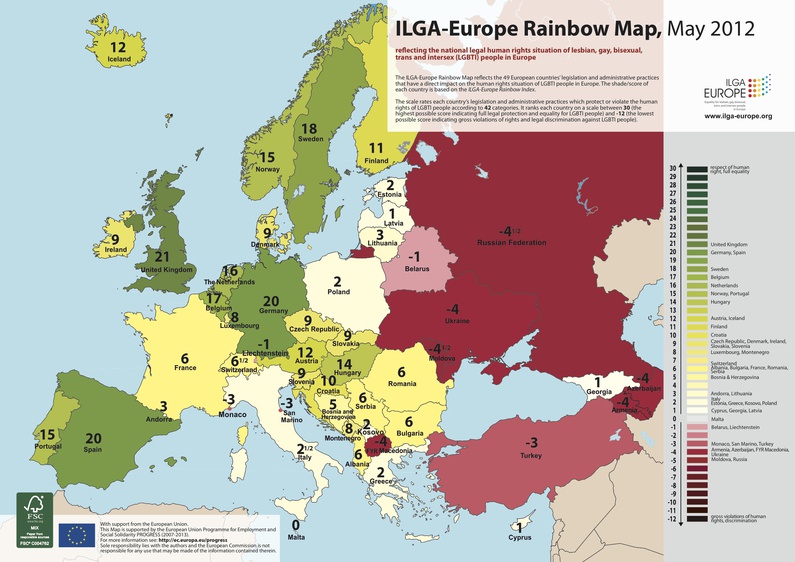 Even in countries where same-sex marriage has been implemented, homophobia seems to defy everything which the law has tried to overcome.
- In the Netherlands, the first country in the world to legalise it, 34 cases were noted where people had to leave their towns because of homophobic attacks in 2011
- Similarly in Belgium, a lesbian couple from Liège was insulted, and their companion physically assaulted in the summer of 2011
- In the case of Sweden, the country has done little to shed light on the homophobic behaviour of a member of its police force
- In Denmark, a journalist admitted in public that he couldn't tell a transgender woman from 'a circus of deviants with depraved impulses'. Now it seems it is the hatred of everything which is different which has become the 'norm'.
- Portugal, on the other hand, at least seems to realise that transsexuals are those most discriminated against in the country, followed closely by the gypsy community
- At the same time in Spain, the party currently in government took the law on same-sex marriage to the constitutional court, despite it having previously been approved in 2005. If they had chosen not to do so they would have been spared the judgement passed on 6 November 2011, in which it was stated that marriage between two people of the same sex is fully constitutional
- On 16 December 2012, the much-publicised march for equality started off at Place de la Bastille in Paris, for all those who deemed that marriage should be available to every couple, as should the right to be a parent. The debate continues in France today.
Images: main © courtesy of Sztuczne Fiołki based on a piece by © David Hockney; in-text © ILGA-Europe © courtesy of  Act Up-Paris official facebook page/ videos: (cc) atrejuvienna; RussiaToday/ via youtube
Translated from En esta Europa homófoba, nada une tanto como el odio