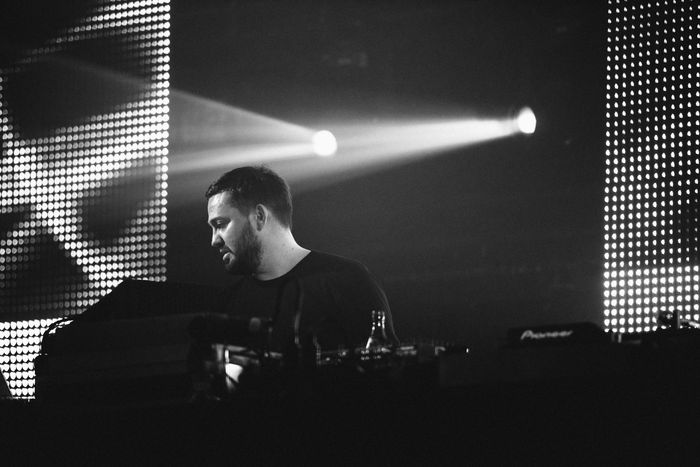 Kalkbrenner's Formula: Music for the Masses
Published on
Translation by:
Danny S.
Fritz Kalkbrenner has releases his new album Ways over Water two years after his last masterpiece, and presents himself in a similar vein between soul and house. cafébabel met up with the musician in Paris for an interview, and we've come to the conclusion that he's a very normal guy.
Fritz is the younger brother of the guy in this film. Fritz is the voice of that hit from back then, don't you remember it? 2009. That's when Sky & Sand was stuck in everyone's head. But Fritz also makes his own music, and is pretty successful at it. He landed in 6th place in the German album charts with his last album and generates large crowds in concert halls throughout the world. Now Fritz has released his third album.
Parisian hotel. Not the most glamorous, but not quite trashy, somewhere in the 9th Arrondissement. It's central and pretty practical. Plain middle-class standards. He keeps me waiting, but only because he's still trying to get a few tips for lunch and is taking a few photos. Giving an inviting smile, we shake hands. Somehow he really looks normal for someone who is one of the largest German music exports and who, for example, was one of the headliners at this year's Melt! Festival. His distinct mix of soul and catchy house turned him into a DJ star. Being multifaceted isn't his strong suit. On the other hand, his striking voice is. He comes across just like his music: you get what you expect. The guy is down-to-earth, not too egocentric, in other words, pretty normal. At first glance, he doesn't seem to me like an artistic type.  
But maybe that has something to do with his Berlin dialect, which can be very blunt, direct and open. And it's clear that he has something to say, because to only make music for the masses simply isn't this thing. I'm surprised, because his release Ways Over Water (with music Label suol music) seems to me to embody the very essence of what's suitable for the masses. A few catchy beats here, a couple lounge melodies there, his striking voice, and then embedded with lyrics that are meant to be sung. It's hard to believe that there isn't a formula behind it. It worked before, why shouldn't it again? But Kalkbrenner says "no" when I boldly ask him if he things of the dancing audience when writing his songs: "I have to feel it in my legs, too. Only then do I know it's a good track." If you have a good look at him, you'll believe him. So that's just what he prefers. And that's how he's managed to hit a nerve: A man of the masses.
Video and lyrics for his current single Back Home go hand in hand. Both tell a story that shapes the album title. Ways over Water roughly communicates that "sometimes when you have a problem, it'll seem impossible to overcome. It's always a deeply impactful and heavy experience and burden to have. That's when the challenge and conflict of trying to work through it and overcome it begins."
The official music video for the single Back Home
A propos, Back Home. Where does a Kalkbrenner even feel at home? Someone who's on tour for most of the year? "I'm a global citizen, if you will. But. I also have a mishmash of mannerisms that are simply German. Like being hell-bent on punctuality. For example, if the event facilitators pick me up and are a little bit late, I look at my clock after just ten minutes. And, of course, I'm also a native Berliner," he says, while popping a piece of candy in his mouth. "I've always come to realise that the audience is always just as excited, no matter where I am. A techno-crazed Spaniard can connect with a Swede much faster than with a heavy metal Spaniard. Music is a unifying element." Ohh. Kalkbrenner is pretty simple, which isn't making things easy for me. With his small beer belly and receding hairline, he begins to appear more like a middle-aged dad than a popstar. 
"Check and make sure you asked me everything," he says a little sardonically before we part ways. And of course he has a right to say it. Ultimately, he was a music journalist, and knows how things work. His musical knowledge is enormous, but he doesn't really listen to electronic music. Moreso "a lot of Marvin Gaye, Curtis Mayfield...the all the Willi Mitchel stuff... the soul music productions" that influenced him when he was younger. He's more of a musician than a DJ, which is a clear impression you get from him. On stage, he sings and mixes at the same time, and he writes all of his songs by himself in the studio. The man knows his craft. Regardless, I don't consider him an artist. But he doesn't have to be. Because most people like his stuff, which makes it okay.
Translated from Kalkbrenners Kalkül - Musik für die Massen