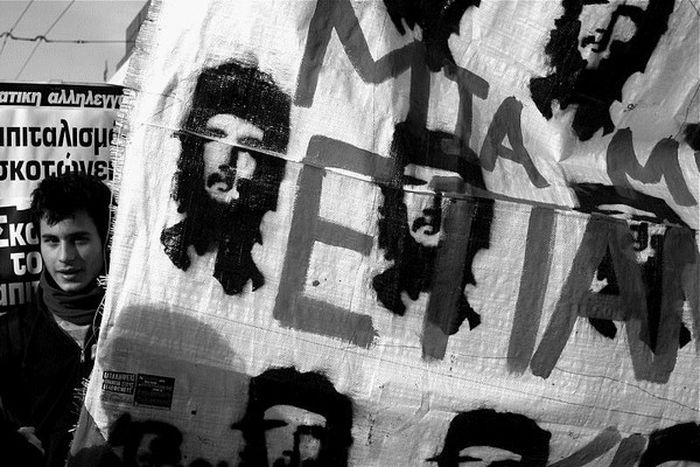 In Greece, remembering Alexis Grigoropoulos, 15, with riots
Published on
Translation by:
Mohsin Patel
Since 6 December, millions of Greeks have been gathering in the country's streets in memory of the teenager who was killed by a policeman during the student revolts. Collisions between anarchists and 6, 000 police have resumed with renewed vigour. 'When will we listen to what the youngsters have to say?'
Over a year ago, on the eve of 6 December 2008, the teenager Alexis Grigoropoulos, 15, was killed during a police check-up in the antiestablishment neighbourhood of Exarcheia, Athens. His death triggered urban violence throughout the entire country. For a whole month, young citizens expressed their anger against the country's political and judicial systems, on the streets of Athens. Such a revolt, very much outside the norm in Greece, afforded students the opportunity to release their anger and to expose all the problems...using both words and violence.
Since then, the demands of the demonstrators have not been fully realised. The political party in power has changed, and brought with them a desire for new reforms in the education sector and if possible, for the future of today's youth. The students are complaining about being 'victims' of the system, claiming that it is impossible for them to meet their basic needs with a minimum legal wage of a mere 700 euros (£633) gross per month.
Stones vs tear gas
In view of the anniversary of young Grigoropoulos' death, the new socialist government had agreed to a pacific protest; this is also exactly what the mother of the victim had expressed a desire for in her address to the media. To honour the memory of her son, yes, but in a calm and appropriate manner. Sadly, this was not adhered to: on 6 December 2009, riots took place between students, anarchists and the police, in Athens as well as in Salonica. Shops were vandalised, bins set on fire, a local education authority seized and stones thrown against riot police; 26 officers were injured as well as four people. The dean of the national university of Athens was hospitalised following a serious injury to the head.
The anarchists also set fire to a Greek flag before replacing it with an anarchist flag. From one side, stones and petrol bombs; from the other, tear gas. Almost 150 people who were at the heart of the anarchist movement were arrested, and approximately the same number the Sunday before, 'as a precautionary measure,' according to the police. On 7 December, other demonstrations were organised by student bodies, left-wing organisations and trade unions. Such a situation prompted a Greek politician to proffer to the press that: 'It would be a good idea to mark 6 December as a national day against the violence of young people or even a day dedicated to our youth. In such a way, we can commemorate the death of this young boy and honour it peacefully.'
Translated from Premier anniversaire des émeutes en Grèce: que disent les jeunes ?