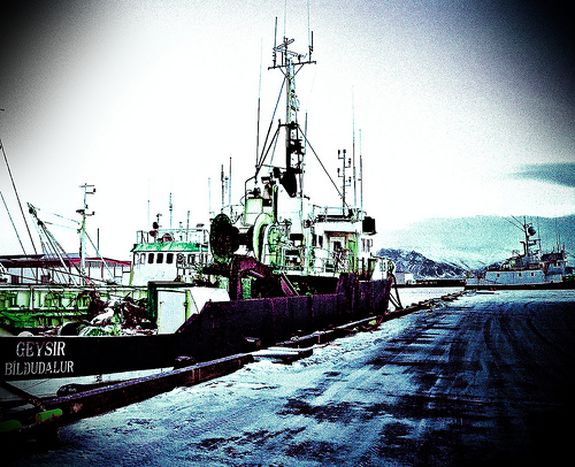 Iceland in the EU: 'Only on our terms'
Published on
Translation by:
Sarah Meleleu
In a pub in Reykjavik, three young Icelanders discuss the possible membership of their island to the European Union. With less than 10% growth, they are not showing "euro enthusiasm", but pragmatism
'We want to see the agreement first, then we will decide.' It is 10pm and you can just make out the sunset from the first floor of a pub in the centre of Reykjavik. Stefan, Vifill and Stefan Rafu are a group of friends aged between 18 and 19 years old. Stefan Rafu is a member of a union that is part of the European youth forum, an NGO that brings together the opinions of all Europe's young people.
Is the EU worth a salmon?
The boys show extraordinary pragmatism for their age. Stefan, a secondary school pupil with a typical teenager's problematic skin, explains, 'First of all I need to see what the actual benefits for Iceland would be, and also for the EU of course. But if anything I am against it. We Icelanders are afraid of losing control of our fishing. You must realise that in 2007 the sector accounted for 28% of the country's exportations.'
Stefan Rafu, secretary-general of a union of secondary school pupils and future political science student, is for membership. Yet when he hears about the EU, his icy blue eyes do not light up. 'I cannot say for definite either before seeing the agreement with my own eyes. But in principle I am in favour because Brussels has already helped the small countries.' The problem is rather who at the European Parliament helps the small countries; here no-one is taking Altiero Spinelli's heirs and federalist supporters into account at all. Politics and the European project do not count. 'I am thinking of Malta, which is also an island dependent on fishing, and which has secured a good compromise with the EU in this area. But I am also thinking of the fact that Brussels gives more farming subsidies to the nordic countries.' All things considered, the young man is more like an economic expert than a budding political science student.
Joining in the shadow of the economic crisis
But why this interest - and it has to be asked – in the EU? Is it because of the economic crisis and the recession of a country that will register an estimated growth of less than 10% this year? 'I am sceptical,' Stefan repeats, 'In reality, we should first of all resolve this crisis on our own so that we can arrive stronger at the negotiating table with the EU, if we should really go there. We can do it. We don't import that many products from abroad after all.'
The pro-EU Stefan Rafu makes a face and with him, a public opinion that, in February 2009, Johanna Sigurdardottir's social democratic coalition returned to power after twenty years. And this coalition has just won the elections on the basis of a eventual entry into the EU and on the Euro as a remedy for the economic crisis. But where has all this 'Europeanism' come from? Were there people in favour of joining before? 'There were a few supporters.' There we go. 'You see,' blond IT student Vifill explains, 'A lot of companies today say 'if Iceland does not join the EU, it is us that will go'. It is true that the monetary instability of the krona is becoming unbearable for the country.'
But these young people, do they feel European? 'Of course,' explains Stefan the euro-sceptic, 'For example, we have a lot of things in common with the other Nordic countries - we learn Danish at school from the age of ten.' Stefan the pro-EU then says to us: 'Iceland is more European than North America, because it is liberal in relation to alcohol, sex and secularity.' Johanna Sigurdardottir, the new prime minister, is the first openly homosexual government leader of the modern era. Nevertheless, we must not forget (either) that Lutheranism is the state church. As for Stefan Rafu, does he feel more European or more Icelandic? The question, far from being silly, is posed to everyone there, all members of the European Youth Forum. And Stefan Rafu replies: 'More Icelandic, obviously. What kind of question is that?'
Translated from L'Islanda nell'Ue: «Sì ma alle nostre condizioni». Parola di 18enni