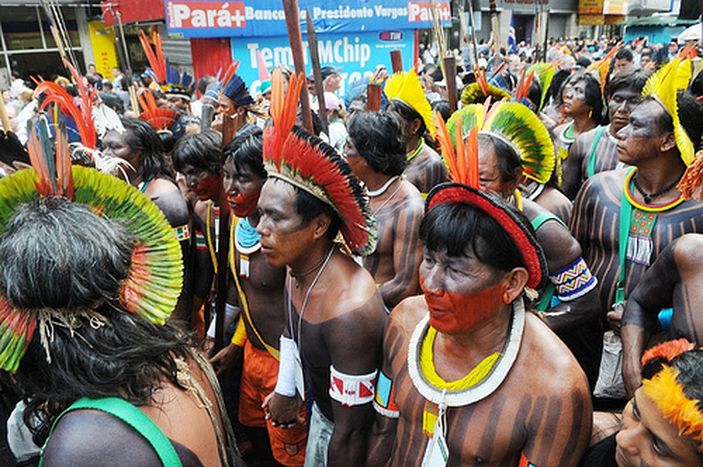 Global crisis boosts the world social forum in Belem
Published on
Translation by:
francesca reinhardt
Tired but hopeful. From 27 January to 1 February 2009, a hundred thousand participants joined the WSF in Brazil to share information and ideas. The void left by the financial crisis is a chance for civil society to make its alternative ideas count. Report
'This world social forum is a historical event because for the first time, it brought together more heads of state than the world economic forum.' Candido Crzybowski is one of the founders of the world social forum. The evening before we met, he facilitated a three hour debate between the heads of state of Brazil, Venezuela, Ecuador, Bolivia and Paraguay. These presidents were presented as 'the children of the world social forum, of civil society and the social movements' of Latin America which, according to them, have 'made political alternatives possible for the continent.' Such a meeting at an unofficial event organised by civil society would certainly be unprecedented in Europe, where only the G8 and the council of Europe attract such high level politicians.
Belem in the French press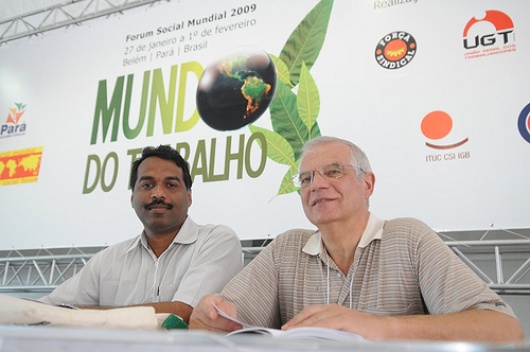 But this annual meeting, launched in 2001 in Porto Alegre in response to the world economic forum in Davos, Switzerland, is above all an opportunity to organise joint campaigns across the continents. 'For us, the forum is the starting point of a global march of the landless workers of Latin America, Asia, and Africa. We are organising it for 2012 in order to demonstrate that redistribution of land is one of the strongest arms in the fight against hunger,' explains Ramesh Sharma. Brimming with ideas, he is well aware that organising campaigns between different continents is complicated.
Ekta Parishad, an organisation of landless workers in India, organised a 350km march lasting several months, in which 25,000 landless Indian workers participated in 2006. Since then, they have pushed through the implementation of an agrarian reform by the Indian authorities. 'For us, the forum is a means to prepare the next steps and to link forces with the landless movement in Brazil, which has a long history of fighting for agrarian reform,' adds Ramesh.
'European companies produce biofuels, which has the effect of expelling communities from their land and exposing them to famine'
Benjamin Peyrot des Gachos is the young representative of the French organisation Peuples Solidaires ('People in Solidarity'), which runs development projects in global south countries. At Belem, he is working on food security issues. He emerges from the debate tired but enthused; it was a scramble to organise the debate venue and translators in Spanish, Portuguese, French, and English to allow all the participants to debate. 'On the basis of these talks, we are planning to launch an awareness campaign in France ahead of the next European elections in June 2009,' he explains. 'It's about alerting the media and the general public on the role played by European companies in producing biofuels, which has the effect of expelling communities from their land and exposing them to famine, whether in Brazil, India, or sub-Saharan Africa.'
Going beyond the national debates in Europe
These exchanges are indeed fruitful, but according to the forum's veteran participants, the civil society groups assembled at Belem have to reinvent themselves. 'The financial crisis obliges civil society to offer alternatives. But social movements themselves must reinvent themselves and become more creative,' says Otive Igbuzor, a Nigerian member of the forum's executive committee. 'Africans have to play a bigger role in the forum's leadership positions, which are dominated by Brazilians. They have a lot to learn,' he continues. 'The next forum should take place in Dakar and I will try as much as I can to push for the voices of African organisations to be better heard!'
'Social movements themselves must reinvent themselves and become more creative'
Is it time to renew the political classes and the way politics is done? The debates at Belem are not far removed from those kicking off in Europe. 'I sense that the current crisis is motivating young people who want to get involved in issues of international solidarity. The need for answers at the national level, but also at the European and international level, has made itself evident,' concludes Benjamin. 'The European elections fall just in time! We have the opportunity to push politics and debates beyond our own borders, just like the recent American elections.'
Translated from La crise relance le forum social mondial