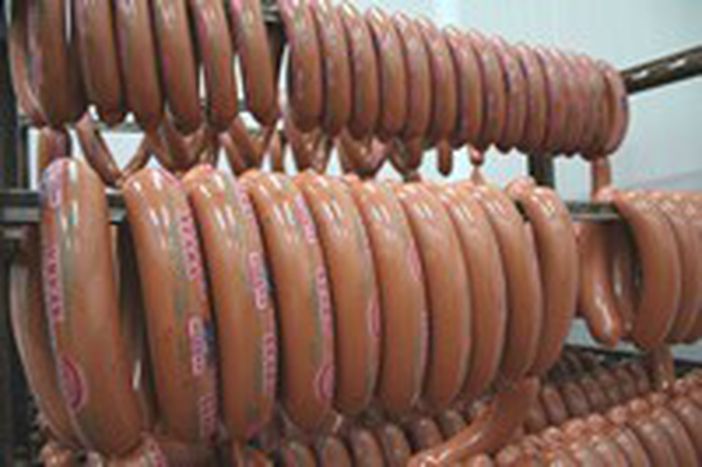 From imam to businessman
Published on
Sausages without pork - a Turkish businessman tries conquering the EU
You wouldn't believe that Shaban Hadzhioliev, 32, was once an imam. He drives a four-wheel drive and black is of course his colour of choice – all businessmen in Bulgaria are distinguished by this shade.
Halal sausages
Hadzhioliev is the manager and co-owner of Merkez, the first Bulgarian company selling pork-less sausages. All the sausages and salami are made in accordance with the halal principles of muslims: the meat comes from ceritified butcheries, where the animals are slaughtered according to the rules laid out in the Koran - for example, ensuring no blood remains from previous slaughters.
What began in 1998 in Hadzhioliev's home town of Breznica, has today become a successful average-sized company. In September 2006, Merkez moved to Goce Delchev, a small city in the south-east of the country, to a warehouse measuring 2, 000 metres squared. Today, it has a staff of 40 as part of its production and distribution line.
Rebirth of a moderate Islam
20 years ago, a company like this would have been unthought of in Bulgaria, and not only because of an economy organised by the Socialists. Particularly since the mid eighties, the popular republic exercised an aggressive assimilation policy of the Muslim population: the Turks were Bulgarianised. Mosque visits and burial rituals were banned. It affected around 13% of the population – about a million Bulgarians - are Muslims.
Since the transition, moderate Islam has been experiencing a rebirth. Merkez is a part of all this. 'We need one or two years to convince people that our products don't include pork meat. We've become a recognised brand,' explains the assistant director, Mehmed Kapanak. At the beginning, people didn't believe that they could offer sausages without pork, says Hadzhioliev, 'but we have shown that out community has been able to create its own alimentary industry.'
Successful, ordinary ideas
Hadzhioliev belongs to a generation of young businessmen whose success is based on extraordinary ideas. Just after the transition, he joined a religious school in Shumen, a city in the north of Bulgaria. A couple of years later, he travelled to Turkey with Kapanak. They were impressed by the halal system there and decided to attempt it in Bulgaria. Hadzhioliev is convinced that with Merkez, Muslims from here can continue with tradition, 'including those who are less religious and now know which products are suitable for them.'
In the suburbs of Goce Delchev, there's a good representation of a halal food industry. Pomaken live in these districts, Bulgarian-born Muslims, for whom Merkez is a point of reference. Across the country, products are available in over 1, 000 stores, explains Kapanak.
Redesigning taste
Exporting to the European Union is the biggest priority within a list of plans that the managers tell us about, because at the end of the day, many Muslims live in Europe. It's sure to fulfil the new requisites held by EU standards, and the company will need to meet the expenses of being inspected by veterinarians.
At the moment, only 25 Bulgarian meat companies can export their goods to the countries in the EU. Merkez's sausages too would be subject to a taste check. Every community has their preferences. 'We have to adapt the product,' says Kapanak.
Both businessmen are considering producing dietary halal sausages with low cholesterol. In Europe, as a convinced Hadzhioliev says, meat is considered a delicacy – sounds like the perfect slogan.
Romania and Bulgaria became the newest European Union members on January 1, 2007. Cafebabel.com is presenting a series of articles over the following weeks to welcome them in.
The contributions are from members of the German network of correspondents,
. was founded in December 2005 in Berlin, and has a network of journalists frm over 20 countries. They aim to act as a mediator between Eastern and Western Europe. Their engagement is to support democracy, the liberty of press and the integration of the European Union.
N-ost
Translated from Vom Imam zum Geschäftsmann