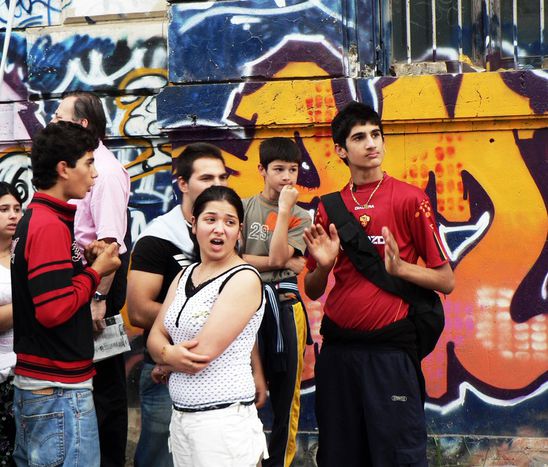 France's 'war on criminality' aside, focus on Parisian Roma in 'social insertion villages'
Published on
Four years after their creation in Europe, 'social integration villages' are being presented as a 'Roma paradise'. European associations for minority protection expose some of the difficulties facing the most discriminated community in the EU.
Meanwhile, the French government has since planned to dissolve 300 Roma settlements, whilst the UK is seeing its biggest Romany gypsy site, Dale Farm in Essex, bulldozed
Outside Paris, in the 'wild' northeastern commune of Aubervilliers, you're more likely to find a fence surrounding ready-built houses on gravel guarded by security. Apparently a secret is being kept from us, which has allowed thirteen families to live in furnished three-bedroom houses for four years. Freed from caravenserai and other makeshift camps, the Romany gypsy community or 'Roma' are flourishing under the protection of a guard with a dog. All this has been financed and supported by the state! Is it a dream or reality?
Haven of peace for an elite few
It all started with an inferno. In December 2007, following a fire which destroyed a shanty-town in Aubervilliers, the prefecture of the French capital set up a 'social integration village' (village d'insertion) which is managed by two associations, Pactarim 93 and ALJ 93. The site helps Roma families to get jobs, which is the ticket to a titre de sejour, or an official residency card in France. 'The mayor and sub-prefect of Paris wanted to create a central hub which would enable the naturalisation and schooling of several families,' explains Nabil Bendami, a member of the Logement Jeune 93 association who is responsible for economic development within these so-called social integration villages.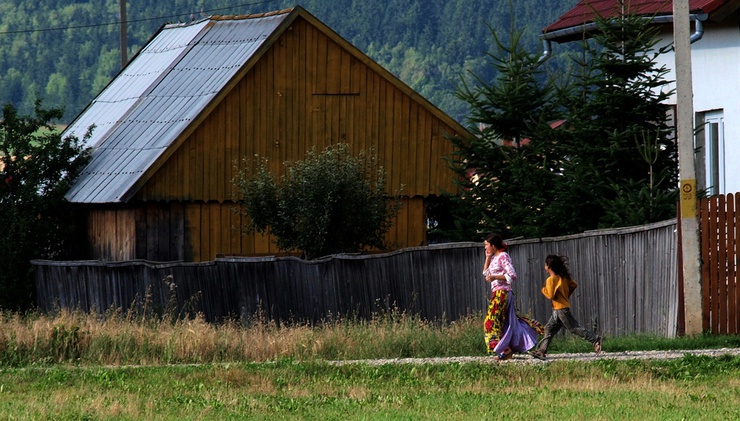 Far from the insalubrity of the shanty-towns, Aubervilliers seems to well and truly be a haven of peace for the Roma who reside there. The only hitch is that in order to enjoy the relative comfort of this developed village, you need to know how to conform to the government-imposed social criteria. The associations, who are under the prefecture's mandate, must take into account matters like assuring work and children's education, to be able to evaluate the ability that each family has to integrate. It's a social diagnostic with the added advantage of filtering the petitions. Whilst certain lucky ones can benefit from having a decent roof, others are asked to return to their native countries or the precarious shanty-towns on the Parisian periphery.
'Artificial' villages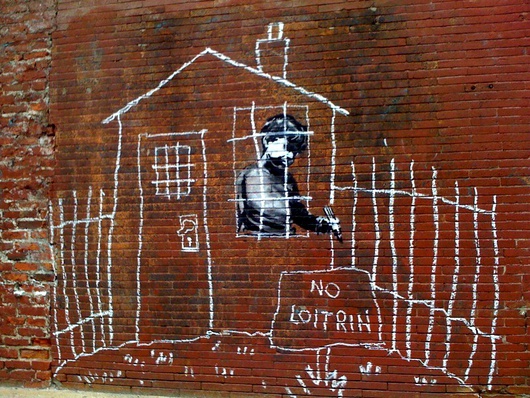 The scheme now counts five villages of this type in the Parisian region (Montreuil, St Ouen, Aubervilliers, Bagnolet and St Denis). 'It allows people to get to know the Roma in other ways than from the caricatures that society draws,' says Nabil Bendami. Clichés are the problem. In the collective conscience, a Roma is an uncivilised person. 'The Roma smell. The Roma don't know how to read. The Roma are kleptomaniacs.' For Ivan Ivanov, managing director of the European Roma information office (ERIO), 'People don't know the Roma. Unfortunately, they are automatically afraid of what they don't know. If they don't mix with other people, they will be systematically discriminated against.'
Ivan Ivanov claims that France has missed the plot and points to the negative aspects. Dumping families in furnished housing, removing them from having any semblance of social life with the imposition of curfews and having to be watched over by guards doesn't exactly correspond to the notion of diversity. As a result, 'social integration village' rhymes with 'ghetto', he says. 'This type of measure is prospering in France, Slovakia and the Czech Republic. These projects aren't adapted to integrating the Roma. They create segregation. Trying to enclose a few families in these villages doesn't resolve the problem. Having models imposed on them distances them from society. For me, the issue is social more than anything.'
'Worse and worse' in Europe
There are said to be ten to twelve million Roma in Europe, according to vague ERIO estimations. Nevertheless, the organisation assures that the Roma are the most discriminated community on the continent. Ivan says it's the fault of the member states, who are reluctant to welcome a population which hasn't stopped growing since the expansion of the European Union to twenty-seven countries in 2007. It is nearly impossible for an individual to settle in a host country faced with social barriers. This forces most Roma to come and go on perpetual holidays back and forth.
Images from an exhibition in Lyon following expulsed Roma 'back home'
This is why the European associations for minority defence repeat that it is worth studying the case of the Roma. However EU member states have already raised the question twice over two European summits concerning community integration. There's been no actions. 'It's getting worse and worse. In parliament, everyone is speaking about the Roma. They are showing attention. But no concrete decisions have ever been taken. The EU 2020 strategy must include a new text specific to the Roma situation. Frankly speaking, it's urgent. Between political day-dreaming and a harsh social reality, the Roma are in a constant half-sleep. From what their representative has confessed, this could last another ten years.
Images: main ©hidden side; Rom village ©"Sunil"; ©Chris Devers/ all courtesy of Flickr
Translated from Les villages-Rroms, entre rêve politique et réalité sociale