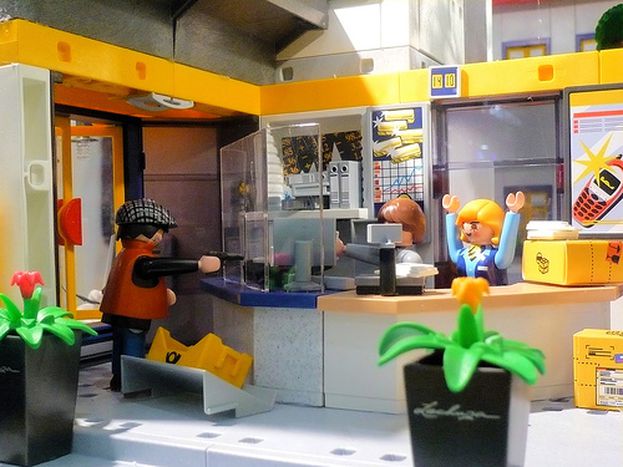 Eyewitness: hold up in European parliament ING bank
Published on
On 12 February a masked man disguised as a woman held up a female receptionist at the ING cashpoint on the ground floor of the European parliament in Brussels, the same building where Michail Gorbachev and Prince Albert of Monaco were chairing a conference on water and peace in the world. Exclusive
'Heads will probably roll,' comments a parliamentary assistant at the scene of the event. Around 4pm, an anonymous individual got through all the notoriously strict security controls of the European parliament in Brussels, having taken the cash facing the press room. Taking a lift to escape, he found the time to change back into men's clothes. Security believe he is still in the building. Only people are allowed to leave - cars are prohibited.
'Heads will probably roll'
The security bureau of the building is not commenting on the event yet. Access to the building was blocked for fifteen minutes, and security checks are being intensified. The ING employee was alone during the hold-up and according to what she declared to Brussels police, the thief simply told her to give him the money; the amount is still unknown. 
Fortress?
Everyday, more than 7, 000 people work or pass through the European parliament in Brussels. In this building not only the parliamentary activities take place, but also many commercial activities: there is a travel agency, a supermarket and of course several cash points. Usually, controls are very strict. According to an employee of the visitors service of the European parliament, in order to access the building, visitors can only get badges if they are MEPs, assistants or other employees.
More than 7, 000 people work or pass through the European parliament in Brussels
Others willing to enter can do so as a guest of an MEP or another parliamentary authority. But every invited person has to present an identity card and fill in a form after passing himself and his items under a metal detector, unless the guest has a pacemaker. Parliament's security personnel systematically take a picture of every visitor.
Police in Brussels have started an investigation and won't release any communication until tomorrow morning.
Translated from Atraco en la sucursal de ING dentro del Parlamento Europeo