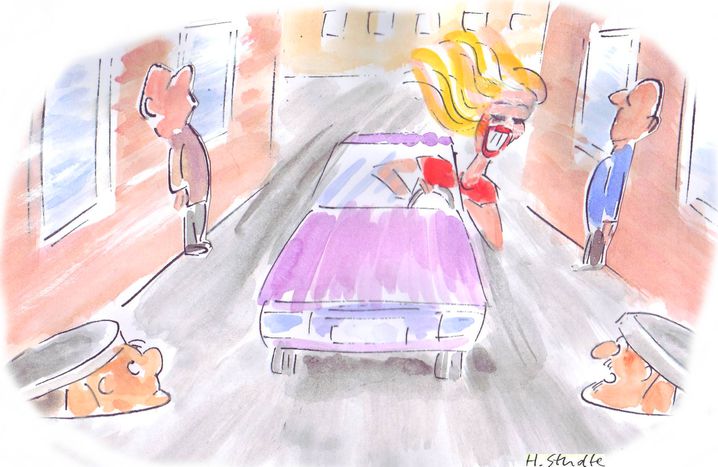 Europe's 'women drivers'
Published on
Translation by:
cafebabel.com
Women in the EU enjoy cheaper car insurance than men, because they take less risks. So what of these sexist clichés about how they drive? Round-up of cliches ranging from Russia to Spain. Weekly tour of Europe's expressions
German women make better drivers (Frauen fahren besser);
do you know any other country which has special Frauenparkplätze (parking places for women)
? For security reasons they are close to underground car park exits, which has become a national in-joke. Typically, women drive slower than men in Sweden, Denmark, Germany and Poland; there is less traffic on the day that God made Sunday drivers
(Söndagsbilist, Søndagsbilist, Sonntagsfahrer
, niedzielny kierowca).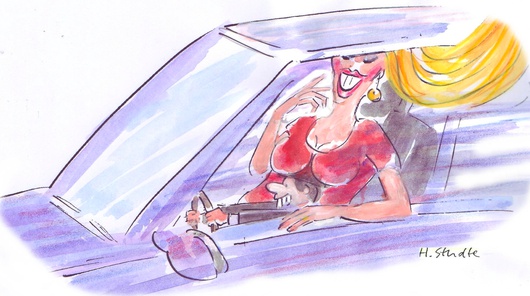 Sunday is an opportunity to 'drive like an old woman' (jeździć jak baba) in Poland. Whilst the Germans dramatise a woman at the wheel as being monstrous (Frau am Steuer - ungeheuer!)
, the Latino EU nations spell out danger: Mujer al volante, peligro constant and
donne al volante, pericolo costante (Woman/ women driving, constant danger) in Spain and Italy and femmes aux volants, morts au tournant
(women driving, deaths at the next corner) in France. 
Women, like cars, bring you joy and pain (Donne e motori son gioie e dolori)
in Italy. So much pain, that Arsenal FC footballer Andrey Arshavin, 27, has written in one of his three bestsellers back home that women drivers should be banned. The topic came up again in a UK tabloid daily in February: 'If you see a car behaving weirdly, swerving and doing strange things, before you see the driver you know it is a woman. It is always a woman,' he said. In March, Russian student Anna Klevets, 22, took action against Putin's 2000 national law banning women from 456 jobs, including train-driving. The Russian and Latvian sayings женщина за рулем ('zenchina za ruliom')
and sievietes pie stures (woman at the wheel)
echo the British cliche 'woman driver!'
In 2004, it was the UK which stood up against EU anti-sexism laws, which would have changed the fact that women pay up to 30% less insurance than men. EU countries including Sweden, Poland and the Netherlands already ban insurers from differentiating between the sexes.
See more from resident illustrator Henning Studte
Translated from Baba za kółkiem!