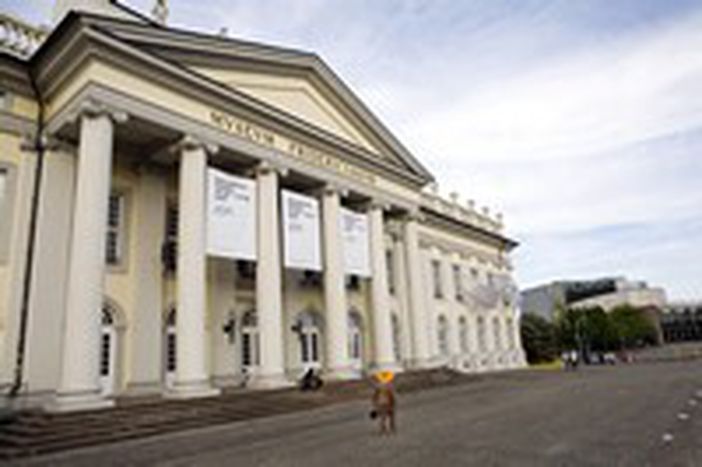 Documenta 12: the web of art
Published on
Translation by:
sarah meleleu
A round trip of Germany's most important exhibition for contemporary art, 'Documenta 12', which asks questions and tightens the link between avant-garde and the viewer
The Documenta has run every five years for 100 days since 1955. In the meanwhile, it has become one of the most viewed art exhibitions worldwide. According to organisers, it has 'advanced to become a binding seismograph of contemporary art.' Unlike the Biennale in Venice (a prestigious bi-annual contemporary art exhibition), it's not about 'presenting the best artists in the world,' says artistic director and curator Roger M. Buergel. 'For me it's about assuring people that they can also get in without preparatory training, because they carry the fundamental resources to understand art within themselves.'
Is modern art our classical art? What is real life? What should we do? run the three themes for 2007. 'It's no coincidence that these themes are formed as questions - after all we are doing the exhibition to discover things,' reads the official Documenta website. Subjectivity and self-reflection are the main focus, and this will be made clear to the visitors in the foyer. A golden monolith of California-born artist John McCracken is presented in a mirrored room, where you can observe yourself in infinity.
Material, rope and net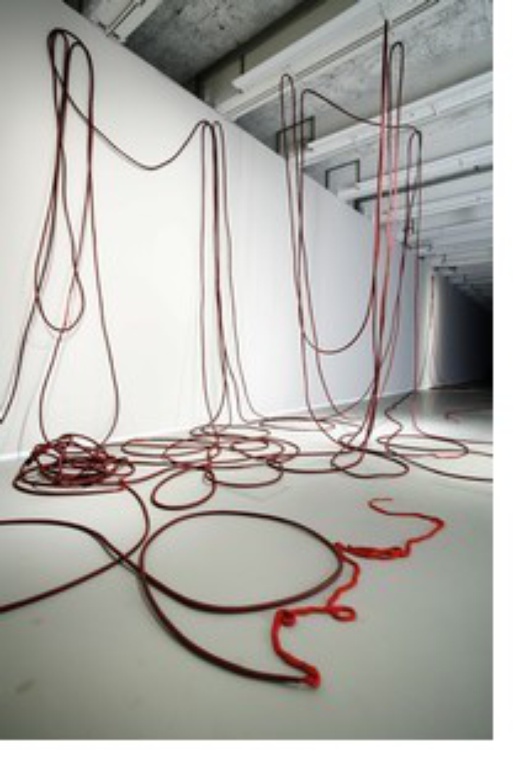 Material and rope can be seen all over the exhibition grounds. Especially impressive is the Indian sculptress Sheela Gowda's sculptureAnd tell him of my pain. The artist pulled one hundred metres worth of thread through 89 needles, and then twisted, shrouded and dyed it with gum arabic as a binder for red kumkum (dried turmeric). India's spice culture as a traditional part of women's handiwork and experience from birth is one major theme that this piece addresses, along with the transformation of the Indian textile industry, the colour red symbolising Hinduism and the representation of pain.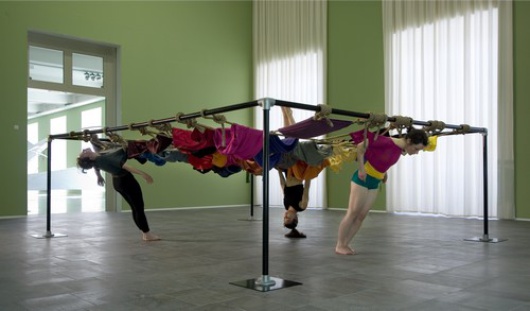 Down one floor, and we find the American Trisha Brown's dance performance Floor of the forest taking place. On a framework where items of clothing are fixed by rope, dancers are immersed in fabric, fused with material. Parallel to this you can see German Hito Steyerl's video installation Lovely Andrea, which approaches the rope with the theme of bondage and captivation.
(Photo: Katrin Schilling/ documenta GmbH)
The Documenta network is set up through such 'family resemblances.' The rope, with which a girl is already captured here, serves a dance performance there and reminds us just as much of artist Sheela Gowda's blood-red string. These 'imaginary correspondences,' repetitions and overlaps weave through the whole exhibition. The works of art seem to be interlinked.
Silence and darkness versus video and digital camera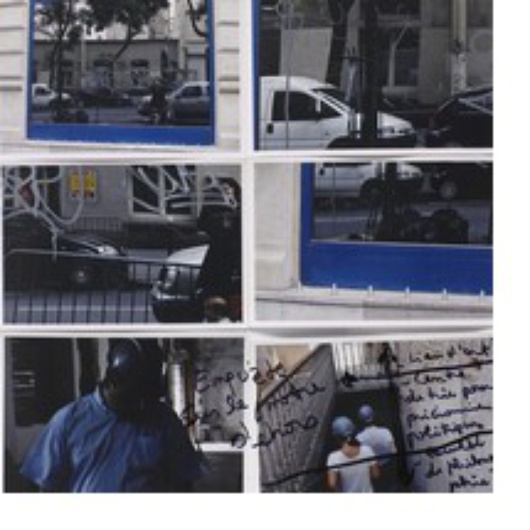 'Christian, we're going downstairs – it's just videos here,' an annoyed woman says to her husband. She's talking about the videos 'Enquiry of the/ our Outside' (Enquete sur le/ notre dehors) by Alejandra Riera, which leave viewers speechless. Inconspicuously placed in a dark corner, the 240 minute projection shows dialogue where the borders between drama and documentary become blurred. A theatre group made up of mentally ill people, therapists, actors and philosophers, pose questions of poetical beauty and sad reality in the still room. We hear sentences that are somewhere between psychological delusion and prophetic wisdom like 'it's a shame that there is such a thing as insanity. It's the expertise of the world.' Then the head smokes.
The new gallery is emptier. Here a video by Irishman James Coleman is showing silently through a huge glass bottle. Behind the pane in which you can see your reflection, you find what people at the Documenta almost always encounter – calm. I sit down in a wide, dark room, which is a bit like a cinema auditorium without seats. Mobile phones light up in the darkness. On the oversized screen, Retake with evidence begins, a solitary monologue before a minimal, cold backdrop, magnificently performed by Harvey Keitel. 'Why are you here?' Keitel breaks the silence.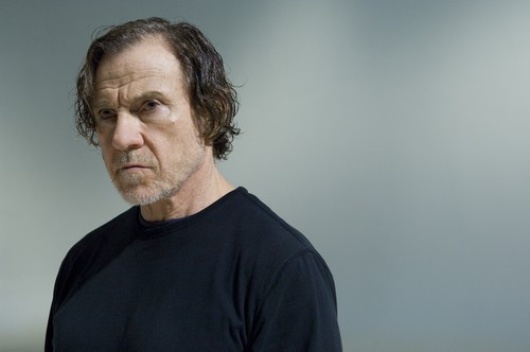 James Coleman: Retake with Evidence, 2007, Performed by Harvey Keitel
Why am I here? What is real life? A man who has just entered the room has obviously come to sleep here, while Keitel conveys a disillusioned foreboding mood. In front of a monochrome, endless background without a horizon, accusing an unknown person sitting opposite, I'm reminded of the paintingThe Monk by the Sea by nineteenth century German painter Caspar David Friedrich. The sleeper begins to snore. I throw a sweet at him which doesn't stop his snores. A man with a digital camera has also found his way here. He doesn't sit down, but for 20 seconds of the 25 minute video, takes photos of a screen that he hasn't looked at. Then, a meditative silence. The endless loop begins once more. Why are you here? You feel like you're being spoken to in the darkness, and think back for a moment to the mirror room.
Translated from Documenta: Im Netzwerk der Kunst