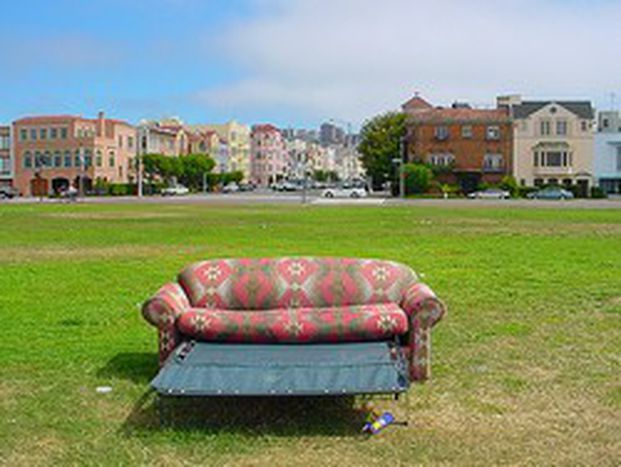 CouchSurfing
Published on
Translation by:
veronica newington
A MySpace for backpackers, 'The Hospitality Club' allows its members to host and connect with each other and exchange free accommodation all over Europe
The Hospitality Club has the look of a real web 2.0 community – perhaps even a dating site. Each member has a profile which details their interests, occupation, age, a personal description and photo. Ever since it was founded in 2002 by a young German student, the site has been increasingly successful, benefiting from the popularity of the internet and piggybacking on the booming low-cost flight sector, the development of university exchange programmes such as Erasmus, and the opening-up of borders in the Schengen zone.
This virtual 'hospitality club' currently has 280, 000 registered members, ranging in age from 17 to 77. It allows them to host travellers who are passing through or to find accommodation in private homes, all for free. Germany has the largest number of aficionados, with nearly 51, 000 members, but increasing numbers of enthusiastic participants are also taking part across both central and western Europe.
The new holiday philosophy of 'couch-surfing' is very different to a tour operator's 'all-inclusive' package, but it is a real craze amongst young Europeans; so much so that new Hospitality Club members have to wait several days to be 'inducted'.
Having the world stay over at your place
Hospitality Club's stated mission is to bring Europeans together through travel and discovery, which show us what we have in common as well as cultural differences. 'I was, for instance, very surprised to hear my Mexican host refer to his French girlfriend, an Irish person and myself as Europeans!' acknowledges Piotr, 24, from Poland. 'I've never really thought of it that way.'
'It allowed me to have the world stay over at my place without needing to travel myself,' says Fabian, a 22-year-old Parisian student, who is full of praise for the club. 'It's also an opportunity to travel easily on a tight budget.'
The process is simple: to join Club H, you just have to create a profile including your address, hobbies and recent travels, and finally whether or not you are prepared to welcome travelling strangers into your home. This last part is certainly not obligatory.
A trusting, volunteer effort
All this information is then reviewed by a group of volunteers who check that the new subscriber's profile matches with the community's philosophy. Once approved, members can contact each other through a messaging service and find out about lodging options in places they plan to visit.
Every time that one member meets another, he or she must give feedback – be it positive or negative – on the host. These comments then guide decisions made by other users. The whole site is administered by volunteers as a non-profit effort, and works on the basis of trust. 'There is, admittedly, something unknown in each new meeting,' comments Franco-Swede Christian. 'It's inevitable that some people sign up to try and meet others, like speed-dating.'
One-click compatibility
Although mismatches are fairly rare according to site users, it can still happen. Elena recalls how 'in Lithuania I was hosted by a totally hippyish thirty-something whose place was pretty much a pigsty. I really liked him but I realised that not everyone would have liked that kind of host.' Diana explains that it is important to choose your hosts with care, even if it is 'difficult to judge personality compatibility with just a few clicks of the mouse.'
Hospitality Club has one major competitor in the niche market of 'hospitality without borders' - the American site www.couchsurfing.com. 'It's true that there is a kind of rivalry between the two clubs,' says Christian, but Hospitality Club 'has a lot more members in Europe and is more marketed to backpackers.' Community members say that they enjoy the possibility of escaping hippy, hitchhiker or other backpacker stereotypes, by seeing Europe differently, well off the beaten track and away from impersonal hotels. They are ready to try the game of chance that is human interaction.
Title: I've met the ideal tourist
Sub Title: Who are the best tourists? To answer this tough question, European travel website Expédia carried out a study among 15,000 hoteliers in 12 countries.
Who are the best tourists?
Hotel and restaurant owners voted the Japanese hands-down as their favourite tourists. Yes, that's right, the Japanese are the ideal tourists, followed hot on the heels by the Americans and the Swiss. And what are the essential qualities to be part of this elite trio? Making the effort to speak the native language, tasting the local dishes, while generously throwing ones Euros about, like the Americans, experts in spending wads of cash, followed closely by the Russians and the British.
The prize for the stingiest tourists, however, goes to the Germans, followed by the Chinese and the French. The professionals voted the French the 'worst tourists' in the world because of their rudeness, arrogance and constant complaining about everything.
Another criteria studied was fashion. Here, the Mediterraneans steal the show. The most elegant tourists are the Italians, behind the French and the Spanish. As for the generous Anglo-Saxons, the Americans and the British, they are the worst-dressed. Could this be because of the infamous socks and Birkenstock, a comfortable mix but one of the worst fashion crimes? Sadly, the survey doesn't say.
Amandine Agic, Paris
Translated by: Geraldine Ring
Translated from Hospitalityclub : vacances sur canapé