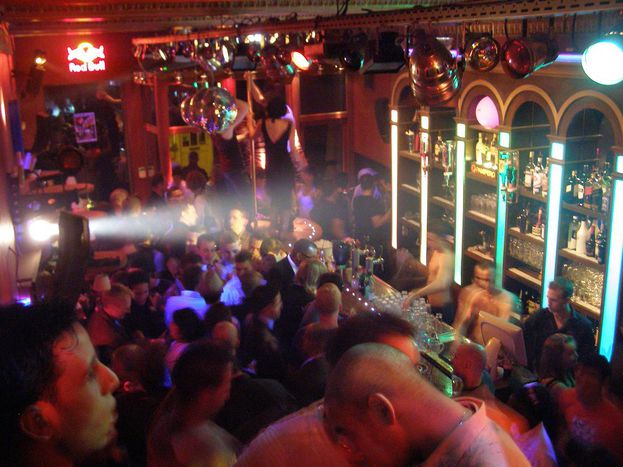 Brussels: did you know that 20% of EU workers work at night?
Published on
Translation by:
Darren Thompson
The sun sets on the EU's epicentre. Thousands of workers leave their offices and an army of night time workers take their place. Many are young, and are unaware of the risks that this kind of work can bring. On the other hand, nights are considered to have a different and lively rhythm than the normal working day.
We take to the streets to investigate
Friday, 9pm – Virginia at the hotel
The grey sky hanging over the city threatens further intermittent rain throughout this spring weekend. We find ourselves in the noisy lobby of the Vicent Van Gogh youth hostel. We can barely hear a sequence of two words in the same language and a local rock group is starting their set to warm up the backpackers, tourists and students of the European institutions that are housed here.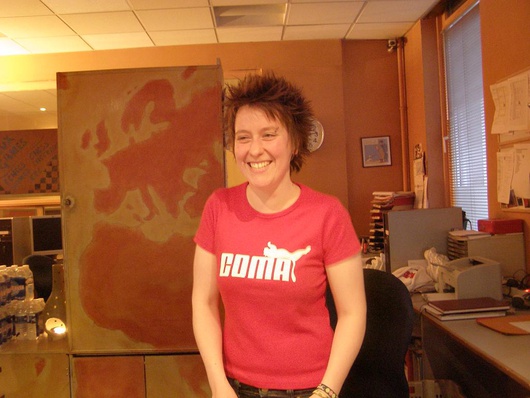 Above the reception desk clocks display the time in various countries here and there, at a vertigo inducing speed. Virginia Descamps from Belgium is a pretty girl with an honest smile who has worked as night receptionist here - fifteen nights a month - for five years. The 26-year-old speaks various languages, and tells us without relaxing her smile that she thoroughly enjoys her job because of the people it allows her to meet as well as the timetable. Regarding the myths of the night, she admits with a roguish smile that: 'It's true that at night, you can pull more than during the day'. She also recognises that drugs 'are more visible at night' although she personally opts not to participate.
11.30pm – Anna at the pizzeria
It's started to rain, and we take shelter in a pizzeria which is about to close. Anna Mazzura is behind the bar, and we can tell it's been a long day for the Italian, yet she maintains a friendly manner. She's been in Brussels for a year and works late 'because with the French I knew, I couldn't get anything else.' We leave the 23-year-old to close the restaurant in peace, but it's impossible not to get the feeling that, having seen young people from across Europe working behind the counters throughout this city, in a certain way Brussels is being converted into the new London. A place for Europe's youth to experience a different way of life, learn languages, fulfil their dreams or simply have an adventure, and all of this in spite of the fact that 22% of the city's population is unemployed (35% amongst young people).
Midnight – Thierry and Libert at the bar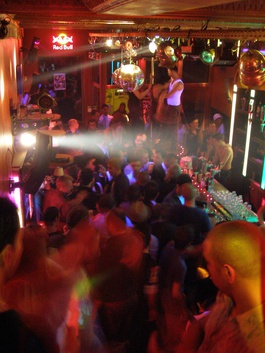 Tomorrow is the gay pride parade, meaning our next stop tonight is at a gay friendly club, Boudoir Boys, which is full of night time hustle and bussle. On arriving at the club, a drunk Are you gay? is thrown in our direction. We are welcomed by Felix, a middle-aged Belgian of Spanish origin, with a mix of curiosity and suspicion. He introduces us to his fellow countrymen Thierry Lurkin, 23, and Libert Philippe, the owner of the bar who at 37, looks ten years younger.
Libert has a serious air as he tries to carry on with his bookkeeping at the same time as being interrupted by staff asking him about the rota. He has spent fifteen years working at night, crossing a spectrum of bars and restaurants to ambulances. 'At night you have to be more understanding to others, and the work is harder.' Felix drops into the conversation now and again. 'Working at night is a work of love, in which you have to give people what they dream of. Although we give love, we can't expect to receive it,' he adds.
Thierry studied baking and pastrymaking, and juggles working at Boys Boudoir with childminding tasks during the day. In the future, he sees himself as a baker, but for the moment he is happy as things are. Libert agrees, adding that he doesn't see himself working there till he's 65. Amongst other things, 'working at night is more tiring and you end up drinking more.'
3.30am – Rafik behind the wheel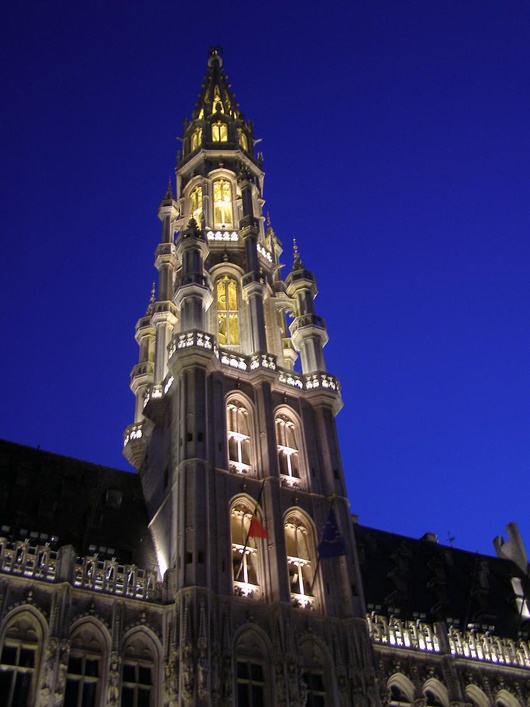 Moroccan Rafik Tanzir takes us home in his new mercedes, which he bought as an investment along with the taxi license. The 28-year-old plans to be a taxi driver for twenty years, a year of which he has already done. He works twelve hours a day. 'With the crisis there are days that you have to work a couple more,' he says, in order to make a clean 120 euros (£103) for a day's work. He doesn't like working at night. 'Another taxi driver, not long ago, picked up a couple who asked to go to Mons (a city close to the French border). They paid him the 150 euros (£130) he asked for in advance, and when they arrived there, they got out of the taxi, stole all his money at gunpoint and beat him up. He's not driven the taxi since. We ask him how many days of holiday he will take. 'I've already took all my days off in January, which is a bad month for taxi-drivers, and during carnival and easter,' which coincides with the least busy period in the European institutions. The journey costs me 11 euros (£9.50). I say goodbye to Rafik and leave the city to it's rhythm until the morning.
According to the World Health Organisation (WHO) working at night doesn't just increase the risk of cancer. Sleep disturbance, loss of appetite, personal unhappiness, a worsening of personal and family relationships, premature ageing and an average life expectancy decrease of seven years, are other secondary effects. All of this without taking into account the work related risks that are associated with night time work.
With thanks to Fernando Navarro Sordo and the local cafebabel.com team in Brussels
Translated from Trabajar por la noche provoca cáncer, amor y violencia