A new wave of social movements is decolonising Europe's history
Published on
Translation by:
Rebecca Thomson
Worldwide, 2020 saw hundreds of protests against racism and discrimination, many of which were targeted at imperialist monuments. Now it's time to ask what tools might help us further these struggles. How can we - as democratic citizens - create collective institutions that are capable of deconstructing colonial narratives? This article, written in partnership with Forus International, the global network of civil society organisations, explores the most encouraging trends in the field of anti-racist activism.
Across Europe a new generation is rushing to confront social justice issues head-on. Today discussions that were once confined to niche activist circles are beginning to enter the political mainstream: what do we mean by "structural violence," "state violence" and "institutional racism"? In what contexts can we apply the notion of "intersectionality"? What do "whiteness" and "systemic discrimination" mean? And why are we still debating the term "race"?
Europe's youth is rising-up and making itself heard. Rallying behind explicit slogans such as "I Can't Breathe" and "JusticeFor," social movements are regaining momentum and are now impacting on the very foundations of public discourse. The question remains, however: how can already-existing civil society actors synergise with these burgeoning resistance movements?
Re-writing history
In France the Anti-Negrophobia Brigade (la Brigade Anti-Négrophobie), which is currently led by Franco Lollia, insists that state racism is only one component of a colonial system that still exists today, and which must be replaced by alternative narratives. The association was founded in 2005 following arson attacks which resulted in the deaths of 52 people, including 33 children from Sub-Saharan Africa. More specifically it was set up as a response to the deaths of Zyed Benna and Bouna Traoré, who lost their lives while being chased by police officers. "We have popularised a concept - negrophobia - that defines the boundaries of a specific kind of state racism, and anti-black racism. Talking about racism as a single category in which you can include everything and anything without distinction, is the best way to avoid actually fighting racism," Mr. Lollia explains.
The battle against these injustices is taking a new turn in Europe: people who are themselves victims of these systems of oppression, are taking a leading role in transforming society. History, as Lollia and others put it, will be told and led by those who live it. These people will not be robbed of their words or made to apologise for their existence.
The Anti-Negrophobia Brigade is using art, argument and collective intervention to democratise the debate on the realities of colonial history. On 23 June 2020, for example, Franco wrote "State Negrophobia" in red ink on a statue of the colonial statesman Jean-Baptiste Colbert in Paris. The act, which was subsequently sanctioned by the authorities, raised a question about the history of France and of its statues, which were erected as figures of French identity. Sometimes, however, these monuments are symbols of a racist and systemic violence, the effects of which are still being felt.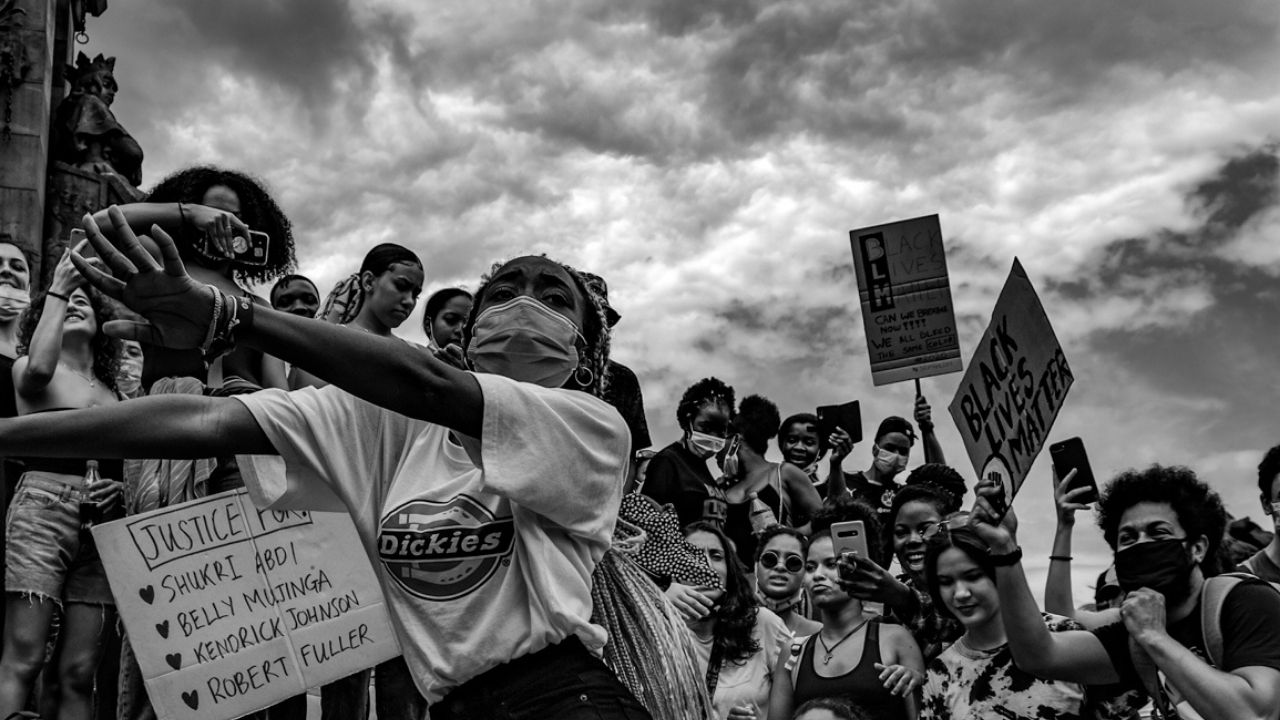 "We want to offer a new perspective on the issue of anti-racism and notably, on the question of decolonial anti-racism. We are a decolonial group as the idea is not only to decolonise territories and people, but also, and above all, the spirit. Since every act is preceded by thought, if thought is not decolonised or deprogrammed, it will always lead to the same effects." Mr. Lollia tells us a personal story to illustrate how before any political and public revolt, it is first necessary to understand oneself. Deconstructing the white imagination and the oppression that goes with it means first deciphering how this imagination takes shape.
Raised to the sights and sounds of Disney, Mr. Lollia became aware, as he grew up, that the images of Tarzan he saw as a young boy actually serve to disguise the essence of colonialism. "For one viewer, the white man, [this] will instil a superiority complex. For the other, the black man, it will instil a powerful inferiority complex. And yet it's the same programme." This personal revelation gave way to a revolutionary drive. By learning about black history, and his colonial past, Mr. Lollia freed himself from the negative image he had built up inside, and thus learnt to love himself.
Mr. Lollia has now developed a way to add educational value to entertainment products, by creating a card game called Histoire Noire (Black History). More generally, the Anti-Negrophobia Brigade is encouraging people to discover notable black individuals who are little known to the general public. They hope younger generations will identify with these anti-racist activists, and, as a result, take part in the kinds of acts of resistance that the Brigade is pioneering.
The response to the death of George Floyd has certainly helped to increase awareness of how black people are discriminated against. Yet, as Franco Lollia maintains, it is important to realise that it alone will not be enough to combat racism and negrophobia. He believes that we all need to set up counter-stereotypes, to deconstruct our ideologies. "Until this is done, the whole population, which has been trained to despise black people and adore white people, will continue to keep [these prejudices] in their most unconscious depths, and so they will re-appear every time there are great crises, be they economic, political or social." It is the education of oneself, and of others, that will enable us to dismantle the boundaries of our thought, and therefore to build unity.
Art in the Service of Activism
The Adama Committee, The Anti-Negrophobia Brigade, The Belgian Network for Black Lives, Belgian Youth Against Racism and Café Congo in Brussels. These are just some of the movements and collectives in place beyond and outside of our European institutions which aim to develop new narratives, and to imagine a more politically engaged world after COVID-19.
Activists in these movements are fighting in the name of "resilience" and "truth", and they're determined to tear down the ideology of racism from the bottom-up. In Brussels, protesters have been targeting numerous statues of King Leopold II, a controversial figure who was responsible for colonial atrocities in the Congo.
In Anderlecht, in the Brussels-Capital region, a collective has set up a space called Café Congo. Once an old industrial complex, the activists have transformed the derelict land into a cultural centre for the African diaspora. Gia Abrassart, who helped set up the initiative, showcases Belgian-Congolese artists and she's also organised exhibitions of portraits of African American cultural leaders. This is an independent artistic community where struggles and decolonial resistances are at the centre of artistic reflection. Café Congo was conceived as an intercultural, transgenerational and multidisciplinary space, and it aims to facilitate healing and transition. Their goal is to "return" the aura of personal and collective history for all who are involved.
"Art is a medium which enables people to understand the stakes of decolonisation and how to restore them in history and in school textbooks, and it does so in an educational and sometimes playful way," says Ms. Abrassart. According to her, art is a form of narrative in which marginalised individuals can find ways of bridging the social divide in which they find themselves: "By unfolding their personal stories and narratives, marginalised artists are redefining how they understand citizenship, artivism, and humanity as a whole." They are, as she puts it, deconstructing society's colonial ideologies, to give everyone a space to express themselves.
"The COVID-19 pandemic has made pre-existing vulnerabilities and anger much more acute. This psychological, ecological, cultural and financial fracture has pushed people to their limits to the point that many are turning to the great words of Audre Lorde: 'Your silence will not protect you.'"
If collective forces can be mobilised, these energies could become sustainable in the longer-term. If so, as a result, it might be possible, over the coming years, for cultural and social movements to deconstruct imperialism and colonialism in order to restore history to everyone in society.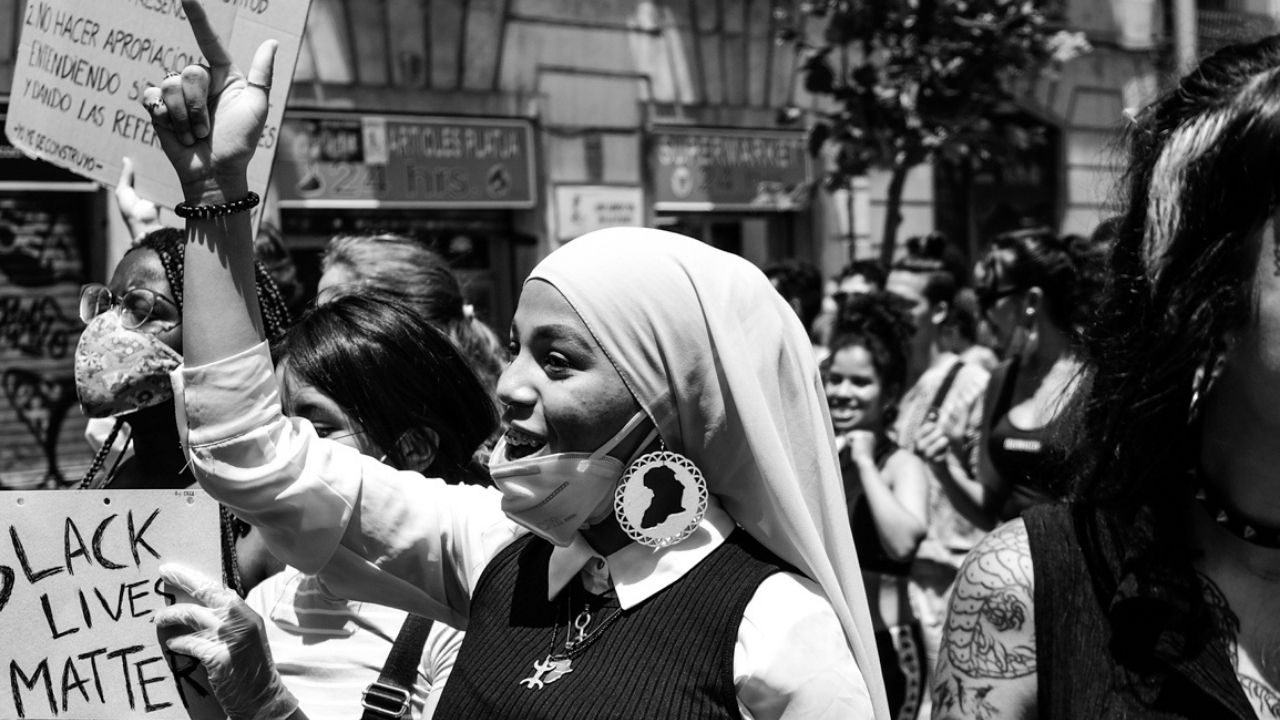 Just like Franco Lollia and the Anti-Negrophobia Brigade, Gia Abrassart and Café Congo are working to make this erasing of colonial history visible by putting it at the centre of how they envisage society. Today, their challenge is to spread new narratives, in order to build a unified cause and, by extension, create a fairer, more equal world tomorrow. Tackling racism can no longer be a matter of personal opinion. It is a logical part of the search for global justice, for the good of the planet.
As civil society actors we believe that it is essential that our organisations become aware of the need for solidarity with these struggles and that we enable these movements and collectives to have access to spaces for conversation and communication. This will make it easier for people to hear and listen to their messages. Achieving a moment of collective decolonisation will require a global movement and mutually-linked energies. The diversity of our structures and social movements is essential to ensuring that everyone can contribute to building a more equal world.
---
This article was written in partnership with Forus International, a global network of civil society organisations which explores issues related to social movements, public spaces, and the creation of new positive narratives for activism.
Translated from Décoloniser l'Histoire : « Nos silences ne nous protégeront pas »