9th November, the International Day Against Fascism and Anti-Semitism
Published on
On 9th November, the International Day Against Fascism and Anti-Semitism is celebrated. This date marks the pogrom of Kristallnacht: in the night between 9th à 10th November 1938, the Jewish community of Germany and Austria has been attacked by Nazis who burned synagogues and destroyed almost every Jewish shops. This event is usually considered as the symbolic beginning of the Holocaust.
Transport (Etty Hillesum)
To commemorate this day, the team of 'U mnie w Europie' invites you to discover a film awarded in October by the European Commission: 'Transport'
Aleksandra i Florian, studenci Erazmusa, wyruszają w filmową drogę po Europie by zmierzyć się z problemem dyskryminacji, która zbiera swe żniwo w naszym społeczeństwie. Inspiracją dla nich był dziennik młodej, 27-letniej Żydówki, Etty Hillesum, która pisała go w Amsterdamie w latach 1941 - 1943. Etty daje w nim świadectwo niezachwianej wiary w człowieka, który dopuszcza się przecież najgorszych czynów: " Wiem już wszystko", pisze Etty. " A mimo to uważam, że życie jest piękne i wieloznaczne. W każdej chwili". Spotykając różnych ludzi w Amsterdamie, Brukseli, Kolonii, Berlinie i Auschwitz, młodzi reporterzy dowiadują się, jakie procesy miały miejsce w przeszłości, i czego trzeba się strzec, by nie poddać lękowi i nienawiści.
Play the FILM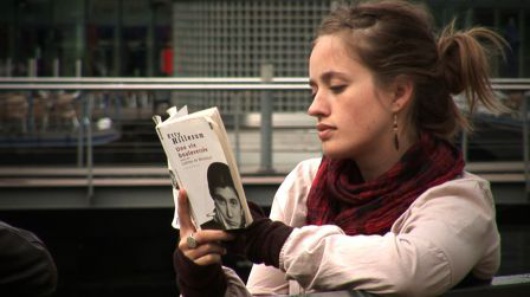 Translated from 9th November, the International Day Against Fascism and Anti-Semitism