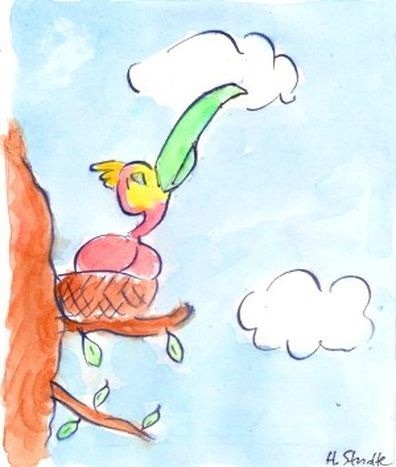 Tutti i colori dell'Europa
Published on
Colori, colori, colori! I tedeschi diventano verdi e blu dalla rabbia. Mentre i francesi quando sono furiosi dicono se fâcher tout rouge, che suona come "diventare rossi per la rabbia". Se in Germania si diventa "gialli d'invidia", gelb vor Neid, i francesi impallidiscono di invidia, pâle d'envie o diventano anche verdi dalla paura, vert de peur. Buffo! Anche i tedeschi sbiancano, ma per la rabbia, werden blass vor Angst. Pure i britannici vedono il mondo con colori diversi e chi è conciato per le feste diventa "nero e blu", to beat black and blue. Mentre in Germania il malcapitato è colpito fino a diventare "verde e blu", grün und blau zu schlagen.
E a proposito di verde, questo colore ha molti significati. Per strada si può incontrare uno sbarbatello che in Germania ha il "becco verde", Grünschnabel. E in Francia è detto blanc-bec, becco bianco, chi crede di sapere sempre tutto.
E sempre in terra francese un vecchietto in ottima forma è encore vert, ancora verde. Occhio però! Oltrepassate il confine con la Spagna e cambia tutto: un viejo verde, un vecchietto verde, non è altro che un vecchio sporcaccione!
Translated from Farbenspiele