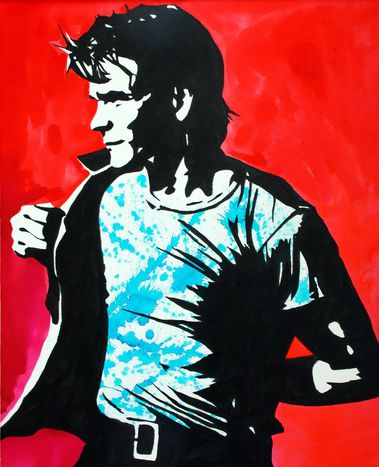 Nessuno mette Baby in un angolo!
Published on
Translation by:
Alba Fortini
Patrick Swayze è morto il 14 settembre 2009 all'età di 57 anni. Intere generazioni di ragazze hanno seguito il più famoso maestro di ballo del cinema e la frase culto del film Dirty Dancing (1987) rimane indimenticabile.
All'improvviso la porta dell'albergo Kellerman si apre rumorosamente e Johnny Castle (Swayze), il maestro di ballo in tuta di pelle, camicia sbottonata e taglio alla moicana, entra nella sala. Grida di giubilo si innalzano dal suo corpo di ballo in stile anni Ottanta. Johnny si dirige dritto al tavolo cui ha preso posto la famiglia Houseman e la sua "Baby" (Jennyfer Grey). Ha un'espressione seria.
Non è per niente che in quell'estate del '63 Baby ha dovuto portare il cocomero, che Johnny ha dovuto picchiare il fastidioso donnaiolo, provare la presa ed insegnare a Baby, per una gara, i balli proibiti (il Dirty Dancing del titolo). Tutto ciò per quell'unico momento, l'ultimo ballo della stagione ed il gran finale dello sdolcinato classico del cinema.

«Nobody puts baby in a corner»
è la frase culto con cui mette zitto papà Houseman e porta sua figlia sul palco per The Time of my life. Neanche il bebè francese può restare a sedere ad annoiarsi in un angolo della sala («On ne laisse pas bébé dans un coin»
). Italiani («Nessuno mette Baby in un angolo»
), spagnoli («No dejaré que nadie te arrincone»
) e russi («Никто не поставит малышку в угол»
) hanno ascoltato, rapiti davanti al grande schermo, le ultime parole del ribelle Johnny. In Polonia, nessuno può "obbligare" Baby in un angolo («Nikt nie upchnie Baby w kącie»), mentre il possessivo tedesco si è permesso una leggera variazione: «Baby è mia, chiaro?» («Mein Baby gehört zu mir, ist das klar?»
).
La citazione di Swayze ha festeggiato recentemente un come back con la canzone Nobody puts baby in a corner nell'album From Under a Cork Tree (2005) del gruppo rock statunitense Fall out boy. Se i ragazzi della band alternativa di Chicago sono, però, fan segreti di Dirty Dancing, resta un dilemma aperto
Drink down that Gin and Kerosene, And come spit on bridges with me, Just to keep us warm. Light a match to leave me be. Light a match to leave me.
Translated from Mein Baby gehört zu mir, ist das klar?