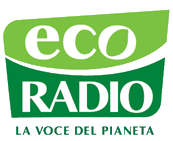 Cafebabel Roma on air!
Published on
Parte oggi sull'etere la serie di appuntamenti con il Green Europe on the Ground! Il team romano di Cafebabel è ospite della trasmissione L'altroparlante di Pietro del Soldà, in onda tutti i giorni dalle 18 alle 20 su EcoRadio.
Una volta al mese Cafebabel Roma racconterà gli incontri del Green Europe on the Ground, il progetto che racconta le grandi città europee e il loro rapporto con l'economia verde, lo sviluppo sostenibile, l'ecologia e il risparmio energetico.
Oggi si comincia con Budapest, l'eco-architettura, la catastrofe del fango rosso e il design ecologico: in studio Nicola Accardo, mentre interverrà da Parigi l'editor della versione italiana di Cafebabel.com, Federico Iarlori.
L'appuntamento è alle 18, sulle frequenze 88.3 fm a Roma o sul sito www.ecoradio.it