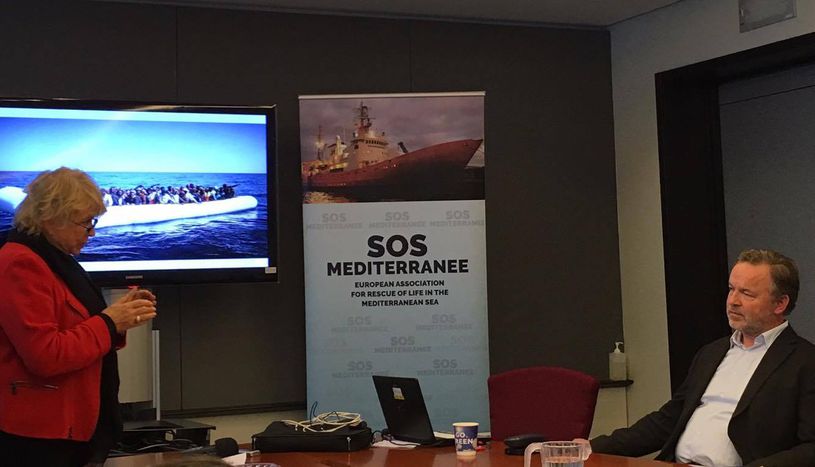 SOS Méditerranée: Civil society has taken action where Europe has failed to do so
Published on
On Thursday 13th October, the German Greens delegation in the European Parliament hosted an event to honour SOS Méditerranée, a civil organisation which helps people in distress in the Mediterranean sea. Cafébabel Brussels had the opportunity to exchange views with captain Klaus Vogel, President and founder of this project, who was accompanied by Eva Joly and Sven Giegold, both MEPs.
Nowadays, the European Union has to face many issues: terrorism, Brexit, TTIP negotiations, corruption… But probably one of the biggest problems remains the migratory crisis that is forcing millions of people to flee their countries in a desperate attempt to survive. Even if this is not new, the European Institutions sometimes seem to forget about the urgency of the current situation of migrants.
As French MEP Eva Joly said during the event, "Europe is failing and civil society is doing what the EU should do". And this is precisely captain Klaus Vogel's story: he decided to use his skills so as to help the people who drown every day when trying to cross the Mediterranean sea from the Libyan shore to Italy. Since the measures implemented by the EU were not enough, he was determined to take action himself.
"You are crazy, but I stand with you": How it all started
"I knew I had to do something in the moment when the Italian Mare Nostrum project was suddenly stopped two years ago. I felt the civil obligation to do everything that I can and show that civil society can react to terrifying situations like this one."
Before launching the project, captain Klaus Vogel was not sure if local people in the south of Italy would accept it. That is why he and his wife travelled to Lampedusa, where they realised that the rescue boats used by the Carabinieri "were too small and only prepared for short day sails". So they went to the town hall of Lampedusa and explained his project of finding a larger ship to help rescuing refugees to the major, Giusy Nicolini. And her answer was: "Siete pazzi, ma sono con voi" (You are crazy, but I stand with you). That meant that they had the green light to start organising this big civil project.
The foundation process took longer than initially planned, as it was not easy to find the Aquarius, a 40-year old German ship, and charter it, which was very expensive (750.000€). At the end of January 2016, SOS Méditerranée, together with a rescue team and a medical team formed by several doctors of Médecins du Monde started their trip.
"What a big river!"
Most of the migrants who travel by sea in dinghies can't swim, which makes rescue operations even more risky. And to make matters worse, many of the Africans have never seen the sea before. "Once I met an Eritrean man who told me 'Wow, what a big river' looking back to the Mediterranean, because he didn't know how the sea looked like at all and he didn't even have a word to describe it'."
Mixed feelings about the European Citizen's Prize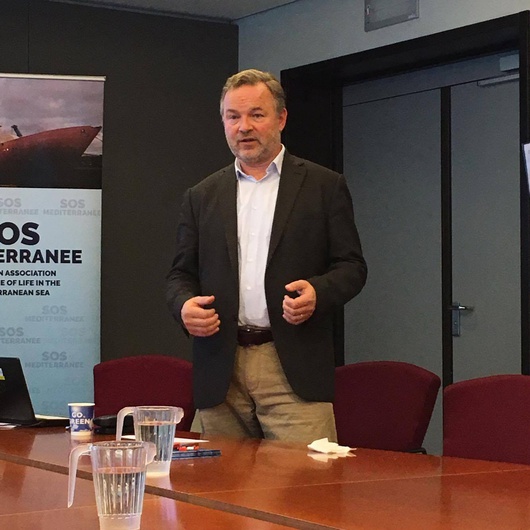 When Cafébabel Brussels asked Klaus Vogel what the Prize meant for him, he told us that he has mixed feelings. "We receive a prize from a Parliament that is not doing everything possible to change the situation of people in distress. I am thankful, but I would like to ask the Institutions not to forget about humanity. What's the point of having an EU if we don't act together to help those who are dying on our doorstep?"