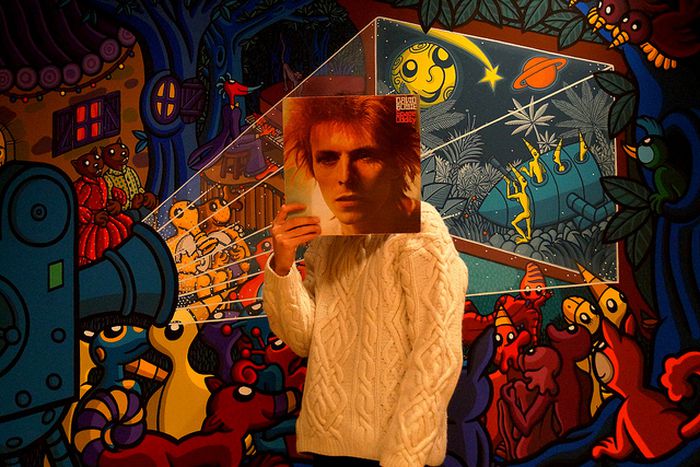 Playlist : David Bowie à Berlin
Published on
Que se­rait un monde sans Zig­gy Star­dust ? Même si vous n'avez pas connu les an­nées 70, vous serez ca­pables de sai­sir l'in­fluence mo­nu­men­tale de David Bowie sur la culture pop. Ca­fé­ba­bel Ber­lin a concocté une play­list ac­cor­dée à cette ré­tros­pec­tive. 
La pre­mière chan­son de Bowie ins­pirée par Ber­lin, « Sound and Vi­sion », tirée de l'al­bum Low (1977), a inau­guré une nou­velle pé­riode, plus mi­ni­ma­liste, dans l'évo­lu­tion mu­si­cale de la star de la pop. 
Les pères al­le­mands de la pop, Kraft­werk, comptent parmi les in­fluences mu­si­cales les plus mar­quantes au cours des an­nées Bowie. Leur chan­son « Au­to­bahn » (1974) est l'un de leurs suc­cès cultes.
« He­roes », tirée de l'al­bum du même nom (1977), le deuxième de la tri­lo­gie ber­li­noise, est de­ve­nue l'une de nos chan­sons pré­fé­rées de Bowie. 
Pen­dant ses an­nées « ber­li­noises », Bowie col­la­bora lon­gue­ment avec Brian Eno, qui pro­dui­sit éga­le­ment des groupes de mu­sique ex­pé­ri­men­tale al­le­mande tel qu'Har­mo­nia. Har­mo­nia/Eno : « By the Ri­ver­side », 1976.
Le single « Move On », tiré de l'al­bum Lod­ger (1979), troi­sième par­tie de la tri­lo­gie ber­li­noise de Bowie, mar­qua un re­tour à une époque moins im­pré­gnée de mu­sique élec­tro­nique. 
« Red Money » (1979) fut en par­tie écrite par Iggy Pop, qui par­ta­geait l'ap­par­te­ment de Bowie à Ber­lin et l'a par ailleurs aidé à vaincre son ad­dic­tion à la drogue.
En re­tour David Bowie col­la­bora au single d'Iggy Pop in­ti­tulé « China Girl », tiré de l'al­bum The Idiot (1977).
L'un des plus grand suc­cès de Bowie à Ber­lin fut « Boys Keep Swin­ging », tiré de l'al­bum Lod­ger (1979). 
La chan­son « DJ » (1979) fut éga­le­ment l'un des suc­cès incontestables de Bowie. 
« Space Od­dity » (1969) fut écrite bien avant les an­nées « ber­li­noises » de Bowie, mais de même qu'elle a mar­qué le début de sa car­rière de star in­ter­na­tio­nale de la pop, elle a en par­tie mené aux excès qui ont par la suite conduit Bowie à Ber­lin. Mais cette chan­son est tout sim­ple­ment trop belle pour qu'on puisse ou­blier de l'in­clure dans une play­list de Bowie.  
-
Cet article a été rédigé par la rédaction de cafébabel Berlin. Toute appellation d'origine contrôlée. 
Translated from Berlin Jukebox: David Bowie in Berlin