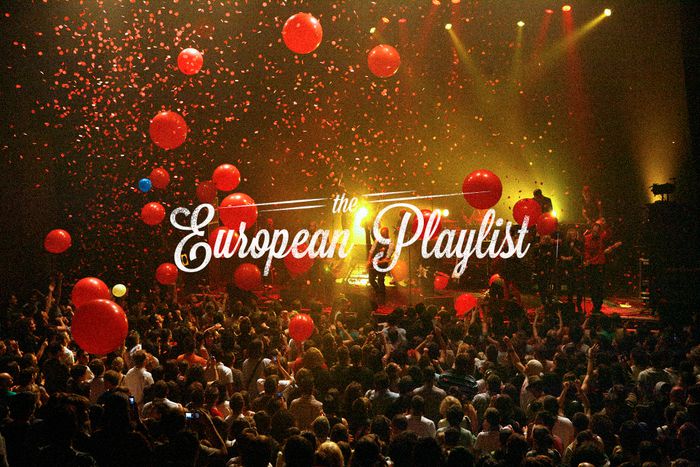 La 'playlist' del festival Europavox
Published on
La próxima semana la ciudad de Clermont-Ferrand acogerá el festival Europavox, que conseguirá reunir en tres escenarios a cuarenta bandas europeas llegadas de todos los rincones del continente. CaféBabel, medio colaborador con Europavox, os propone una pequeña muestra de lo que en unos días se escuchará bajo las estrellas de la capital de Auverne. 
Tras fi­na­li­zar su gira por fran­cia, el fes­ti­val Eu­ro­pa­vox re­uni­rá a 40 gru­pos de todo el con­ti­nen­te du­ran­te tres días en Cler­mont-Fe­rrand (Fran­cia). Du­ran­te su edi­ción de este año, el tour Eu­ro­pa­vox -ini­cia­ti­va con la que co­la­bo­ra Ca­fé­Ba­bel- se ha cen­tra­do en la cul­tu­ra y la ciu­da­da­nía eu­ro­peas y ha vi­si­ta­do 13 ciu­da­des fran­ce­sas, donde se han ce­le­bra­do de­ba­tes y con­cier­tos de las di­fe­ren­tes ban­das que par­ti­ci­pan en el fes­ti­val del pró­xi­mo junio. Gru­pos lle­ga­dos desde Gre­cia, Bél­gi­ca, Tur­quía, Reino Unido, Es­pa­ña o los Paí­ses Bajos lle­na­rán las tres car­pas ha­bi­li­ta­das del re­cin­to del fes­ti­val, que se ce­le­bra­rá entre el 5 y el 7 de junio en la ca­pi­tal de Au­ver­ne. Aquí os trae­mos una mues­tra de lo que po­dréis es­cu­char la se­ma­na que viene: elec­tro, pop, indie, rock... ¡lo mejor de Eu­ro­pa en Eu­ro­pa­vox!
La Ca­fe­te­ra Roja, un grupo for­ma­do por seis mú­si­cos de Aus­tria, Es­pa­ña y Fran­cia, se ca­rac­te­ri­za por un es­ti­lo ecléc­ti­co que mez­cla trip-hop, hip-hop y mú­si­ca la­ti­na . La Ca­fe­te­ra Roja: 'Tra­ve­ller', 2013. 
Los ho­lan­de­ses Thijs van der Klugt y Bart Pos­se­mis for­man Bas­ker­vi­lle, una mez­cla de elec­tro, te­chno e in­die-pop que enamo­ra hasta a los pingüinos.  Bas­ker­vi­lle: 'Pen­guin Love', 2013.
Pese al nom­bre del grupo, nin­gu­na chica forma parte (de mo­men­to) del con­jun­to Girls in Ha­waii. El grupo belga, que atra­ve­só una etapa de si­len­cio entre 2010 y 2012, re­gre­só con fuer­za y con al­gu­nos nue­vos miem­bros en marzo de 2013. To­ca­rán en Eu­ro­pa­vox el pró­xi­mo jue­ves por la noche. Girls in Ha­waii: 'Rors­chach', 2014.
'
Ka­de­bos­tany se formó en Suiza en 2008 pero no fue hasta 2011 cuan­do sa­ca­ron su pri­mer álbum. Aun­que en sus orí­ge­nes el grupo pro­du­je­ra 'elec­tro', con la lle­ga­da de la ter­cer miem­bro, la can­tan­te Amina, el sus temas ad­qui­rie­ron un cier­to cariz de rap y de rock al­ter­na­ti­vo. Ka­de­bos­tany: 'Wal­king with a ghost', 2013.
La mú­si­ca de la can­tau­to­ra de Man­ches­ter Liz Green nos trans­por­ta a dé­ca­das pa­sa­das, donde la mú­si­ca era más pura y la letra, más clara. Liz Green: 'Where the river don't flow', 2014.
El dúo ale­mán Milky Chan­ce apor­ta­rán al fes­ti­val algo de folk, de rock y, en de­fi­ni­ti­va, de buen rollo. Milky Chan­ce: 'Down by the river', 2014.
Acu­sa­da de pro­vo­ca­do­ra, a me­nu­do com­pa­ra­da con M.I.A., la ar­tis­ta sueca Ellip­hant se subirá al es­ce­na­rio Poly­do­me el sá­ba­do 7 de junio. Ellip­hant: 'Re­vo­lu­sion', 2014.
Ob­se­sio­na­do hace años con la mú­si­ca de los 60 y los 70, cuan­do Penagiotis Melidis empezó con el hip-hop y el drum & bass acabó produciendo 'Years not living', su primer álbum. Lo veremos en Europavox bajo el nombre Larry Gus en la madrugada del sábado 7 de junio en el escenario Club Erasmus. Larry Gus, : 'The night pa­trols', 2013.