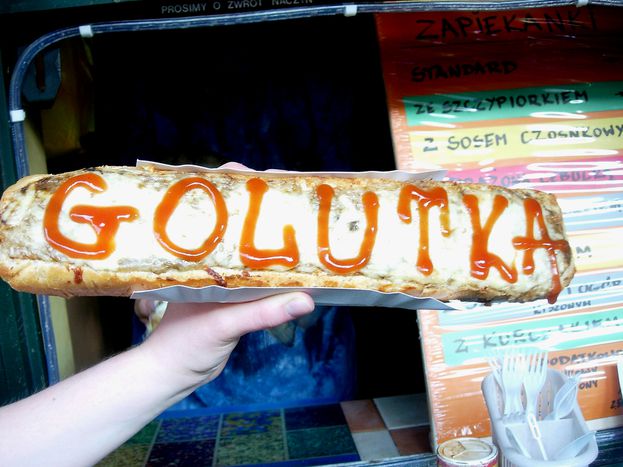 Zapiekanka: not a Polish kebab
Published on
Translation by:
Aleksandra Sygiel
2 am in Kazimierz, a Jewish district in Krakow. Dozens line the windows remotely dotting a circular building, Okrąglak ('Rotunda'), in the centre of Plac Nowy ('New Square'). It's Zapiekanka time, though only the locals know which window serves the best of this baked baguette snack
Zapiekanka (from the verb zapiekać, meaning to 'bake in the oven'), is a halved baguette smeared with butter or olive oil and topped off with mushrooms or tomatoes and/ or ham. The baguette is then sprinkled with cheese and oven-baked. Slap goes the ketchup. Effectively, it's the PRL-ish (People's Republic of Poland) replacement for the Italian pizza margarita. It's both a school and university dinner substitute and an early breakfast-dream of mass partygoers, ringing in between one and two euros.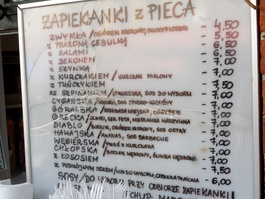 The loyal queues in Kazimierz aren't just there for any cheese and mushroom baguette; eating zapiekanka in this square surrounded by pubs is a local tradition. Rotunda, the old Jewish ritual slaughterhouse, has become a nightly Mecca of warm zapiekanka for the tired clubbers, especially in the wintertime. The Krakow zapiekanka is renowned for its quality of bread, the degree of browning and generosity of the hand which adds the ingredients. There are a dozen flavours to choose from: Hawaiian (pineapple and barbecue sauce), gypsy (ham, sweet and sour sauce), diablo (bacon, pickled cucumber, spicy sauce), Greek (olives, feta cheese, mixed vegetables), and others with tuna, salmon, and so on.
I was happy to be privy to this must-eat during my short time in Krakow. One night, having finally reached the altar, I order one with oscypek – a smoked Polish cheese made with sheep's milk – and cranberry sauce. 'We're out of cranberries,' says the salesman. 'I can give you one with cranberries, except that it will not taste like cranberries.' At 3am in Krakow, there's no sense in understanding his words, so I go for a zapiekanka with spinach and garlic sauce. When the hand finally emerges from the darkness behind the window, there's something scrawled in garlic sauce on the green, steaming spinach layer: 'Cranberries'. In zapiekanka heaven, everything is possible.
Recipe: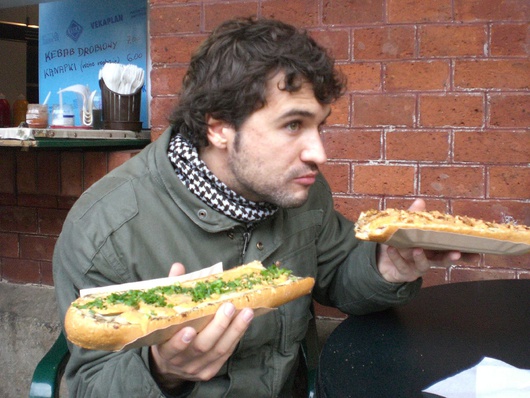 Baguette
Olive oil / butter
Mozzarella cheese or any well-melting cheese
Mushrooms (optional)
Tomatoes
Ham (optional)
Ketchup
Preparation:
Slice the baguette lengthwise, spread with butter or oil. Slice mushrooms or grate for big pieces. Place the mushrooms on the bread, add ham, tomatoes. Sprinkle with grated cheese. You can add some salt and pepper. Put into the oven heated to about 180 ° - 200 ° C and bake for about 10 min. until the cheese melts. Pour with ketchup after removing from the oven. Then go outside, preferably at low temperature, and appreciate the time of consumption while your zapiekanka will warm your body and soul.
Images: main ©misiek_beauchamp; boy holding baguettes ©generale/ Flickr; menu ©Nathallie Nittaya/ Video © davideo77/ Youtube
Translated from (Nie)zwykła zapiekanka