Zagreb from pan-European perspectives: unemployment, euroscepticism and pure culture
Published on
For the second time ever, cafebabel.com reporters came to Zagreb. Fired up with five reporters from Poland, Italy, Bulgaria, France and Germany, they were on a mission to explore the life of youngsters and their cultural habits in the capital, writes Croatian journalist, literature student and collaborator of local portal Kulturpunkt.hr Petra Novak.
The task was not easy – our 'babelians' were showered with heavy rain and a full artillery of new information, but by their own testimonies, they boarded their planes with a smile on their faces.

As a local journalist, I was given the task to write a short sketch about five pan-European reporters' experience in Zagreb. It's a task no less than a pleasure, as I got an inside on my home city through five fresh pairs of eyes. The topics they chose were quite specific and, as I understood after the initial round of Q&As in Zagreb, a follow up of their work interests or experiences.
Italian and German perspectives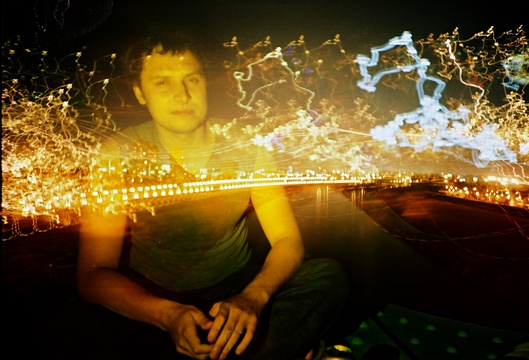 For example Francesca Rolandi, who is currently writing her doctoral thesis in Yugoslav cinematography in Milan, used her contacts from Zagreb's subversive film festival and focused on the capital's activist scene. 'Last year I spent some months in Zagreb and got in touch with a new kind of social and political activism,' she says, and seems to be a regular guest in the Balkans.
(Image: (cc) Pliketi Plok/ flickr/ pliketiplok.com/nedjelja/)
Christiane Loetsch, a cultural manager and head of cafebabel.com's local team in Berlin, was interested in writing about the education system and the job market for young people in Croatia. 'Due to the economic situation, it is as difficult in Croatia as in other European countries for young high educated people to find a job,' says Christiane. 'But there are some specific reasons. It seems as if one needs to have a personal connection with their future employer in Croatia. One of the people I was interviewing said that this is a result of the social structure from the nineties. It made me think how young Croats do not trust their society, which is parallel to a worsening job situation because of the outside effects. It was also interesting to hear from youngsters that Croatia's entering the EU in July 2013 wouldn't make any difference to their situation.'
Eurosceptic Croatia?
It's a point well made. As a member of the demographic that Christiane was writing about, I have to confirm the results of her inquiry. It is generally difficult to find a job in Croatia no matter what your education was, and that seems to be a difference in comparison to EU countries. A big part of the blame should go to the corruption and the economic crimes in the last twenty years which damaged the country's budget irreversibly. (Don't forget that the ex-Croatian prime minister for seven years is currently on trial for several frauds). So, maybe the answers to the euroscepticism that Christiane notices can be found in general distrust to the political system. To simplify, Croatians facing the abuse of power of MPs and other highly ranked positioners daily. They are not convinced that this practice could stop with or without the EU.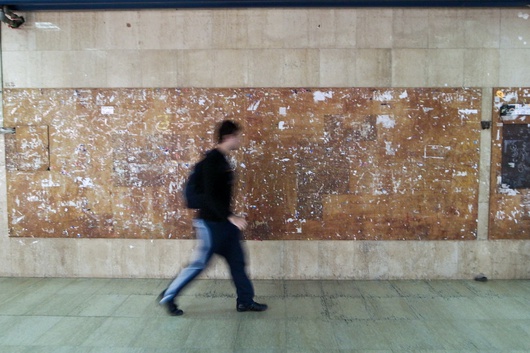 (Image: © Christiane Loetsch for 'Orient Express Reporter, Zagreb 2012' by cafebabel.com)
Another aspect of euroscepticism that babelians noticed could be explained trough the discomfort of Croatians facing the different economical models of managing public goods (like education and health insurance) that is approaching with the EU's country status. The protests engaging the discussion about the future commodification of public goods are the topic of Francesca's report. 'The protests are a part of a wider European debate and this is one of the main ideas of my articles,' she explains. 'While in the nineties activism was focused on local issues, such as being anti-war, anti-nationalist and feminist, the new activism is rooted in the European context and the engagement in preservation of equal access to public goods, like in Italy, that some activists mentioned.'
Other cafebabel reporters were exploring the cultural benefits of living in Zagreb. Plamena Slavcheva, a Bulgarian cultural manager based in Sweden, made quite a research on the 40th edition of world festival of animated film, Animafest. Plamena's interviewees included Daniel Šuljić, the artistic director of the festival and Borivoj Dovniković, pioneer of local animation. 'It has been a unique experience to be part of this event, to feel its special atmosphere which brings people from all over the world together, united by passion for animation and Zagreb's widely-known tradition in this field,' she says.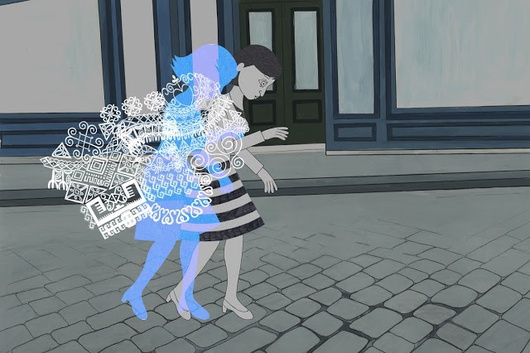 (Image: Ormanent duse, Croatian short film by Irena Jukic-Pranjic courtesy of © Animafest)
Agata Jaskot, editor of the Polish linguistic version of cafebabel.com, wanted to give the readers an insight into Zagreb's cultural centres which also stand tall in the heart of the city's nightlife. She and Parisian photojournalist Julien Faure went on a mission to find out about the work concepts of somewhat crusty autonomous culture centre Medika, Student Center and its more progressive cultural offer, and a veteran independent club called Močvara. They are all different in style and organisation, but are in a similar position when it comes to the city budget's role. For us locals it seems as if the most interesting places are always on the edge of extinction.
Generally, when asked, the reporters described Zagreb as a culturally interesting city, whose inhabitants seemed to be open and helpful. There are specific topics to write about in Zagreb, but the discussion gets more interesting when put in the European context. 'Zagreb is changing,' as Francesca puts it, and I agree with her, as I wonder what else the babelian eye noticed.
Read the Zagreb special editions on cafebabel.com from 2012 here, and from 2011 here.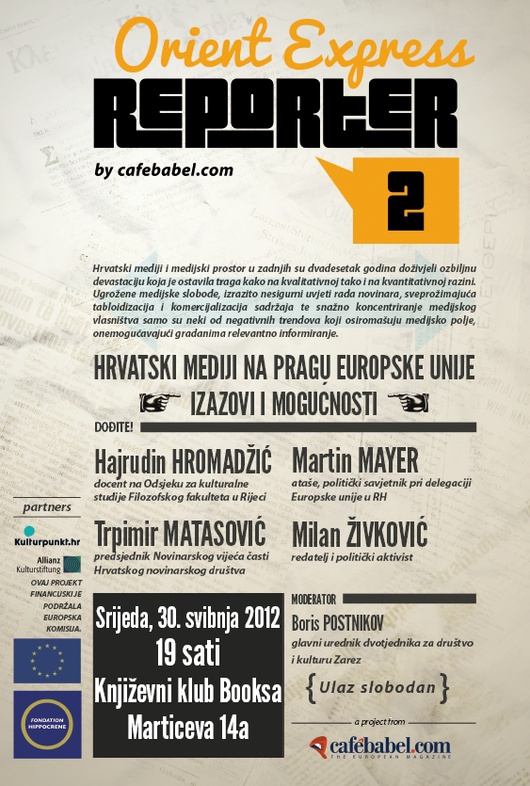 'Croatian Media entering the European Union - challenges and possibilities' - see the debate poster held in Zagreb in conjunction with the folks at KulturPunkt.hr on 30 May 2012:
Snapshot of Zagreb 2012 special edition for cafebabel.com: