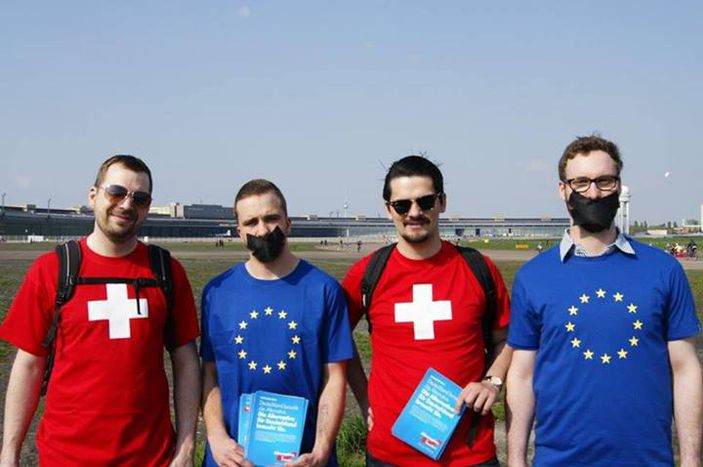 Young Populists in Germany: The Attractive Alternative?
Published on
No to Merkel, no to the euro, yes to the free market – this is what motivates young German eurosceptics. The Alternative für Deutschland party (AfD), founded just a year ago, received 7% of the votes at the European elections. But some accuse it of populism and of turning a blind eye to its nationalist members. What do the young activists think?
Al­though the AfD (Al­ter­na­tiv für Deutsch­land) blew out its first birth­day can­dle last March, the eu­roscep­tic party formed by the econ­o­mist Bernd Lucke re­mains largely un­known out­side of Ger­many. Along­side the main party, which today has al­most 19,000 mem­bers, a more rad­i­cal and more con­tro­ver­sial group of 400 young ac­tivists, the Junge Al­ter­na­tive (JA) was formed.
PO­LI­TIcally IN­COR­RECT
Be­fore head­ing to Berlin, I con­tact Philipp Ritz via Skype. He is 32 years old, an AfD mem­ber and a spokesman for the Young Al­ter­na­tives, the in­de­pen­dent youth branch of the eu­roscep­tic party, based in Bonn. From the start of the in­ter­view, the ac­tivist avoids po­lit­i­cal cor­rect­ness and uses "shock" phrases: "I hate politi­cians," he says, gri­mac­ing. "They tend to be cor­rupt and don't tell peo­ple the truth." He doesn't hide his ir­ri­ta­tion at the Eu­ro­pean in­sti­tu­tions he thinks are anti-de­mo­c­ra­tic, men­tion­ing "the forced pass­ing of the Treaty of Lis­bon", and wants in­debted coun­tries to leave the euro. When asked if the group is pop­ulist, he says, against all ex­pec­ta­tions, that pop­ulism is a good thing: "it means we're close to the peo­ple".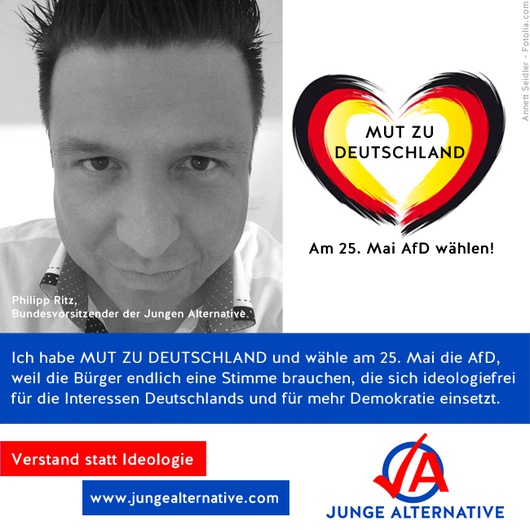 But the state­ments made by the spokesman for the young eu­roscep­tics are more rad­i­cal than those of the main party. The Young Al­ter­na­tives dis­cuss a wide rage of top­ics from lib­er­tar­i­an­ism and crim­i­nal­ity to anti-fem­i­nism. Al­though the AfD es­sen­tially con­cen­trates its ef­forts on the econ­omy and re­fuses a po­lit­i­cal label, ex­perts nonethe­less place it to the right of An­gela Merkel's CDU (Christlich Demokratis­che Union). For Nils Diederich, pro­fes­sor at the Free Uni­ver­sity of Berlin, the AfD isn't na­tion­al­ist "at the po­lit­i­cal level", like other Eu­ro­pean eu­roscep­tic par­ties, but "at the eco­nomic level".
A STRONG ECON­OMY
My in­ter­view with Nor­bert Kleinwächter, an AfD can­di­date in the Dahme-Spree­wald re­gional par­lia­ment, takes place near Tem­ple­hof's air­port, cur­rently under con­struc­tion. At ran­dom, he has cho­sen an Asian restau­rant. Kitsch décor, pop music. We order two cokes. The young teacher of 28 ex­plains, in per­fect French, his fear of see­ing the ex­treme-right Front Na­tional win the next pres­i­den­tial elec­tions in France then forc­ing the coun­try to leave the EU.  He con­firms that the AfD's eu­roscep­ti­cism is very dif­fer­ent from that of par­ties like the Front Na­tional or UKIP, the AfD calls it­self "anti-euro", not "anti-EU". But Ger­mans are scep­ti­cal. "A friend of mine deleted me on Face­book when she saw I was in the AfD, with­out even try­ing to have a dis­cus­sion with me about it," Nor­bert says.
For now, he doesn't want to join the Young Al­ter­na­tives, as it isn't clear where the group is head­ing. His rea­son for being in­volved with the eu­roscep­tic party "is to save the Eu­ro­pean idea threat­ened by the cri­sis". The rea­son? The euro. "We want to give mem­ber states the pos­si­bil­ity of leav­ing the euro," he says. With­out ad­vo­cat­ing a re­turn to the deutschmark, the AfD wants a strong Ger­man econ­omy with­out cur­rency de­pre­ci­a­tion while dis­tanc­ing it­self from in­debted coun­tries. And the fin­ger is pointed first at Greece.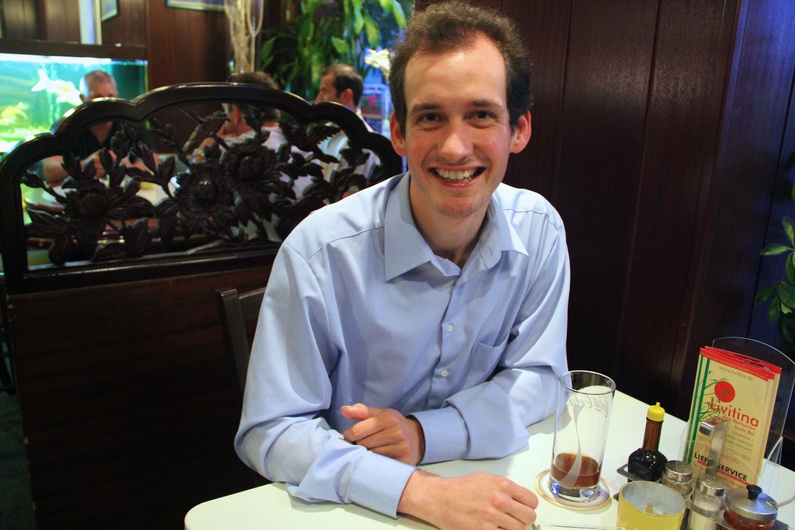 But talk­ing about the econ­omy isn't al­ways very sexy. So to at­tract vot­ers, the AfD often sim­pli­fies its lan­guage and thus at­tracts the label of 'pop­ulist'. "It's true that in the cam­paign, we had to re­duce our ideas down to sim­pler slo­gans, es­pe­cially so they would fit on a poster," Nor­bert ad­mits. Among these slo­gans: "The Greeks suf­fer, the banks profit!" or "more to cit­i­zens, less to Brus­sels".
GET­TING RID OF NA­TION­AL­ISM
Al­though the party claims to be en­tirely de­mo­c­ra­tic, na­tion­al­ist fringe groups are at­tracted by AfD's al­ter­na­tive and new dis­course. But Nor­bert Kleinwächter says that the party does not ac­cept these ex­trem­ists. "We ask all new mem­bers to men­tion any po­lit­i­cal par­ties they have al­ready been mem­bers of. If we see NPD (the neo-Nazi parti), for ex­am­ple, we refuse them", he says.  In the re­gional body, Nor­bert and the ex­ec­u­tive com­mit­tee have to judge each prospec­tive mem­ber's case.
A few days later, I meet Se­bas­t­ian Kowalke, a mem­ber of the AfD and the Young Al­ter­na­tives in the cen­tral Berlin neigh­bour­hood of Char­lot­ten­burg.  After get­ting lost in the gay pride, we head through the doors of Am­bro­sius, a bar where AfD mem­bers often meet up. The 21-year-old stu­dent of­fers an ex­pla­na­tion of the more rad­i­cal char­ac­ter of the Young Al­ter­na­tives. "They have less to lose than their el­ders who have a job and a fam­ily," he says, "they feel more free and they're tak­ing their po­si­tions." When it comes to na­tion­al­ist mem­bers, the ac­tivist says he does not hes­i­tate to talk with them to con­vince them that ex­trem­ism is not the an­swer.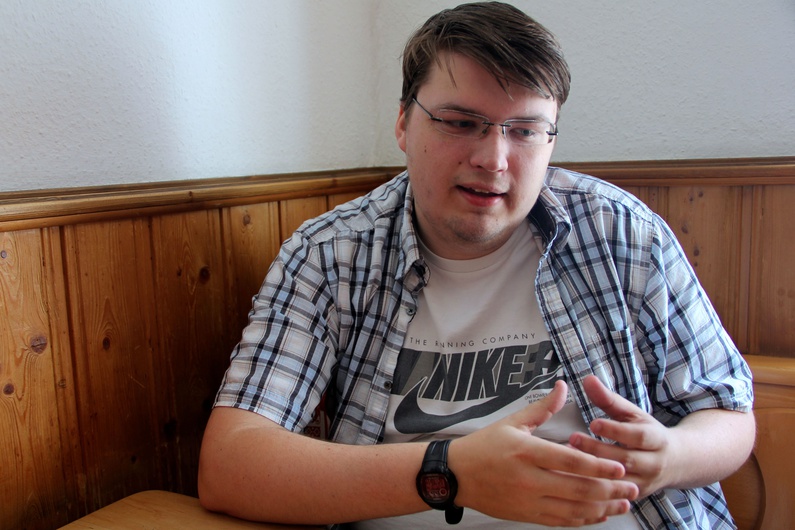 To be cred­i­ble, the AfD will have to find a so­lu­tion to dis­tance it­self from its na­tion­al­ist mem­bers. The party will also have to keep watch on the youth as­so­ci­a­tion's be­hav­iour. De­spite the watch­ful eye, the Young Al­ter­na­tives didn't hes­i­tate to in­vite UKIP leader Nigel Farage to talk at a con­fer­ence in Cologne last March, an­ger­ing AfD mem­bers. Pro­fes­sor Diederich high­lights the risk to the longevity of the new party, which could quickly be snuffed out. Al­though the AfD took seven seats at the Eu­ro­pean Par­lia­ment, it is be­cause only 1 out of 2 Ger­mans on the elec­toral reg­is­ter turned up to vote. Ac­cord­ing to Pro­fes­sor Diederich, protest par­ties al­ways get more votes when there is a higher ab­sten­tion rate. They are, per­haps un­for­tu­nately, the most mo­bilised of vot­ers.
THIS AR­TI­CLE IS PART OF THE SPE­CIAL EDI­TION DED­I­CATED TO BERLIN, "EU­TOPIA – TIME TO VOTE". THIS CAFEBA­BEL PRO­JECT IS RUN IN PART­NER­SHIP WITH THE HIP­POCRÈNE FOUN­DA­TION, THE EU­RO­PEAN COM­MIS­SION, THE FRENCH FOR­EIGN MIN­ISTRY AND THE EVENS FOUN­DA­TION. THE WHOLE SE­RIES WILL SOON BE AVAIL­ABLE ON THE HOME­PAGE.


Translated from Jeunes populistes en Allemagne : l'alternative séduisante ?