Ya iz Berlina: Natalia Smolentceva's Berliner Alphabet
Published on
Berlin is well known for its creative allure and cultural spirit, which attract artists from all over the world. Natalia Smolentceva has felt this call, too. The Russian illustrator tells cafébabel about her own love affair with the German capital, and her art project Berliner Alphabet.
As I leave the maze of the U-bahn tunnels behind, I realize that I am almost 15 minutes late for my meeting with Natalia. When I enter the small coffee shop where we agreed to meet, I find her in the middle of drawing, her colored felt-tip pens awkwardly spread around the coffee table.
"I always draw while waiting for someone," she smiles slyly, her hand sketching a silhouette of the glass counter across the room with the delicious cupcakes displayed in it. "That is why my friends simply like being late. They know that by the time they arrive there is going to be a little sketch waiting for them."
Back to Basics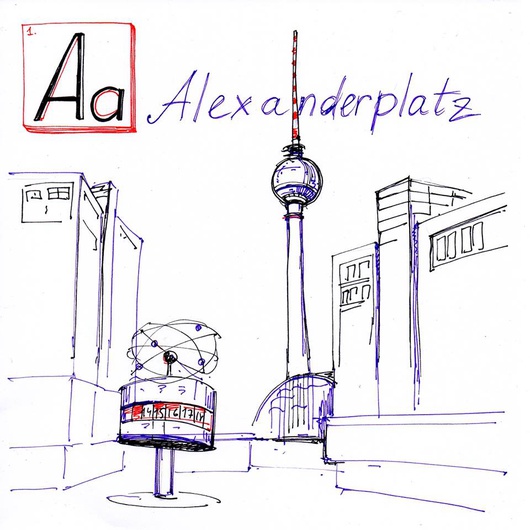 Sketching is not the only technique Natalia, originally from St Petersburg, has mastered. With a solid background in academic painting she once seriously considered pursuing a career in the field of design and visual communication, but eventually chose to go into journalism, writing for the St. Petersburg Times and working as an editor for Prospekt Magazine. "For quite some time drawing was just an occasional pastime for me," says Natalia with a bleary sentimental note in her voice, "But somehow after all the years of being a journalist, I have managed to go back to basics and started to draw again."
Natalia admits that it was purely by accident that she felt the urge to sketch something on a piece of paper. "I think it was a year ago when I got a sketchbook as a present and thought: 'Why not try it again?' So I started to experiment and draw not in the manner I was taught at school, but in the way I could really express and enjoy myself as an artist. Drawing has turned into a very personal and intimate process for me, and I realized that I wanted to explore it more and more."
Natalia's return to drawing coincided with her moving to Berlin for her Master's degree, in Global Communication and International Journalism. Her new home brought lots of vivid impressions, which Natalia would constantly capture in the form of sketches and watercolor illustrations. "I was living between the two cities and traveling around Europe and I felt the need to keep a journal in order to capture everything I experienced. Since keeping my journal was never my thing, I decided to draw my impressions in the sketchbook."        
Berliner Alphabet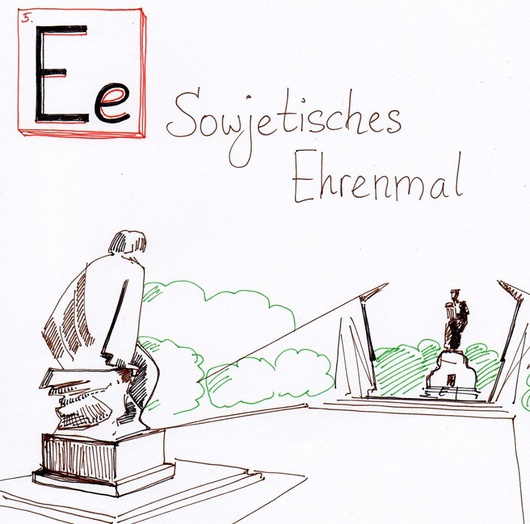 Natalia's curiosity has paid off — so far, the city has been an inexhaustible source of inspiration for her first full-fledged project in illustration. "My friends kept asking me about the city: what to see, where to go... I decided to kill two birds with one stone — tell my friends about Berlin with the help of illustration and turn this 'story' into my first serious project in this field!"
The project goes by the name Berliner Alphabet, and takes the form of an illustrated guidebook in which each letter of the alphabet corresponds to some place in Berlin and is supplied with a textual entry. The Alphabet is a very intimate form of narration, since every place is selected according to the author's own experiences. "Each entry has a story or a memory behind it," explains Natalia. "Sometimes, it is really challenging to keep my distance and not to go too personal."
The letter "E", for example, stands for Sowjetische Ehrenmal: the Soviet War Memorial, and its home in Treptower Park, which also houses an abandoned amusement park. Though the amusement park is off-limits to the public, Natalia and her friends climbed the fence several times - until they were caught by a security guard.
Natasha reaches out for a separate folder with the Alphabet sketches and passes them to me. As I rifle through them a wave of nostalgia washes over me, and I recall my own first stay in Berlin. Natalia explains the process of converting a hand-made illustration into a digital format, but I'm only half-listening —in my mind I'm standing in the middle of Turmstrasse, tasting my first ever Halloumi-Brot (grilled cheese sandwich). The next moment I am back to the coffee shop on Rosenthaler Platz with a burning question: "What are you going to do about the letters with umlauts?"
"You forgot the 'ß' letter," she laughs. "Don't worry," she adds. "I have a plan"
"Berlin is like a sassy guy"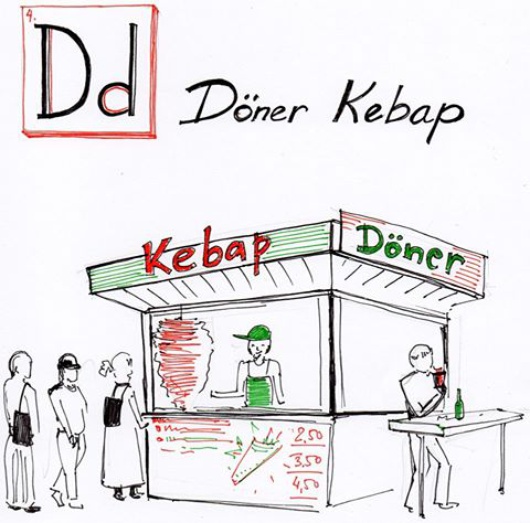 I ask Natalia whether she chose Berlin deliberately. "Neither Berlin, nor Germany in general, was on my radar when I was thinking about where to do my Master's. But I got a chance to visit Berlin as a tourist together with my husband, who comes from Spain. As is often the case, we were going to meet somewhere, and Berlin just happened to be right in between Russia and Spain. I really enjoyed the city and though it would be great to live there sometime in the future. I would never think that it happens so quickly!"
Natalia has been living in Berlin a little more than a year now, and proudly claims her relationship with the city to be warm and friendly. "For me Berlin is like a sassy guy who casually asks you out for a beer. It is not necessarily kind to you, yet it gives you a lot of credit to do what you want to," she says when I ask her about her perception of the city. "Most importantly, it does not neglect or alienate you; which is especially important for someone who came here from another country."