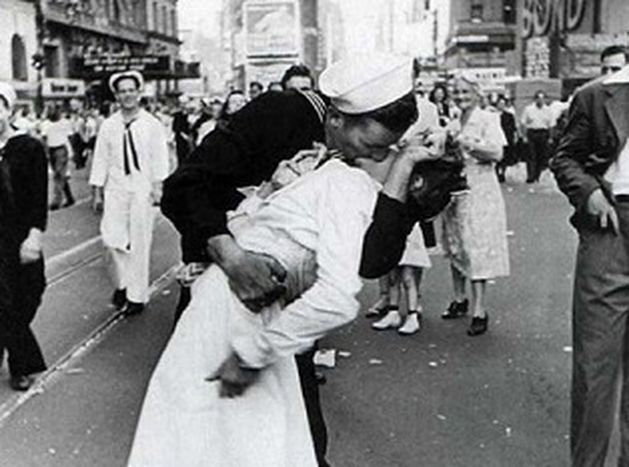 World Photography Day
Published on
The Times Square kiss of a sailor grateful to be back home , the man standing in front of tanks in the square Tiananmenn , fire debris from the September 11th pain , shot in the Spanish Civil War or bombing , the watch almost explode in the reader's head ...
All these moments can only collect the art of photography and today, our contemporary History , not be understood without it. On 19 August, World Photography Day , from Cafebabel Sevilla , we pay a sincere tribute to this art .
Testimony and leisure
As a language , as archive, as an aid to memory ... a good friend once told me to translate facts must often think in pictures and if I reflect on this, it is completely true . Paper albums, digital portfolios , smartphones vying for more megapixels and an obsession to catch in time, what happens today.
The photograph has been domesticated and commercially there is where the stimulus to improve their technology. Cannon, Nikon , Pentax are getting better thanks to a user whose knowledge increases exponentially on this trade. Who does not have foldable camera backpack in their paper images of their childhood , adolescence and even college and maturity ? His technique is simple: play with colors and sensitive paper, but its effect is spectacular : emotion , memory , hope , nostalgia . The XXI century human being and photography are sides of the same coin.
For information professional , little by little, we become men and women orchestra, optimize resources is crucial. Social networks specialized in photographs, copyright free images or small items such as tripods to capture tiny motionless light late at night are small allies that make journalists' work less hard.
This August is about to end and It recalls us the popular proverb "a picture is worth a thousand words" whose seed was held on August 19, 1839 in Paris . The camera obscura led teams to film and these latest digital cameras and their sensors.
A moment, a sound , a look, a coup , a birth ... Only the image can capture events and emotions that can cause synesthesia due to its high transmission capacity .
Clara Fajardo