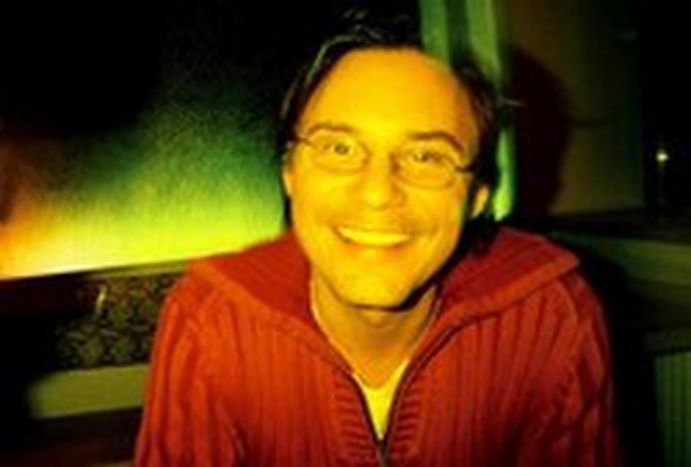 Wolfgang Stranziger, the eye catcher
Published on
Translation by:
clea caulcutt
Visionary bohemian, shrewd artist or cool businessman? The Austrian Wolfgang Stranziger, 36 years old, lomography founder, discusses the 'fortuitous' beginnings of his empire of snappy, zany photography
Barefoot, Wolfgang Stranzinger opens the door to a flat huddled up on the last floor of an ancient Viennese building. My eyes immediately register the large spaces, pure lines and bohemian chic of the surrounding. We cross the flat towards the terrace where a swimming pool sparkles in the summer sun. As I admire the incredible view, Stranzinger offers me a Thai beer before launching into his lomography saga.
A few years back, Wolgang and his friends were but a group of Austrian students, a bunch of zany party animals. Visiting Prague in 1991, after the fall of the Berlin wall, Stranzinger and his mate Matthias Fiegl found an old camera, dating back to the Soviet era, that sparked their imagination. Legend has it that the LOMO, meaning "Leningradskoye Optiko-Mekhanicheskoye Ob'edinyeniye" (a military and optical factory in Saint Petersburg) was invented to help KGB spies in their spying missions. Its peculiarity? The Lomo has a special lens which blurs and increases the contrasts – almost till saturation - of the photos.
An immediate success
Back from their trip around Eastern Europe, these Viennese youths started distributing Lomos to their friends, to the friends of their friends and so on. Soon they were overwhelmed with requests. In 1994, Matthias finished his business studies and Wolfgang graduated in law. After a gigantic exhibition in Paris and Moscow, where more than 10 000 snapshots were exhibited, the two friends decided to turn their hobby into a profitable business.
Shrewd businessmen, they signed a contract with Vladimir Putin, former mayor of Saint Petersburg, and obtained the exclusive rights to distribute the LOMO Compact Automat (LCA). Twelve years later, their business boasts a turnover of approximately 10 million dollars per year and employs 50 people. Furthermore, approximately sixty national embassies fuel the hype around the Lomo thanks to exhibitions and competitions.
According to Stranzinger, the lack of driving concept explains the hype around the Lomo. "From the beginning, we were only a bunch of friends seeking a fun means of expression. We weren't out to make money and that's why people trusted us," he explains. A few years ago, the LOMO had a bad reputation due to its technical defects and lack of reliability. Today Lomographers are proud of the imperfections of their cameras maintaining that they enable them to develop a new photographic language. "Many people have accused us of being megalomaniacs," continues Stranzinger before concluding that, "I agree with these accusations to a certain extent. We were a bit crazy, but the essential thing is that we realized our dreams."
But success has also brought a fair amount of criticism. Was the Lomo spirit, so anti-conformist and challenging, able to survive the diversification of the brand. For critics, business can only dilute the authenticity of their driving idea. Nevertheless Stranzinger maintains that "if the Lomo had not become more popular, it wouldn't have gathered such a rich and lively community."
Warhol of photography
Selling everything from multiple lenses which divide images into four, to fisheye lenses, 170 degree vision and cameras with coloured filters, the Lomographic International Society sells 300 000 items per year. That's not including all the merchandizing, bags and clothes. Since 1995 more than 500 000 have been sold.
The society gathers an official community of 200 000 enthusiasts. Following the ten golden Lomo rules, Lomographers shoot on the spur of the moment waving their cameras above their heads, between their legs or around their thighs. These startling lomo creations produce a vision of the world which follows a strict philosophy "don't think just shoot".
"The lomo enables everyone to be artistic, therefore everyone wants to participate," explains Stranzinger dipping into his beer. "Journalists even called us the 'Warhols of photography'. The question kept cropping up: is it art or not? We're not interested in this debate," he concludes.
Superficial hype?
Even if he earnestly responds to queries from galleries and museums, my interviewee prefers to be prudent. "We are merely a platform which provides people with tools to be creative and have a fun time," hammers Stranzinger.
Instead of slowing them down, the internet boom accelerated the development of the small company. Though most traditional companies are drifting towards bankruptcy, the Lomographic International Society has found its niche market: "we offer a creative, not a competitive, variety of cameras," says Stranzinger.
Even if the Lomographers hope to be as democratic as possible, they target a specific market. The average lomographer is 28 years old, has studied, travels frequently and has a cosy income. "Our concept is universal, but the Americans and Asians love our European touch - free and unfettered expression, communication and creation," concludes Stranzinger.
Today the United Kingdom and Spain produce more lomo-addicts than Germany. The owners of the Lomography Company are not attached to their European identity and want to be seen as being more cosmopolitan. Established in Vienna, Stranzinger fantasizes about other cities, "we'd like to be more active in Milan, Rome or Brussels… Each main city should have its Lomo gallery." The Lomo adventure is far from being over.
Translated from Wolfgang Stranzinger, l'oeil du tigre