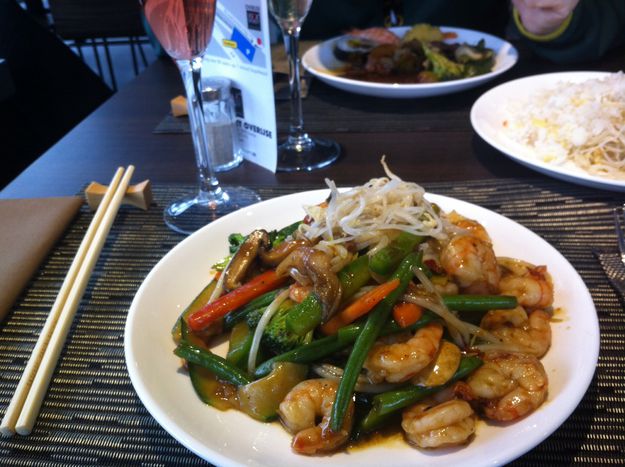 Wok Dynasty - Asian Style Food near Brussels
Published on
This week, I have de­cided to try out some­thing for the Foodie's. 
A cou­ple of weeks ago, I was dri­ving near Over­i­jse and I no­ticed a brand new Restau­rant about to open. Then, last week I was nearby again and I saw the "new Resto" was com­pletely full. 
Today, I had de­cided it was time to try some­thing new in town. So, I have in­vited a few friends to give a try: Wok Dy­nasty Over­i­jse
The place is super well lo­cated on 554 Chaussée de Brux­elles (Brus­selses­teen­weg) , very well il­lu­mi­nated thanks to the wall-win­dows de­sign. The whole place is dec­o­rated with Asian style fur­ni­ture, pic­tures and sculp­tures that cre­ates a nice ex­otic at­mos­phere. The "maître de salle" re­ceived us with a Dutch wel­come -I got that same feel­ing when vis­it­ing Dutch Com­mune's- and offer us a table in the mid­dle of the room.
Then our waiter, started to ex­plain every­thing in Dutch, so be­fore or­der­ing dessert, we asked if he spoke any other lan­guage (French or Eng­lish) but Dutch. - the same feel­ing as vis­it­ing a for­eign coun­try, ex­cept I was still in Bel­gium- Then, he switched to Eng­lish to ex­plained to us again the lunch sys­tem they had on offer.
In short, they had a "buf­fet menu" which in­cluded cold and warm en­trees, then a choice be­tween Teriyaki or Wok and desserts for 15€ or just a "dish" I mean a wok dish for about 12€. So, we split our choices be­tween "buf­fet" and "wok" to try the full range of op­tions as much as pos­si­ble. 
The choices from the "buf­fet" are var­ied (sushi, sal­ads, chicken skewer...) and the wait­ing time, for those with­out "buf­fet" is short. The Woks were pre­pared in the mo­ment, so for the buf­fet, you could choose a mix for your­self and for the set dishes they had ready-made com­bi­na­tions al­ready. Every in­gre­di­ent is fresh and pre­pared in that very in­stant. The dif­fer­ent level of spice was ac­cu­rate to the de­scrip­tion. Healthy, af­ford­able food. Just de­li­cious!
The cus­tomers vis­it­ing the place dur­ing lunch time is mainly peo­ple liv­ing -most were ex­pats- or work­ing in the neigh­bour­hood and a few lost "Brux­eloises" on this area. 
So, I would sug­gest hav­ing full ser­vice in French and Eng­lish, as the main clients are not dutch speak­ers. This is a very in­ter­na­tional area, though ge­o­graph­i­cally is lo­cated in the Bra­bant-Fla­mand.
Ex­cept for the lan­guage, I re­ally en­joyed the con­cept: lo­ca­tion, fresh­ness, and qual­ity of the meals of­fered. So, if you are crav­ing for Asian style food...​you know where to Wok!