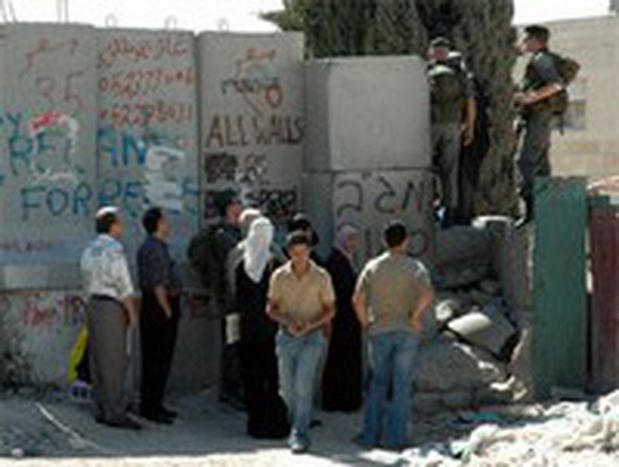 Withdrawal is just the start
Published on
The Israeli pullout from Gaza could well be the opportunity for Palestinian Authority president Mahmoud Abbas to reinforce his status as the Palestinian number one. But does he have the authority to make peace with Israel?
The settlers' blockades have not stopped Israeli Prime Minister Ariel Sharon from implementing his plan for withdrawal from Gaza. Those who had not left voluntarily by the August 17 deadline are being forcibly removed by Israeli policemen and soldiers. So now that the occupation of Gaza is nearing its end, what will happen next?
Internal conflict
Keeping the Gaza Strip free of unrest is one of the toughest challenges recently elected Palestinian president Mahmoud Abbas will face. As the 8,000 Jewish settlers leave the Strip, one wonders how peace and order will be maintained in Gaza. Along with Palestinian Authority (PA) police forces, Egyptian peace forces have started taking over from Israeli forces in the region. But what is to become of the housing and infrastructure left by the former Gaza Strip inhabitants? Some settlers have already destroyed their homes rather than have them lived in by Palestinians, and Israel initially said that all buildings should be demolished so as to avoid fights over who should own them.
Palestinian festivities following the Israeli withdrawal won't last long as Abbas will need to get to work organising the Palestinian general election, due next winter. As the PA moves towards elections, its corrupt local decision makers are losing credit among Gaza inhabitants, leaving terrorist organisation Hamas with high popularity ratings among Palestinians. Indeed, Hamas has gained ground since the intifadas, organising social welfare including health and education facilities the Palestine Liberation Organisation (PLO) had always failed to provide.
Hamas a threat
The Palestinian general election, originally planned for this July, is set to be held in January 2006. The main reason for this delay was Mahmoud Abas's fear that his moderate Fatah movement would lose out to Hamas, compromising the region's peace process and the Israeli withdrawal. The terrorist organisation, whose ambition is still to eradicate the Jewish state, has carried out many deadly attacks that have taken away hundreds of innocent lives. Its victory in the elections would compromise any chances of peace, leaving Abbas with no other choice than making institutional reforms to increase his powers as much as he could. Only then could a dominant Abbas curb any attempt by Hamas to play a significant political role in local and foreign issues, as there clearly would be no possibility of talks between Israel and the PA with Hamas among the negotiators.
Nonetheless, Hamas remains only one of the many terrorist organisations present in the region. Abbas now faces the tough task of convincing them to recognise the existence and legitimacy of the state of Israel. The Roadmap could then be back on track, although a schedule is yet to be set. That leaves Mahmoud Abbas plenty of work to get done. Wish him good luck.