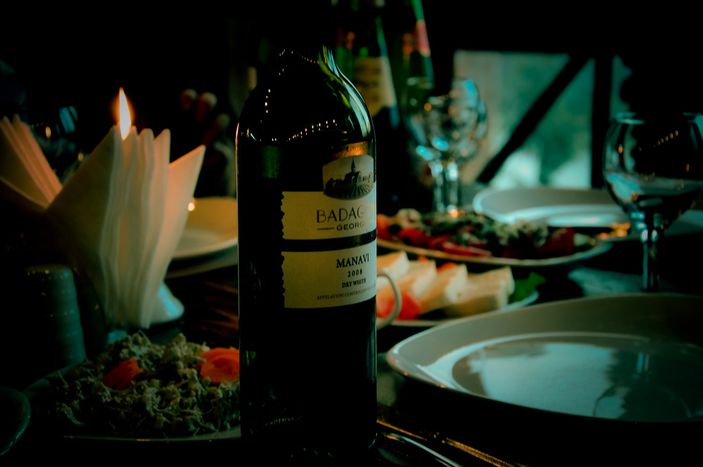 Wine production in Georgia: 'passport to civilised world'
Published on
If you are thinking of going on a wine-tasting holiday, skip the south of France and head to the Caucausus. Wine tourism and industry is booming in Georgia, as it is largely supported by the current government
'Gaumarjos!' says Gia Aliashvili, a wine producer from Kakheti in eastern Georgia. 'Cheers' indeed. Gia's vineyard and cellar have made it onto the lists of visiting wine enthusiasts. Like an increasing number of Georgian farmers, Aliashvili welcomes foreign visitors to his 'marani' or wine cellars throughout the autumn.
Not for Russian palates
Wine tourism is hardly an innovation, explains Maya Sidamonidze, the head of Georgia's national tourism department. It's a historic business, dating back to approximately 5 millennium BC. 'Lots of people used to come to Georgia to taste national wines and learn about Georgian wine culture,' says Sidamonidz. The country has more than 400 varieties of grapes, using only 38 for wine production. 'Anyone who knows Georgia also knows Georgian wine.' John Bass, the US ambassador to Georgia, agrees. 'Georgia is a small country in a challenging region but it's a unique place for various reasons,' he says. 'The ancient tradition of wine making has survived.'
Despite its long history, Georgian wine hasn't always had it easy. In 2006, Russia banned the import of wine from Georgia. The embargo 'hampered the development of Georgian wine culture for a certain period,' admits wine expert Teimutaz Glonti. 'However, now the Europeans and Americans are interested.' Official statistics for 2010 show that a quarter of Georgian wine is exported; the business represents 28.5 million euros (24.5 million pounds). Despite Russia's move, Georgian wine remains popular with other neighbouring countries. Ukraine, Kazakhstan and Armenia benefit from imports, and it is also sold in countries further afield like the USA and Germany.
The Georgian tourism agency has arranged training programmes to teach families hosting foreigners how to present their wine
State authorities are now taking the development of the wine industry very seriously. Georgian president Mikheil Saakashvili went as far as declaring that 'wine is our passport to the civilised world'. The 2011 state budget allocates around 500, 000 Georgian lari (218, 563 euros or £187,838) for 'measures aimed at the promotion of Georgian wine'. 'We have private entrepreneurs who produce wine but they still need assistance in finding a proper place on the world market,' explains Teimutaz Glonti. For this purpose one project aims to 'educate' local farmers. The Georgian tourism agency has even arranged special training programmes for families who want to host foreigners, in order to teach them how to present their wine more effectively.
Together with local wine-making companies, international organisations have also been getting involved in the so-called 'wine popularisation process'. Most recently, the US government's economic prosperity initiative (EPI) and US aid from the American people (USAIDa funded visits to a wine fair in Tbisili for over fifty foreign wine historians, journalists and writers – and even archaeologists.
By Nana Tabatadze & Armine Narinyan. This is the fourth in a series of articles published by cafebabel.com's partners this autumn, EuroCaucasus News. The journalism, multimedia and Europe project for students from Armenia, Azerbaijan and Georgia is organised by Canal France International (CFI). Read more information on the official blog
Image: main (cc)
Bachi Kajaia; in-text wine harvesting (cc) EuroCaucasus