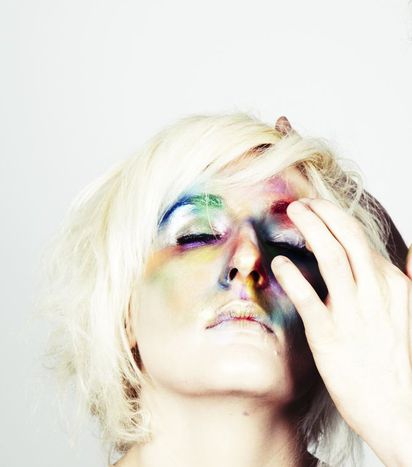 Why French pop singer Ornette hated Serge Gainsbourg
Published on
Translation by:
ZoeBBee
Far from offbeat artistic families, broken computers and restrictive music conservatories, the 28-year-old Parisian and mother-of-two has created a highly colourful musical project. Her debut album Crazy was released in France on 26 September
'Pop singers are all pretty, and guys like them. Guys have never liked me,'  says the tall, radiant platinum blonde sitting opposite me at a bar overlooking the city of Paris in the east of the capital. The only thing that might detract a smidgeon from this air of assurance are her glasses, which hide her mischievous eyes behind their large frames. Despite what she says, Ornette is pretty and modest and laughs a lot during our interview. It's hard to take her seriously when she goes on to assure me that she's never had singing lessons. As a member of the jazz group MOP (latterly Electric MOP), she was the 'pianist with the glasses. The piano suited me and my ambitions only ever involved instrumental music. I never actually saw myself as a singer.'
Simple influences
In fact, Ornette never had the opportunity to sing because she dedicated her life to studying jazz. For over twenty years, she followed a route typical of those who have studied at music conservatory. The school was run along military lines, with no room for the trivial. 'I wasn't allowed to wear nail varnish,' she recalls, showing off her pink-stained fingernails. 'I had to wear black, with a white t-shirt. The school was uncompromising. Nothing was ever good enough or accurate enough, it wasn't fast enough or clean enough. And I love dirty stuff.' Her debut album makes its mark, which is obvious from the cover, which shows a face streaked with paint. 'I needed to be somewhere else, in another bubble,' she says. In short, it's a kind of reaction to an over-homogenised, over-regimented environment that gave rise to her golden hair, striking appearance and desire for freedom, starting with her name; 'Ornette' is a homage to a musical great, Ornette Coleman, the American saxophonist and forefather of free jazz.
'I did very simple things with simple melodies to which I add the simple words that are meaningful in my life'
'I got into jazz and free improvisation as a reaction to the rigidness of the conservatory,' she adds. 'Later I realised that I'd learnt a lot there, not necessarily on a human level but on an artistic one. Classical harmonies are still second nature to me. I put in violins into a song like The Lion and The Doll because I fancied it.' The album is a wild ride sustained by twelve tracks, which are all entirely different from one another. The influences, ranging from the American 'anti-folk' singer-songwriter Regina Spektor to Swedish singer-songwriter and musician Peter Von Poehl , via British electropop duo La Roux, make for an album that is eclectic, profound and brave. 'I wasn't aiming for anything revolutionary. I did very simple things, with simple melodies to which I add the simple words that are meaningful in my life.'
Crazy
'If anyone had told her she'd be a singer one day, she wouldn't have believed them,' reads the first sentence of the publicity material for the album Crazy. The inspiration for the disc comes from Ornette's memories of her home life, at a time when she was still just Bettina Kee. The contrast with the atmosphere of the conservatory couldn't be more marked. 'I come from a family of artists who are slightly off the wall,' says Ornette. 'At home, there were lots of parties. As I was the one who knew how to read music, they gave me Serge Gainsbourg's songbook, and I had to play him all the time. I hated him for years because of that. I was ten, and when they were in the mood for a party, they all drank a bit too much. I played his song La Javanaise while they sang along, mostly out of tune. So all in all I have some funny memories.' And how. Ornette grew up with an actress mother who listened to contemporary music and would lock herself in to perform her vocal exercises. Her father liked 'polyphonic stuff' and was known to hum opera songs.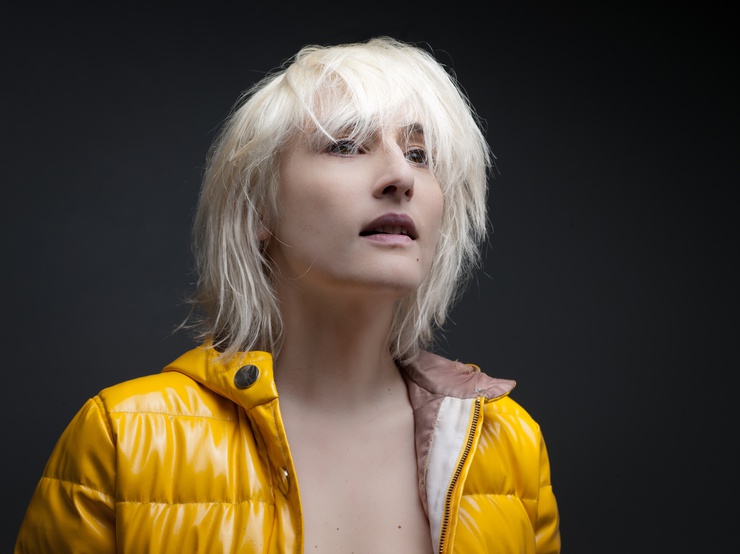 So the scene was set. The straitjacketed universe in which the young student practised her scales would melt away in the evening into a party atmosphere where a girl who already seemed to be something of a free spirit was in fact very sensible. 'Compared to my parents, I'm very quiet. But they understood my choice straight away. I've always played music, so it was an obvious choice. I never really told them what it was.' There was no doubt, either, that Ornette would build a film career, considering her parents contacts. In 2003 she played small roles in nouvelle vague director Jacques Rivette's The Story of Marie and Julien and screenwriter Pascal Bonitzer's Small Cuts, alongside such French acting greats as Daniel Auteuil and Emmanuel Devos, and British actress Kristin Scott Thomas.
'Crazy' combines scales with parties, piano, brass, hairdye and nail varnish. It's not earth-shattering, sure, but it is new, pleasant and refreshing. It's pop, with horns. It's the sort of album that nudges you into childishness, like pillow fighting before poking your fingers in the paint. In the middle of a discussion about smartphones and the internet, Ornette puts her mobile down on the table. All that's left of the phone is its outer casing, miraculously held together by two sticking plasters. 'I've got two children and it's better not to have a phone,' she smiles. 'Two days ago my son broke my computer keyboard. He'd decided he would give my computer a nasal wash with a spraygun full of seawater. It's very clean but it doesn't work any more.' That's just daft. Of course. He'd been listening to his mum's album.
Playlist: Ornette's top five
Bobby Mc Ferin (complete discography)Jay-Z & Kanye West - Gotta Have itLa Roux - QuicksandEminem - Stan: 'It reminds me of some things in my life''There's also something in French which I listened to all the time but I can't remember what it is...' - our guess is that it's either this, this or this
All images: ©vittoriobergamaschi; video ©Discograph
Translated from Ornette : « J'ai détesté Gainsbourg »