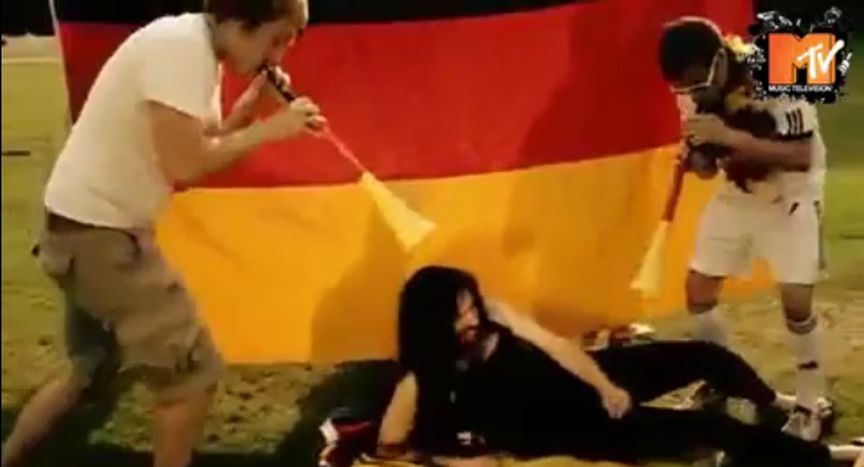 Why do Germans sing 'Schland'?
Published on
In a week looking to Germany appearing in a world cup semi-final (and maybe a final), the new phenomenon comes in the form of an incomprehensible chant which drops the 'Deut' out of 'Deutschland' – are the Germans too drunk to hail their country?
On 27 June Germany scooted around England to rip off their shorts and leave them gawping in the last eight of the world cup 2010; they ate four goals. Not a week later, we got a bit of perspective; Argentina wolfed down a fourth goal courtesy of Germany, again, in the 89th minute of a breathtaking quarter-final. As an Englishwoman at 'the German cafe in Paris', I shared the two-time vanquer's slap in the face as the oxygen-deprived crowd exploded around me.
Between expats gurgling over currywurst and the shapely German proportions of a bottle of Becks or an Erdinger at the Cafe Titon, which is run by a French couple, a new chant did the rounds. The abbreviation of the German word for Germany, Deutschland ('German-Land'), it is correctly bellowed Schlaaaand, and is accompanied by a gesture with arms outstretched and hands pointing forward. Schland O Schland is a national chart-topper now, first coined by TV presenter Stefan Raab, who produces the 2010 unofficial world cup anthem. The cashed-in parody comes from eight German students from Muenster who call themselves Uwu Lena, a cheesy play on the wordsvuvuzela, retired footballing legend Uwe Seeler and eurovision-winning singer Lena Meyer-Landrut, who sang the original hit. Satellite won it for Lena during the eurovision in Norway in May; will it clinch it for Germany's fourth world cup title in South Africa on 11 July?
Ruminations aside, there's no deeper explanation for a word which many natives will admit sounds a bit ugly. The introductory video on the Schland official website only features beer-guzzling men shouting the word, whilst one German forum suggests its use emerges out of those too drunk to enunciate Deutschland.