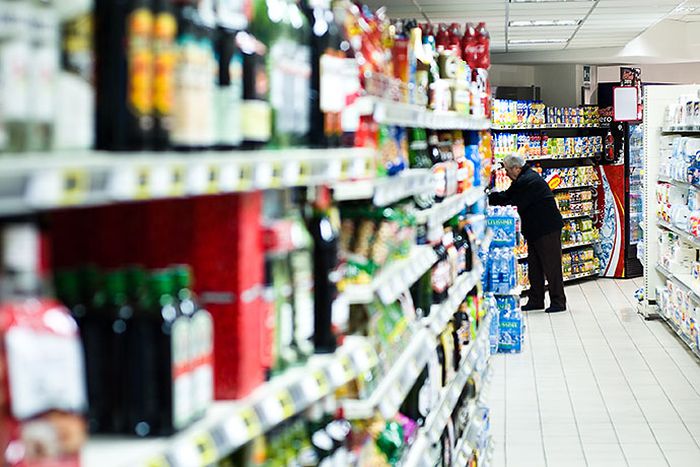 Where are the Italians at the Romanian shopping centre in Rome?
Published on
The first Romanian-owned shopping centre, La Strada, has opened in Tiburtina, a district of Rome. Visitors are few and far between, and the Italians are even scarcer. Feature
Aducen Romania mai a proape de tire!, reads the slogan that greets visitors at the entrance to the shopping centre La Strada. 'Bringing Romania closer to you,' translates the sign next to it. This is Romania transported to Italy for the Romanian population, particularly for those living in Tiburtina, the north-eastern district of Rome, where there is the largest community on the peninsula.
Buying your bread in Romanian
Inside the shopping centre, Anna is sorting the products on the shelves of the 'Euroetnic' supermarket. 'Not many people come in. The first few days we had more Roman visitors and journalists than my compatriots. Now there is more of a crowd, especially in the food section. But more because it's nice to order bread and the bill in Romanian.' Yet rather than being presented with Produse tradizionale romanesti - traditional Romanian products - the aisles are overflowing with Barilla pasta and Mulino Bianco biscuits. Only the pickle area resembles the cuisine of distant Bucharest. 'For me the opening of these central services has been really lucky. I no longer want to do cleaning, life as a sales assistant is better!' she continues. A couple of workers leave with bread and mortadella and a couple of Peroni beers: see you again! they wave.
The products are the same price as other shops in the outskirts of the capital. It seems strange that a business designed specifically for Romanians doesn't take their salaries more into account, despite the fact that the owners of the eleven shops are two Romanian entrepreneurs. In the corner, by the entrance to the shopping centre,an old spinning wheel is on show. A middle aged woman looks at it curiously and asks: 'Is this it? They had me believe it was huge and there were a lot of shops, but aside from Neapolitan pasta it sells nothing.' She is one of many Italians who criss-cross these corridors in search of discovery but find themselves faced with shops that are still waiting to be opened. 'On 12 April they have to open it completely,' they explain in a branch of SmithSmith, the currency transfer agency between Italy and Romania. 'We still need time to make ourselves known; lots of people will start coming soon. In Romania they need money and the relatives who move to work in Italy have to
send money home. Our prices are advantageous.' For a transfer up to 100 euros (£88), the commission is five euros (£4.41). From 101 to 300 euros (£89 to £265) it's 10 (£8.82), from 700 to 1000 (£618 to £882)  it's 25 (£22) and above the threshold of 1001 euros (£883) it's at a fixed percentage of 2.5%.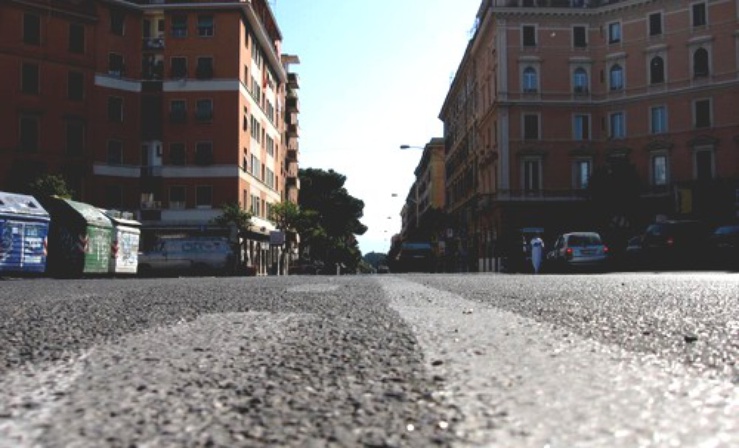 Get married in Romania
Putting a foot outside the office and turning to the left, you see the sign for one of the four open businesses, Miha Spuse, a wedding dress workshop produced by a Romanian dressmaker for Romanian brides. 'It wasn't a coincidence that we decided to open this shop - we are used to getting married! Weddings are important. Not like for Italians - you for example, are you married?' The prices convert in euros to what they would be in new lei in Romanian currency. 'It's better to spend here than in another shop, you save money and we know what the clients want,' Clara judges.
The rest of La Strada shopping centre is in half light; the bookshop, the shop specialising in artisan products, the bakery and the building society are furnished and set up but remain closed. The bookshop is named after Mihai Eminescu, founding poet of the modern Romanian language. In the windows, you can spot the spines of different editions of Italian dictionaries straightaway. 'It is important to conserve our identity and value above all our language,' Daniela from C&I (bus) lines international Italy Romania explains, whilst flicking through Actualitatea Romaneasca, a Romanian newspaper. 'Next door there's a room where there are Romanian language lessons for children born in Italy who don't know their mother tongue, and Italian classes for those who have recently arrived. Right now there is no one but tomorrow, maybe there will be. Right now I don't have a lot to do – we don't sell many tickets to Bucharest – and if I could go to class, I'd go as well.' The exit seems to be the most frequented area of the shopping centre: 'They come and go to put their little adverts on the noticeboard,' explains Mario. Beneath the Actualitatea Romanca sign, there are adverts for sales, purchases, things to hire,work and weddings. A young person uncertainly approaches to leave his own: Tanar, 26 ani, 1.84 dragut, romatic, doresc relative cu o fata romanca ('Tanar, 26, 1.84m, romantic, looking for a Romanian girl'). He turns around and starts to walk away but then takes a biro out of his bag and quickly adds: De asemenea italiana. 'Also Italian'.
Translated from La Romania in Italia in un supermercato