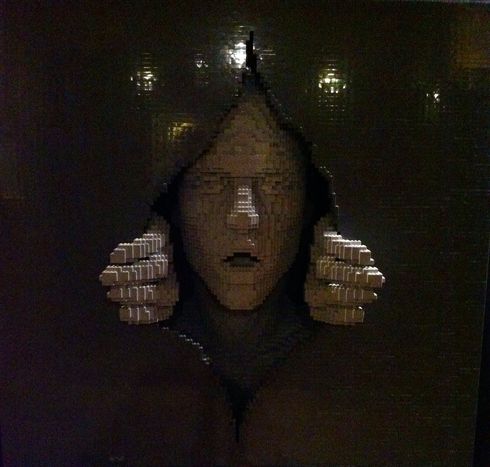 When Imagination is unlimIted "the art of the brIck"
Published on
This week, we have visited the ul­ti­mate Tem­po­rary Ex­po­si­tion The Art of the Brick hosted in­side the Brus­sels Stock Ex­change, also known as La Bourse. 
This ex­hi­bi­tion has been in town al­ready for some months now and will stay until April 21st. So, there is no ex­cuse to miss it!
The Amer­i­can artist Nathan Sawaya is a truly ge­nius from our time, who has found as a source of in­spi­ra­tion the pop­u­lar build­ing blocks called LEGO; a sim­ple plas­tic brick with end­less possi­bil­i­ties for cre­at­ing thou­sand of artis­tic pieces.
For some peo­ple this might seems easy, but those who knows well the time and pre­ci­sion re­quired for build­ing any­thing using the fa­mous bricks, cer­tainly will be grate­fully sur­prised and will ap­pre­ci­ate this ex­hibition. 
There is a con­nec­tion be­tween all the ex­posed pieces, this is why the ex­hibition starts with sim­ple daily life ob­jects in extra large size, lead­ing us to un­der­stand Mr. Sawaya crea­tion path. The colours and shapes mixed to­gether bring­ing to life or death dif­fer­ent feel­ings and sim­ple daily live ob­jects.
The magic cre­ated through the bricks across the gal­leries may trans­port you to dif­fer­ent places or cen­turies; from the Re­nais­sance with some clas­sics like The David or The Mona Lisa, sud­denly ap­pear­ing in the an­cient Egypt for com­ing back to the Amer­i­can Gothic or sim­ply awe­some you to ap­pre­ci­ate a per­fect 3D replica of Klimt's Kiss. 
There is also a part about the roots of in­spi­ra­tion, on which we can un­der­stand the path fol­lowed for the artist to achieve all his cre­ations, as he ex­plains: 
"My own per­sonal con­flicts and fears, cou­pled with a deep de­sire for over­all hap­pi­ness, paved the way to be­com­ing a full time work­ing artist."
Cer­tainly, this ex­hi­bi­t is a most to see!  Rec­om­mended for All pub­lic no mat­ter the age, as there are no lim­its or pat­terns to fol­low for cre­at­ing Art.
So, let flow your cre­ativ­ity and you might come with a new mas­ter­piece wor­thy to be share. Dream, Cre­ate and Enjoy!
The Art of the Brick till the 21st. April Don't miss it!