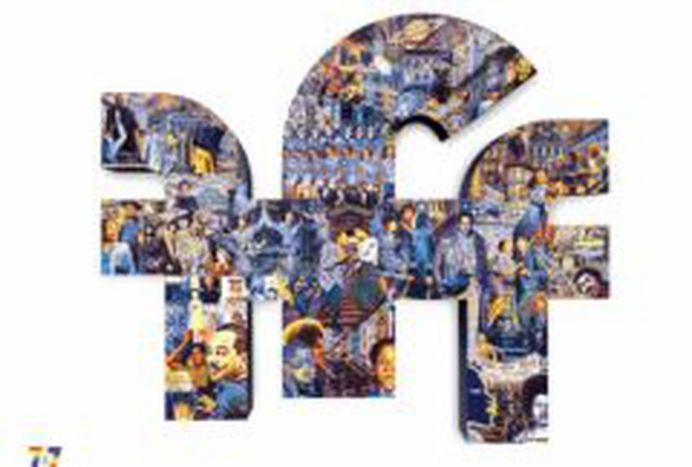 What the F ?!?
Published on
Nile Rodgers, pop music's Beethoven, and local artist Jean Pierre Muller team up for the unsheathing of 'Fa' in the Ancienne Belgique this Monday night. And some lucky strummer is going home with a guitar. It's a fact. There's no such thing as solid matter. The universe is made up entirely of vibrations, and everything is part of the same eternal song.
This bank holiday Monday Brussels will celebrate F, the fourth note on the solfège. Local artist Jean Pierre Muller has made an idolatrous effigy to the inimitable note (pronounced Faaaaa) by blowing it up, colouring it in and filling it full of an especially made sound by pop supremo Nile Rodgers (think the unique guitar riffs of Le Freak, We are family, Like a Virgin, Good Times...). The sculpture itself pays homage to Harlem and its harem, its savoy ballrooms and indigo blue jeans and its Saturday night fevers. Move close to the sculpture and the sound emerges. Move away and it's gone.
It's part of Muller's latest project, entitled 7x7 that celebrates all 7 notes on the scale. Each interactive piece takes the form of a note from A to G. Each is kitted out with its corresponding colour, and all are pimped out with a superb and reflective sample of music commissioned especially from some of the world's greatest composers, like Robert Wyatt, Terry Riley, Archie Shepp, Mulatu Astatke, Kassin, Sean O'Hagan and of course Nile Rodgers. The entire array of sculptures will be exhibited in London in a couple of months. Brussels gets to show off F.
That's at 7 o'clock at the Ancienne Belgique, it's free and all are welcome. For those whose visuals are satisfied but want to hear more, Nile Rodgers is on stage at 8. But get this. He's inviting audience members up on stage to play his guitar. The most impressive rendition of the famous guitar riff in Le Freak get to go home with his (signed) Fender Stratocaster.
Rodgers is the first to admit that he ripped this idea off from Greenday. But imitation is the highest form of flattery. So get imitating, get up on that stage to win yourself a guitar.