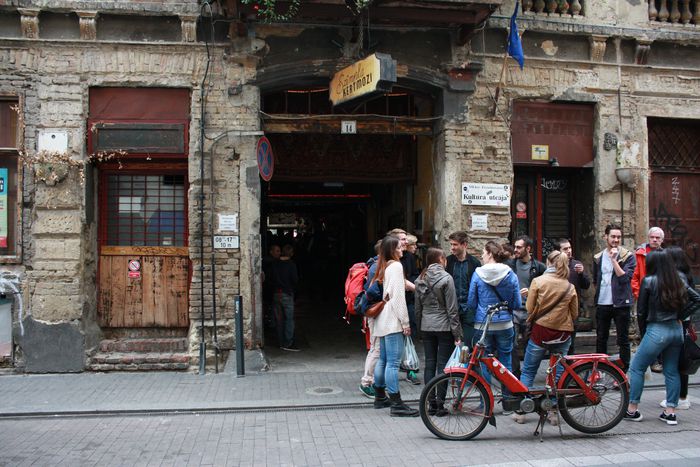 What is 'degrowth'? Working towards a new society in Budapest
Published on
Budapest has been chosen to host the next International Degrowth Conference, to be held from 30 August to 3 September 2016. We travel to the Hungarian capital to witness the impact of this burgeoning social movement on the city.
Every Sunday morning, just a few hours after bidding farewell to the last of the night-owl drinkers, Budapest's most famous bar, Szimpla Kert, becomes a farmers' market. About 40 vendors and close to 1000 visitors give life to the project, which only sells local products which have been produced by the vendors themselves no more than 50 kilometres from the capital. Imagine this image, and add to the vista a group of volunteers preparing food to raise money for charity, and a musical trio serenading the crowd. This completes a scene that Vincent Liegey, an activist of the degrowth movement, describes as "degrowthist".
"The people are friendly and happy here, everyone knows each other and they buy healthy and organic food produced locally," says Liegey, who has written a book called Degrowth Project. He states that more and more people want to take control of their own lives because they are not satisfied with the current economic model.
Looking for an example of this philosophy being implemented on the ground, I talk to Logan Strenchock. He is responsible for environment and sustainability at the Central European University in Budapest, and also sells vegetables from the organic farm Zsámboki Biokert. He also answers my questions whilst greeting the customers passing by his stall. What I had been told appears to be true, in this market everyone knows each other.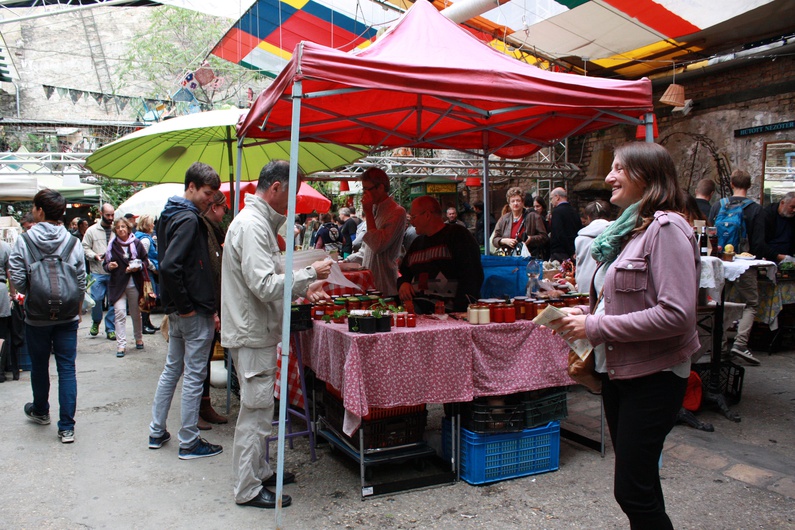 Levente Erős is another attendee at the market. He is the creator of Kantaa, a sustainable bike messenger service company, employing nine people. Along with Liegey and Strenchok, he collaborates on a project to deliver organic food in Budapest by bicycle, called Cargonomia. The idea of degrowth exists at the roots of this joint project, but Erős doubts whether he would define himself as a degrowthist: "People say I am a 'degrowth activist', but I don't really know if I am," the electrical engineer explains, "I never intended to be one. I just show people how they can live differently." He eludes questions about politics, arguing that is more within Vincent Liegey's remit. He is just the bike expert.
Liegey himself also lectures on degrowth across Europe. He explains his views on the current state of international affairs: "It is not another environmental crisis, nor another economic one, nor another social crisis...  all of these crises are interconnected. You cannot try to solve just one of these problems without thinking about all of the rest.  Degrowth helps connect different disciplines to understand these problems globally and find a solution at the root of it all." 
The solution proposed is based on "deconstructing" the stalwart belief in progress, development, science and the economy, to begin a democratic transition to new models for a sustainable, friendly, independent, democratic and fair society.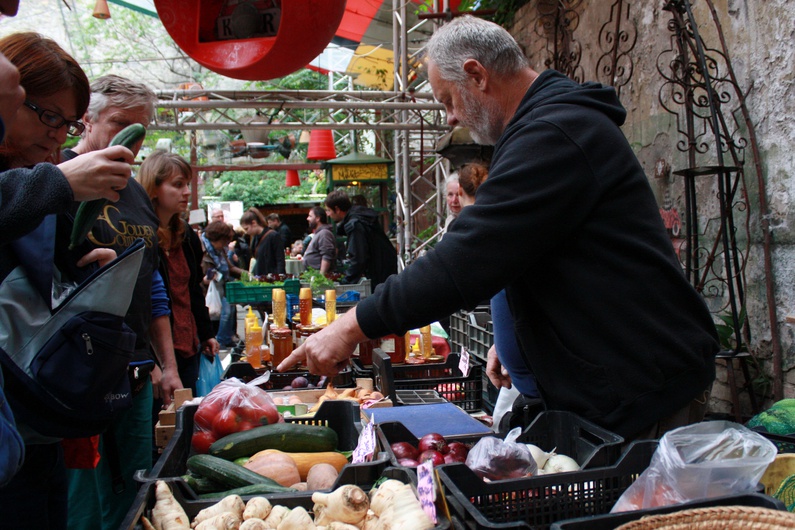 Liegey is part of the team that is preparing the forthcoming International Conference on Degrowth taking place in Budapest from 30 August to 3 September 2016. For him, Budapest is an excellent venue for the event because it already has the kind of atmosphere which can be used to foster degrowth. The low population density in the city centre, the creative tradition of problem solving, and the many independent and decentralised initiatives, only serve to reinforce the movement further.
One of the most interesting initiatives is the Wekerle Estate. Near the end of metro line 3 you will find this district, created in the early 20th century to house workers who arrived in Budapest from the countryside, to facilitate their adaptation to urban life. In fact, entering Wekerle feels a bit like leaving the city and returning to a country village. The landscape of the district is very much defined by low, single-family houses with attached allotments for growing vegetables.
In this particular neighbourhood, which now belongs to a network of co-operative associations, they have promoted ecological and social initiatives in recent years. These include their own local farmers' market, free window insulation for the houses of the poorest people, composting across gardens, use of local food in school canteens and organic farming courses. "There are many people who could afford more expensive homes in other areas of the city but prefer to live in Wekerle for the kind of life we have here," says Krisztian Kertesz, a member of the management of the board of a neighbourhood association.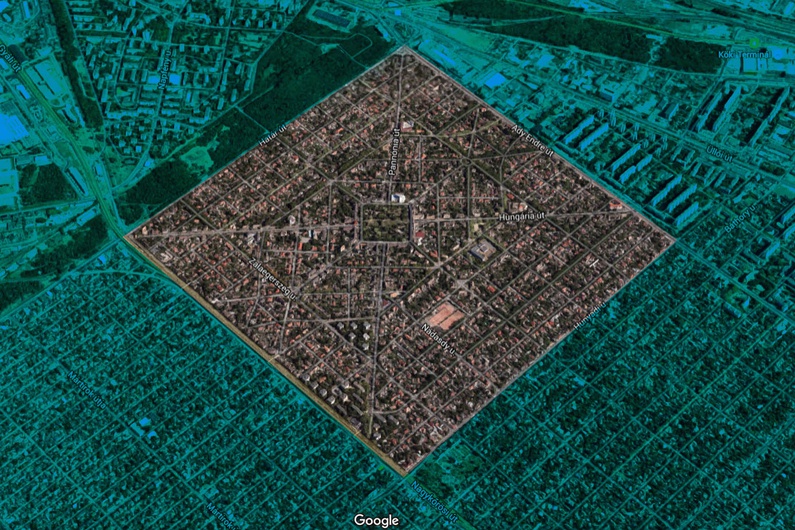 The academic aspects of degrowth are also very active in Budapest. Miklós Antal is a researcher at the Eötvös Loránd University and although he does not consider himself a degrowthist, he is studying how to abandon the current economic paradigm and reduce dependence on growth. In addition to providing a scientific basis for many of the movement's ideas, Antal applies this ethos of voluntary simplicity to his daily life. He does not travel by plane because he considers it wasteful, always using a bicycle when crossing the city. He is a vegetarian, and does not eat food produced by companies he does not approve of. He does not buy products tested on animals or containing unnecessary chemicals, and tries to consume in moderation. Antal defends his position by explaining that in developed countries, the same level of happiness could be achieved with half the current GDP because "increased consumption does not make us happy."
"I do many things differently than other people," he explains, "but in essence I have a normal life. It's just a way of showing that you can live sustainably, while at the same time having an ordinary existence." He points to himself indicating that he looks just the same as the next person in the university. There is also a completely ordinary restaurant next to his university where he goes to eat. However, he confesses that a while ago he convinced the cooks to offer a vegetarian menu every day. He even carries back with him the empty juice bottle that comes with the meal, because he knows that the restaurant does not recycle.
Before our interview concludes, he says he is confident that the system will change in the future. His parents thought that they would live their entire lives in a socialist country, but that is no longer the case either. Things can change.
---
This feature report is a part of our EUtoo 'on the ground' project in Budapest, seeking to give a voice to disenchanted youth. It is funded by the European Commission.

Translated from Decrecimiento en Budapest: Proyectos para un nuevo modelo de sociedad